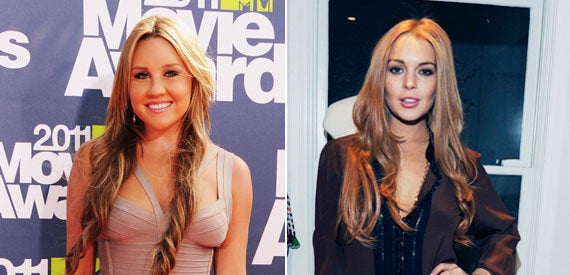 Amanda Bynes and Lindsay Lohan have a lot in common -- both are formerly successful child-turned-teen stars whose careers fizzled as they hit adulthood.
Now with Bynes' recent DUI, the similarities between the two actresses are even more apparent, but RadarOnline reports the "What I Like About You" star is telling friends she shouldn't be compared to Lohan, who has a long history of trouble with the law.
Bynes was arrested on April 6 after she sideswiped a police car. Sources told People magazine the 26-year-old actress had been drinking at the Standard Hotel, but "seemed fine to drive," and "never seemed drunk."
"Amanda thinks it's extremely unfair that people are calling her the new Lindsay Lohan," a source close to the actress told RadarOnline. "Comparisons between the two are just ridiculous as Amanda has never been arrested for drug possession or for stealing anything. Yes, she got arrested for a DUI, but that doesn't mean she is headed down the same road as Lindsay."
According to the source, Bynes doesn't know Lohan, nor does she harbor any negative feelings toward her, but she doesn't want to be lumped in with her either. "She just thinks it's sexist that the two are being compared. Men in Hollywood that get arrested for DUI's don't face the same scrutiny that women do and that is what really irks Amanda," said the insider. "She isn't taking the DUI arrest lightly."
It's absolutely true that men in Hollywood aren't subject to the same scrutiny, but it doesn't change the fact that Bynes has been acting irrationally for years and friends are reportedly worried about her. A source told the New York Post, "Amanda's friends are growing increasingly concerned about her and want her to go to rehab. She has been avised to stay home, but she refused."
In June 2011, Bynes explained her strange tweeting, telling People magazine that she simply needed some time off. "I've been acting since I was seven, and I'm 25 now. So, it's not retiring so much. It's just taking some time off."
PHOTO GALLERY
Celebrity Mugshots
BEFORE YOU GO