Archie Comics has announced that Issue #636, which is scheduled for release on August 22, will focus on issues related to gender and perceived gender roles by featuring gender-swapped versions of the three main characters.
In "The Great Switcheroo," Archie, Betty and Veronica will become Archina, Billy and Ronnie thanks to a magical spell cast by two special visitors to Riverdale -- Sabrina the Teenage Witch and her cat Salem.
"Upon overhearing the guys and gals of Riverdale grumbling over how the other half has it easier, Sabrina's mischievous cat Salem turns the town upside down when he dishes out the ultimate genetic makeover," Archie Comics said in a press release.
The idea for a gender-bending issue of Archie isn't exactly new, Comics Alliance points out. Back in February, the site commissioned artists to create gender-swapped versions of popular comic book characters for a series of Valentine's Day cards.
Jess Fink, creator of the comic Chester 5000, switched up the characters in a much edgier fashion: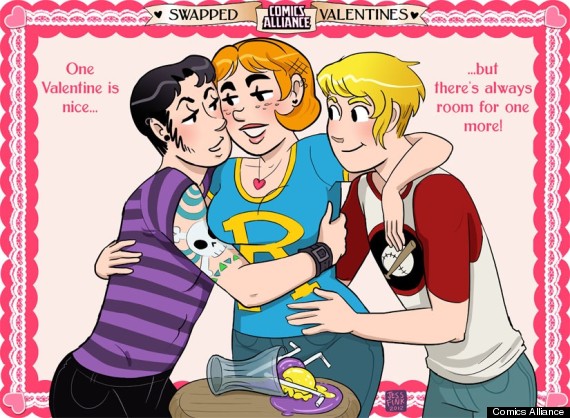 Comics Alliance also reminded readers that Archina, Ronnie and Billy are just the latest in a long list of gender-swapped comic book characters and derivative female characters. In 2009, the site profiled Lady Punisher, Batwoman and a host of other female versions of male superheroes.
Check out Comics Alliance's reports on gender-swapping in comics here, here and here.