Don't call it a comeback, but -- oh, okay, call it a comeback!
HTC is currently trying to reinvent itself with its One series after its just-okay EVO and Rezound both tanked last year. The HTC One S on T-Mobile is its first comeback smartphone in the United States, to be followed by the larger HTC One X on AT&T in early May.
Here's some jolly news for HTC and consumers: The HTC One S is a real joy of a phone -- to hold, to look at, and, most importantly, to actually use as an everyday device. It immediately becomes the best smartphone available on T-Mobile by miles, and one of the best smartphones available, period.
NICE TO MEET YOU
Good news, Android fans: Here's a great Android phone that your friends WON'T make fun of for being laughably enormous.
The HTC One S is one of the thinnest and lightest smartphones I've tried. You can feel how light it is in your hand (118 grams); it makes other phones of a similar size, like the Motorola Droid Razr Maxx (145 grams), the Nokia Lumia 900 (159 grams), and even the iPhone 4S (140 grams), with its comparably miniature 3.5-inch display, feel a bit clunky. Only Samsung's one-foot-in-the-grave Galaxy S II can really compete with the kind of "light-as-a-feather" illusion the One S achieves.
I like the look of the gray metallic-ish finish on the back of the phone, though it did suffer a few nicks from my keys within 24 hours of use. There have also been complaints that the screen gets scratched easily, though I didn't experience that.
LIGHT AS A FEATHER, NOT STIFF AS A BOARD
Performance does not seem to have been sacrificed with the thinner, lighter body. Email, Internet, Twitter and Facebook all loaded quickly; the stutter or pause between screens that defines older Android smartphones was mercifully absent. I had a minor problem getting Spotify to load initially, though an uninstall and reinstall seemed to fix the problem.
Using the phone is a very fluid experience, though touchscreen response (that old bugaboo of Android phones) is still just a tick behind that of the iPhone and Lumia 900 -- but only a small tick. In general, everyday phone performance is solid, dependable and quick.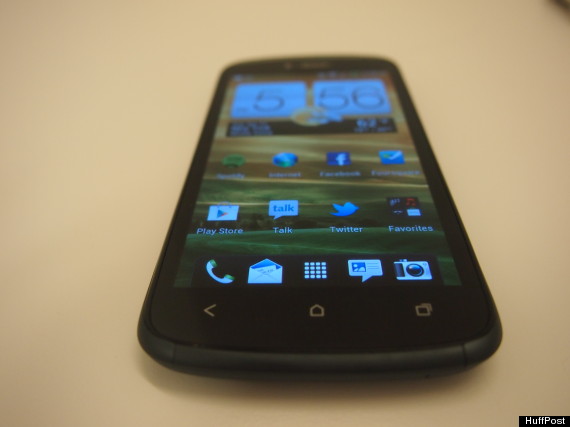 WHAT IS HTC'S "SIRI"?
HTC says the killer features on all of its One phones are the camera and the sound. On the One S, the 8 megapixel rear-facing camera loads quickly, has a fast shutter, and captures colors well. The One S camera also comes with what must be the most robust set of features on a stock camera today, including filters, scene selection, a self-timer, and more. The front-facing VGA (less than 1MP) camera is comparably weak, but the rear-facing one is a big leap.
That rear camera, in fact, is one of the best cameras available on an Android phone. I'd take it over the cameras on the Galaxy Nexus and Droid Razr, though I don't think it measures up to the camera on the iPhone 4S. (Check comparison shots in the slideshow below.)
The audio, meanwhile, is a bit of a letdown. Though I like the bass boost on Beats, I don't find it to be the differentiator that HTC thinks it is. The external speaker on the HTC One S also seems fairly weak, which is bad news if you like to rock out to your jams on your smartphone (like, I don't know, Zooey Deschanel).
Battery life was middle of the pack. It can't match the phenomenal life of the Droid Razr Maxx (nearly 24 hours), but it will get you through the day and into the night, easily outdoing the Galaxy Nexus. In two days of tests, battery power was actually about equivalent to that of the iPhone 4S, if not slightly better. The Droid Razr Maxx is still the easy champ of battery life, however.
Call quality was good. One minor disappointment: The One S runs on the HSPA+ network, or "faux-g," which is slower than the 4G LTE networks on AT&T and Verizon. It's still fast (check out a handy chart here), but you're not getting the fastest smartphone available in terms of download and upload speeds. You'll have to go for a 4G phone on Verizon or AT&T for that.
WE ALL SCREAM
There is one thing the HTC One S crystallizes for me: If you're buying a new Android phone, make sure it's an "Ice Cream Sandwich" (Android 4.0) device, and nothing earlier.
HTC's flavor of the Android 4.0 operating system represents, for me, the first realization of Android's promise: It is easy enough to use, and intuitive enough for a first time user, while also offering plenty of customization opportunities to make your phone look and do what you want it to do.
I especially like the dozens of widgets offered here: Your Gmail inbox, Twitter feed, Google Reader, Foursquare, calendar, the weather, a music player, and way more are available to pop onto or off of any of your seven home screens. For me, it makes for a much more convenient and informative smartphone setup than that of the Windows Phone, and especially iOS.
The usual Android caveats remain. The device comes with seven home screens, plus the app menu down below, which might be overkill for some. The Android Market's Google Play Store's apps cannot measure up in quality or depth to those in Apple's App Store. Though it's made large strides in aesthetics, HTC's Android is still not as beautiful as Windows Phone or iOS. Like most Android phones, the One S ships with a bunch of fat-ware you'll have to delete, like "411 & More," "T-Mobile More For Me," "HTC Hub," "Polaris Office," "T-Mobile Mail," "T-Mobile Name ID," etc. That's annoying, guys. Stop that.
Otherwise: The HTC One S is a spiffy, speedy little mid-size smartphone. Its lightness and super customizable OS make it a solid upgrade for those familiar with Android and a reasonable entry point for the computer-literate, first-time smartphone buyer. The screen and the camera shine, though hardcore camera photographers should still go with the iPhone 4S. Owners who like to tinker with their phone's display, and choose which applications appear on which of the seven screens, will appreciate all of the widgets.
The HTC One S, which goes on sale April 25, is a no-brainer option for T-Mobile subscribers and one of the most complete-feeling, completely-realized smartphones available otherwise.
Welcome back, HTC.
THE CAPTAIN GADGET SPEC SHEET FOR THE HTC ONE S
Carrier & Cost: T-Mobile,199 on two-year contract
Display: 4.3 inches, Super AMOLED
Movies It Reminds Me Of For Some Reason: "The One," Starring Jet Li (2001)
Weight: 119 grams, or 4.2 ounces, or "really light for its size"
Operating System: Android 4.0 "Ice Cream Sandwich" with HTC Sense
Network: 3G HSPA+
What We Hope T-Mobile Doesn't Do: Call It "4G"
CPU: 1.5 GHz dual-core
Memory: 1GB RAM
Storage: 16GB internal; no MicroSD card slot
Spanish-Language Pop Star You Might Confuse The "One S" With: Juanes
Camera: 8MP rear-facing with LED flash and auto-focus; front-facing VGA
Things That "HTC" Doesn't Stand For: Hot Tamale Chickens, Heavy-Tushed Canadians, Hey! That's Cher!
Others: No HDMI-Out; FM Radio; Ships With Dropbox and Where's My Water
Below, check out a photo gallery of the HTC One S, next to a Nokia Lumia 900, iPhone 4S, and Motorola Droid Razr Maxx. We also do a camera test between the One S and the iPhone 4S.
PHOTO GALLERY
The HTC One S, Reviewed