If you truly are what you eat, then here's your chance to be a living, walking cancer combatant, according to experts at the University of Texas MD Anderson Cancer Center who have developed a series of food plate worksheets that focus on nutrition and cancer prevention, with a culturally-sensitive twist.
The worksheets, which include cancer-fighting food options, serving size recommendations and a healthy recipe, are designed with three groups in mind, ones that experts say are more likely to develop and/or die from certain types of cancer -- African Americans, Hispanics and Vietnamese.
According to the American Cancer Society, African Americans are more likely to develop and die from cancer than any other racial or ethnic population. And while Hispanics have lower incidence rates for all cancers combined, when compared to whites, they generally have higher rates of cancers associated with infections, such as uterine cervix, liver, gallbladder, and stomach cancers.
Cultural differences aside, MD Anderson's food plates highlight the USDA's MyPlate (an update to the former Food Pyramid that was introduced by First Lady Michelle Obama last year) and the American Institute for Cancer Research's (AICR) food guidelines. All three make the following recommendations:
Meals should stay within the target calorie range of 500 calories for men and 400 calories for women to help adults maintain a healthy weight.
Two-thirds of the plate should be filled with vegetables, fruits, whole grains and beans.
One-third or less of the plate should be filled with animal protein, with no more than 18 ounces of red meat (pork, beef or lamb) per week.
Here's how African Americans can build a cancer-fighting meal. Get an accompanying recipe and worksheets for Hispanic and Vietnamese communities here.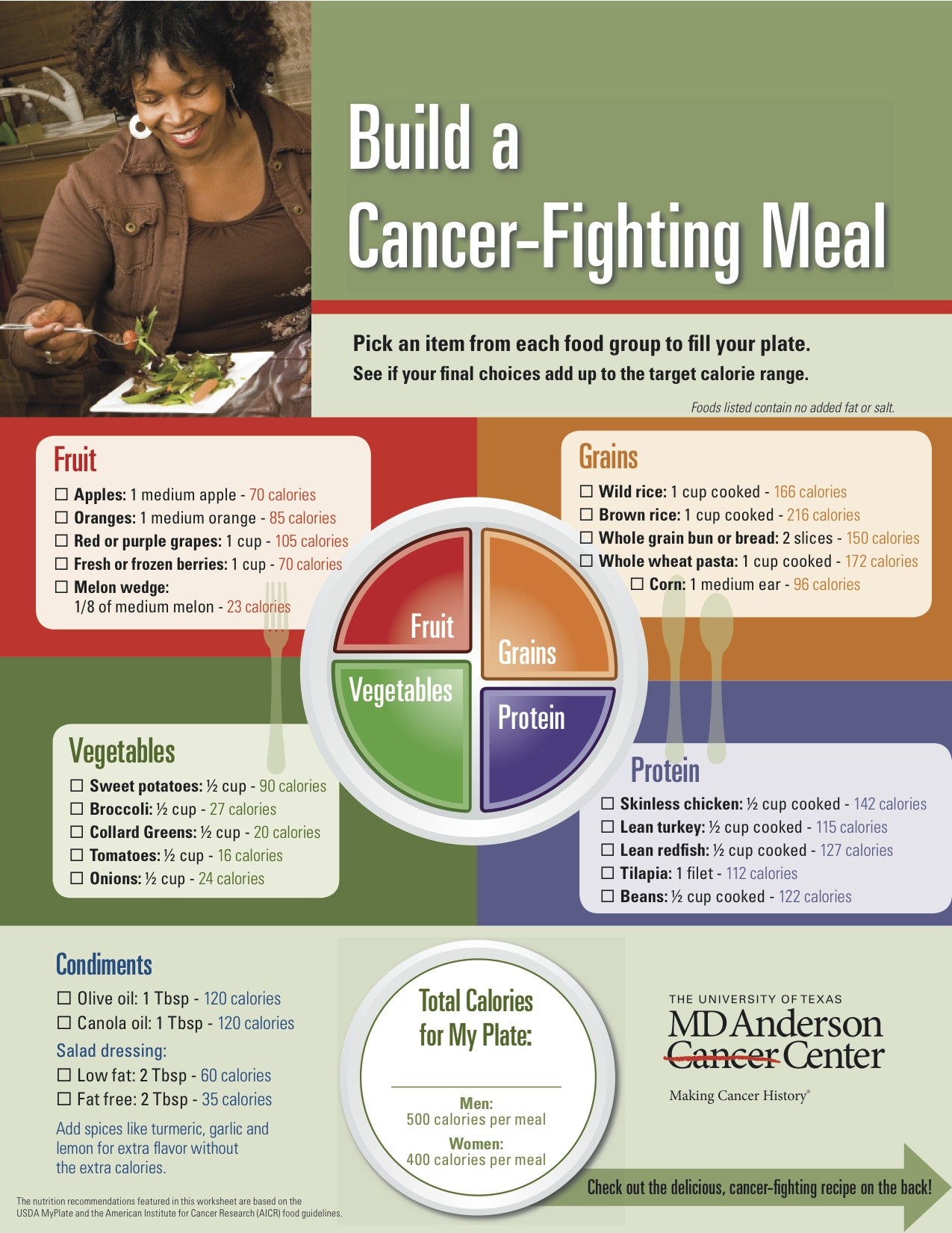 BEFORE YOU GO