KABUL, Afghanistan -- When a half-dozen Taliban militants stormed the Intercontinental Hotel here last June in a bloody overnight siege, a photograph of a team of NATO special operations soldiers, their hands and clothes still bloody as they strode confidently away from the combat zone, became the iconic photograph of the battle.
On Sunday, after yet another drawn-out street battle with Taliban militants, this one in downtown Kabul, a similarly emblematic image was taken of a confident, rugged, and blood-strewn commando emerging from a hazy battleground. Only this time something was different: the hero was Afghan.
For days after the fighting, Afghans in Kabul appeared to bask in the glory of one of their own taking the spotlight; they changed their Facebook profile pictures to that of the unknown commando and printed thousands of flyers to post around the city.
It's the sort of shift -- in both tactical capability and public perception -- that Afghans seem ready to embrace, and American officials eager to see.
"We've been saying for months and months that the Afghan security forces are in the lead, and it's like no one's been listening," said Lt. Col. Jimmie Cummings, a spokesman for the U.S.-led International Security Assistance Force.
On Thursday, the hero was identified by the Guardian and the Afghan multimedia project Kabul: A City At Work, as Hamidullah Zaker, a 24-year-old member of the local Crisis Response Unit.
"All the people back home like my job," Zaker told reporters of the growing national sentiment toward the indigenous military in a rare interview. "When I am home they ask for a bit of my uniform, my badges. Even those who are police like to hang out with me and be with me."
Military officials and eyewitnesses uniformly praised the competence and bravery of the Afghan special forces troops in the 18-hour battle, and have been keen to link their capabilities with those of the broader Afghan fighting force.
"The response by the Afghan national security forces were fast and effective, and the attacks failed," said Secretary of State Hillary Clinton in an appearance at a NATO conference in Brussels earlier this week. "Not long ago, this kind of response by Afghans themselves would not have been possible. So the Afghans are proving themselves increasingly ready to take control of their own future."
Zaker's Crisis Response Unit in particular has been instrumental to the defense of Kabul in several other major urban conflicts here, especially in last September's raid on the U.S. Embassy, when it was among the first to arrive on the scene.
But when U.S. and NATO forces draw down their presence in Afghanistan at the end of 2014, it will be left to all Afghan security forces -- a fraction of whom are specially trained operators -- to keep the tenuous peace. Analysts say the general army and police units, which have been plagued by drug use and poor discipline, have a long way to go to reach similar levels of proficiency.
But to American officials at least, the rise of a local hero after Sunday's attacks bodes well for a more enduring role for Afghanistan's own military.
"What the insurgents did on Sunday was basically provide a test see how the Afghan security forces would respond," Cummings said. "In September, we were in the back supporting them. And we were ready to support them this time as well, had ground forces ready to go, but they never called for us. It was a test, and I think they responded very well."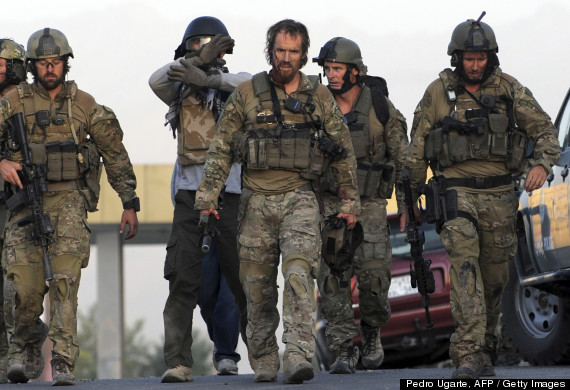 Photo of foreign soldiers leaving the military operation against Taliban militants who attacked the Intercontinental Hotel in Kabul on June 29, 2011. (PEDRO UGARTE/AFP/Getty Images)
BEFORE YOU GO
Below, see photos of the battle in Kabul: (GRAPHIC PHOTOS)
PHOTO GALLERY
Gun Battle In Kabul