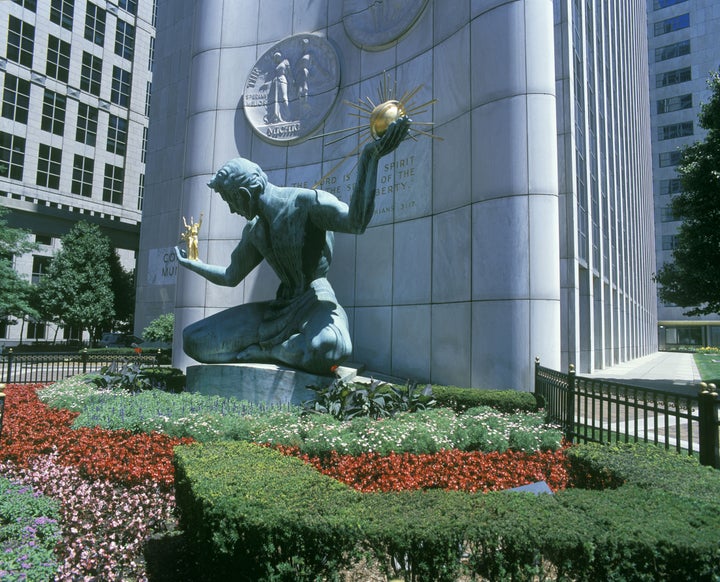 The city of Detroit is set to lose a quarter of its personnel under the latest budget proposal from Mayor Dave Bing's office. The massive layoffs are part of an overall austerity plan to balance a general fund budget that will be reduced by 10 percent for the next fiscal year.
"We have to improve the process to become more efficient," Deputy Mayor Kirk Lewis said last week. Efficiency, Lewis said, includes dramatically reducing the city's 10,000-plus-person workforce. "We will be able to eliminate the need for as many people to do things. ... Once you fix some of those things, you'll be able to say, 'I have more people than I need.'"
At the beginning of Detroit's deliberations over how to fix its finances last fall, some City Council members called for 2,300 layoffs. But the Bing administration insisted only 1,000 were needed.
Chief Operating Officer Chris Brown said Monday that about 800 of those 1,000 layoffs have gone into effect.
But the city now wants to eliminate 2,566 additional positions, either through layoffs or attrition. That amounts to a full 25 percent cut to city staff.
The city will also seek a 10 percent reduction in employee wages across the board and eliminate merit wage increases. Brown said the city would continue to negotiate with its labor unions, but if the administration can't reach an agreement it has the authority to impose concessions under the state-backed consent agreement.
The budget cuts about $250 million total. Still, city officials are promising to bolster core services and departments while slashing some and outsourcing or eliminating others.
"We're trying to focus on what we consider core services," Brown said. "That will be the focus of where we go."
The administration's core services departments are public safety; transportation; public lighting; garbage collection; parks and recreation; streets, sidewalks and landscaping; and permits.
The city has already outsourced management of the Detroit Department of Transportation and is looking to do the same for the Public Lighting Department. The city's Department of Human Services, which is facing decertification, may also be transferred completely to a third party.
Monday's budget presentation is just the beginning of the planning process. Under the consent agreement, Detroit must hold a revenue conference to accurately determine its income estimates, and any final budget must have input from the state and the yet-to-be-appointed Financial Advisory Board.
City Council also has some say, and several members appeared skeptical Monday that the mayor's budget could adequately fund its promised core services -- or that the city had chosen the right priorities.
"Who has decided what core services are?" asked Member JoAnn Watson. "Who decided recreation would be cut by 50 percent but general services, which is a new department, is now a core service?"
Brown said the city hopes to make up the difference in the parks and recreation budget by identifying outside funders.
Council Member Ken Cockrel, Jr., noted the clock was ticking on some of the budget's more ambitious proposals, like the creation of a separate public lighting authority.
"It seems like if you really wanted to do it, certain things would've been set in motion some time ago," he said.
The city's new fiscal year begins July 1.
BEFORE YOU GO