Food Informants is a week-in-the-life series profiling fascinating people in the food world. We hope it will give you a first-hand look at the many different corners of the food industry. Know someone who would make a great Food Informant? Tell us why.
As president of Slow Food USA, Josh Viertel is working to create a world in which all people can eat food that is good for them, good for the planet, and good for the people who grow, pick and prepare it – good, clean and fair food.  Josh previously co-founded and co-directed the Yale Sustainable Food Project at Yale University.  The project transformed the University's cafeteria to a menu based on sustainable, local foods, built an organic farm on campus, and developed food and agriculture curriculum and programs for undergraduates.  Prior to his work at Yale, Josh started Mamabrook Farm, a small organic vegetable farm that provided food to local restaurants and farmers' markets.  Josh graduated from Harvard University with degrees in Philosophy and Literature.  In 2010, he was named a Young Global Leader by the World Economic Forum.  Josh is dedicated to building a social movement that can transform our relationship to food and farming.  He may be reached via email or Twitter.
Read more to learn about Josh's experiences at the Slow Food USA National Congress, and his love for bluegrass music.
Sunday, April 8

8:00am: My fiancé Juliana and I moved to Wingdale, NY this past fall. We used to have a farm together, and we missed it when we were living in Brooklyn. Now it is a 2.5 hour commute to Slow Food USA's offices, so Sundays are pretty special. Particularly the mornings. Nettle tea, some grits with nettle tips and an egg. Juliana has puh-er tea. I can't do the caffeine. It makes me mean.
10:30am: Checking out the field I tilled up about 10 days ago. I want to get out and till it again, but it isn't ready yet. It was all nettles and horseradish. Nasty perennial weeds. Delicious but pernicious. This first year, I'll be tilling most of it every couple weeks, just to beat back the weeds. Then I'll plant a crop of buckwheat, which smothers the weeds (when you till it in, buckwheat also releases something that keeps weed seeds from germinating). Then it will go to clover or other cover crops to build the soil. The thing is, it hasn't been raining. So the weed seeds I want to abuse haven't germinated, and roots of the nettles and horseradish (and grass and golden rod and milkweed, etc.) haven't rotted enough to make tilling them worthwhile. So I just poke around a little.

11:00am: Chainsaw. This thing is really cool. But also really dangerous. I only use it when I'm really awake. I prune back some branches that were damaged by the big snow storm last October. Then I take down some scraggly trees that are in the way of a little orchard we are setting up. Satisfying but loud.

12:30pm: Juliana and I are wandering around, trying to figure out exactly where to plant what trees. We've got a bucket of limestone we are using to mark the potential locations And a tape measure and a string. Walking back and forth, then making a white, powdery circle. Standing back, scratching our heads, rubbing out the circle with our feet. We must look completely nuts from the road.

2:30pm: We didn't realize how hungry we are. Peanut butter spoon. Honey. Interpersonal disaster averted. Quick plans made. Masseca Water. Cheese. Sriracha. Homemade quesadillas.

3:00pm: Neighbors Amanda and Cory stop by to announce that they have discovered a mess of ramps, and they want to eat them with us for dinner. We give them horseradish and nettle tips. As though we are being generous.
3:30pm: I remember I have some pork belly in the freezer. A gift from Blue Hill Restaurant and Stone Barns Center. And I just saw a David Chang recipe for belly. Sounds good with their ramps. I defrost it.

5:30pm: Someone previously planted all the trees and plants in odd locations where we moved. So we want to move them. But moving big plants isn't like moving furniture. Plants have roots. We spend a few hours sweating, trying to dig up two big quince plants that are right where a path should be. They have incredible root systems. The grassroots movement to change food and farming is not adequate. We need a quinceroot movement. My lord. Finally, they are relocated. We are tired.
6:00pm: Pork belly in oven.
6:30pm: Smoke. Followed the recipe (almost). Burned the crap out of the pork belly. I curse David, not because I dislike him but because I know he likes cursing. Defrost sausages to substitute.
7:30pm: Dinner with Amanda and Corey. Ramps cooked in pork fat with some bits of burned pork belly. Sausages. Polenta from a mill up the road. Nettle tips. One of the best things about moving to the country is having neighbors. They lent me a circular saw. I gave them horseradish. They fed us delicious ramps. I gave them stinging nettles. I'm not keeping up my end of the bargain. We are trying to be generous, but we don't have the garden set up yet...I hope we'll get some good produce to them before they kick us out of the neighborhood.

10:00pm: Walk home under a big moon carrying gifted plants. Laugh. Sleep.
Monday, April 9

8:00am: Mondays I work from home, so I can block off time to write and talk to Slow Food chapter leaders on the phone. Polenta for breakfast. Juliana bemoans that we are out of milk. We are blessed with great milk. Raw. From the Shunpike Dairy up the road. You bring a mason jar and fill it with milk, then drop a little cash in their mason jar. No cashier. No one to make change (just rummage around the jar). I trust them to make extraordinary milk. They trust me to leave them the right amount of money when I go. But now we are out.

9:00am: Draft opening remarks for Slow Food USA's National Congress. This is the one time every four years that our leaders convene in person to make key strategic decisions, share experiences and skills, and most importantly, break bread. It will be in Louisville, KY this weekend. We will also have a board meeting, and a meeting of our regional governors (these folks coordinate the local chapters in 20 regions across the country). In addition to breaking bread, I think it's likely we'll be passing around the mason jar. No raw milk in it though. Raw milk might not be legal there...
1:30pm: Leftovers for lunch. Funny, I haven't yet gotten tired of ramps or nettle tips. It's the only thing we've got going for us right now.

2:00pm: Jump on a call with the finance committee from Slow Food USA's Board. Time to talk money and to get ready for the conference in Louisville.

3:00pm: Got to talk with Gerry Warren. Gerry is one of the original leaders of Slow Food in the U.S., and has been instrumental in saving the Makah Ozette potato. They lost the bulk of their seed crop to flooding and have been working to build it up for three years. Gerry is going to give me a few potatoes to plant out when I see him in Louisville.

4:15pm: Juliana heads over to Bloomingfield Farm to meet some new neighbors. They've got sheep and she spins. They just sheared the sheep, so she went and got some great wool.
4:30pm: We live in a tiny old post and beam barn with a sleeping loft. Out of the corner of my eye, I see our cat fall off of the balcony and hit the floor. Not graceful. She is, miraculously, unharmed. When Juliana returns, she has beautiful fleece. Not sure if she believes me about the cat.
6:30pm: I till the spots we marked for the trees so it will be easier to dig holes for them. We'll be planting a little bit of everything, but I'm particularly excited for apples. Long storing, good tasting, old varieties. Esopus Spitzenburg. (An apple variety that shows up in Melvill'es Bartleby). Grimes Golden. Ashmead's Kernel. Northern Spy.
7:00pm: Pasta with nettles. Experimented with cooking the nettles directly in oil instead of steeping them in boiling water first. They were really good before. Now they're extraordinary.

8:00pm: Pack for upcoming trip. Remember to bring some jam from last summer to share with folks I meet. We will be swapping foods from home. Maybe Gerry will get my jam in return for the Makah Ozette potatoes.
Tuesday, April 10
7:10am: On train. Tired. Looking out window at the Harlem Valley waking up. Time to prep for our meetings in Louisville.

9:15am: Perfect morning in Brooklyn. Stop by my friend Manny's place to drop off luggage. I stay there during the week on his couch. He has managed to find a way to live in Brooklyn and make beautiful wooden furniture almost as though he lives in the country.
10:00am: Morning full of meetings. High energy as we get prepped for Louisville. It's nice to know that leaders all over the country are packing their bags, trying to remember to bring their Makah Ozette potato or peach jam equivalent.

1:00pm: I do a few media interviews about Slow Food's A Thousand Gardens in Africa. This is a project Slow Food Leaders in Africa started to prove that African food security, and food sovereignty is not reliant on genetically modified seeds from multinational corporations. It's also raising pride and awareness about native plant varieties, medicinal herbs and local knowledge. With support from around the world, they are building gardens that prove the point.

2:00pm: Sit down for lunch with staff. No more nettles! Baked potato. Cress salad. Sorta miss the nettles.

3:00pm: Meet with Senior Leadership Team to start planning spring staff retreats.
4:30pm: Pack up computer, files and notes for work trip. Hungry. Still have a lot to do.

7:30pm: Subway to Lot 2 Restaurant to meet an old friend. I used to live around the corner, and I miss it. It feels like home. Maybe my favorite place for dinner in Brooklyn. They buy really good ingredients from local farmers and they don't mess them up. They even make them better. And they're wonderful people. Catch up with my old friend Jesse Adelman who is a new dad. And a great songwriter, singer and guitar player. I used to play with him in high school His band, The Telephones, just recorded a new album and he gave me a copy. It's great and I'm jealous he's still playing music seriously.
Wednesday, April 11

9:00am: Waking up in Brooklyn. Warm everything bagel from The Bagel Hole. (Hands down best bagel place in Brooklyn. Small, handmade, not squishy or sweet, just right.) Horns and trash trucks. Bouncy ride to LaGuardia to check into my flight. Wonder how the garden plot looks this morning and whether those quinces we moved are gonna make it.
2:00pm: Land in Louisville.
4:00pm: Meet with two of our new Board members, Matt Jones and John Stewart; Matt has been a long-time leader and Governor for us, while John is newer to the network, but incredibly skilled and very committed to Slow Food. Glad they're both on the board.
7:00pm: Head over to join the Board of Directors for dinner at 610 Magnolia. Supposed to be one of Louisville's best farm-to-table restaurants. Food is great, but I am tired from travel, so I skip dessert and head home.
Thursday, April 12
9:00am: Attend all day, spring Board meeting. Confidential. Sorry HuffPo, but it's a board meeting. Let's just say it was full of intense but extremely productive discourse about how Slow Food can best serve the food movement.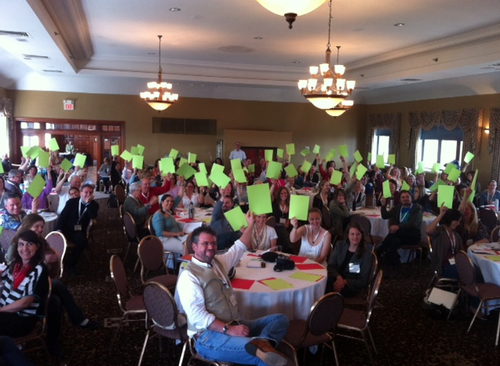 7:30pm: Maggie Keith (co-leader of our local Slow Food Bluegrass chapter) and her mother Janey Newton (a long-time supporter of Slow Food USA) host us for dinner at their family's extraordinary biodynamic farm -- Foxhollow. Foxhollow features grass-fed beef, vegetables and greenhouses. Education programs too. They have lots of folks in partnership in a sort of farming community. Together they work 1,300-acres in Crestwood, right outside Louisville. It's a truly special place.
8:30pm: Eating beef from the farm, salad from the greenhouses, and talking about Rudolf Steiner, biodynamic preparations and Waldorf Education. Years ago I worked on a biodynamic farm outside of Palermo in Sicily, and since then I've always been drawn towards them.

Friday, April 13
7:30am: This morning I'm going to finish up our board meeting, prep for the Congress opening and see off a large group of our leaders who are going on a Food Justice Tour of Louisville. Thanks to New Roots, Food Literacy Project and The People's Garden Project, they'll be visiting neighborhoods and projects in the Greater Louisville area that are working to increase access and to raise awareness for sustainable food systems. It'll help them do similar work in their areas, and set the right tone for the weekend.
3:45pm: National Congress is about to start. Mayor Greg Fischer arrives to help us kick off the festivities. The Mayor has helped to do some great work here, with the city's Farm to Table Program, and overall with good food culture and community commitment to farmers. Funny, because Louisville is also the national headquarters for Yum! Brands, which owns Taco Bell, KFC and Pizza Hut. Highest density of fast food restaurants in the country. But a vibrant food movement too.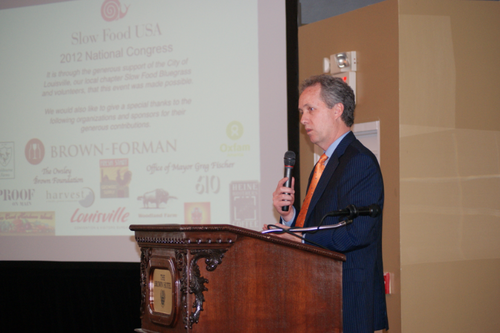 7:30pm: Heading to a Farm to City Party at Creation Gardens Market Hall. A handful of excellent chefs who give back to their community are making it happen. The two leading the charge are Slow Food Southeast Regional Governor Mark Williams and Michel Nischan of The Dressing Room and Wholesome Wave. Wholesome Wave is doing some great work to improve access and affordability of fresh, local food in several states. The organization partners with community-embedded organizations to implement its programs, including their Double Value Coupon Program that helps folks use food stamps at farmers markets.
Saturday, April 14
1:00am: Okay. That was awesome. Great food. Great people. But then, great music. I sat in with the band, Maiden Radio, and played some bluegrass. (Most folks don't know this but I used to be in a bluegrass band. No BS. Here's a clip of me playing at a festival in Owensboro, KY, Mutton barbecue capital of the world, with my old band The Professors of Bluegrass.) Surprised folks to see me up there.
Then Mark Williams staged a race between two chefs and a live band playing Lynyrd Skynyrd. Challenge: Cook a three-course meal faster than the band can play Free Bird. The chefs did it. Cooking doesn't take as long as people think. Though Free Bird is pretty long...THEN, everybody leaves but me and the musicians. And we hang on the porch picking fiddle tunes and bluegrass and blues until late. The mayor stops by. Folks stop on the sidewalk to listen to the free show. It's the first time in a long time I've been able to just communicate with music. I feel like I'm on vacation. Bass player and banjo player give me a ride home cause our buses left hours ago.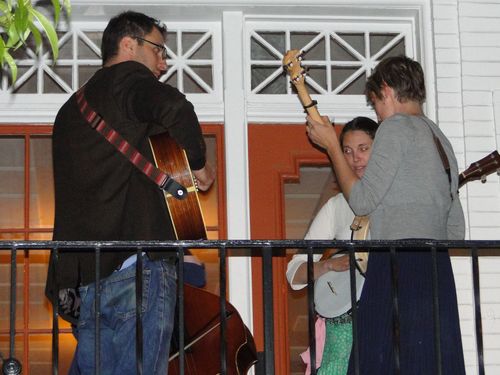 9:15am: Tired from last night. Going to weave in and out of workshops.
3:45pm: Wrapped up a great session run by Angelines Moncha Alba Lamb from Slow Food's team on what biodiversity in the food system looks like, and what we can do to grow it.

7:30pm: Afternoon spent in conversation with leaders about work ahead. Leave for Woodland Farm and a traditional Kentucky-style farmside cookout Woodland Farm is owned by Steve Wilson (co-leader of Slow Food Bluegrass) and his wife Laura Lee Brown; it's a working bison farm in Goshen, KY. I've heard it's incredible, and can't wait to see it.
8:15pm: This place is AMAZING. Beautiful old house with incredible art in it. View of the river. Bison. And ENORMOUS sculptures of snails greeting us when we roll in.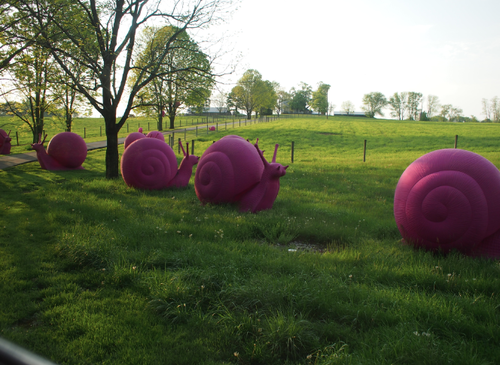 10:00pm: The White Russians are a local bluegrass band, and they're playing in the loft of a huge barn. I sweet talk the band into loaning me a guitar, and I sit in. I sing Sitting on Top of the World, and I am. We have a blast.
Sunday, April 15
8:00am: Last day of the Congress.
10:45am: This has been an incredible closing session. Our leaders are pledging to do amazing things when they go home. One pledges to address race and class, and to build local alliances in a fractured community. Another pledges to fight for local farmers and biodiversity.
11:15am: Leah DiBernardo, Slow Food leader from Temecula, CA gets the microphone, and puts it up to her phone. An 11-year-old starts talking. She tells us how she couldn't travel to be at the Congress, but she started a Slow Food chapter at her grade school, and then started a garden for it. Now she's working to get real food into their dining hall, and she wants everyone to know that she's a part of Slow Food, and to not to forget that children can lead. Extraordinary.
12:00pm: At the food swap, I hand off my jam to Christine Schantz whose the new regional leader for Slow Food in Northern CA. She hands me some really special fig preserve. Then I head over to Gerry and he hands me a bunch of Makah Ozette potatoes for seed for my garden. Tom Colton from Lanceister County, PA approaches me with a basket. He hands me some peanuts to plant. Regular ones, but also black ones and purple ones. And he hands me some gorgeous gamay beans he smuggled from French farmers he met at Terra Madre. And he promises to send me heirloom strawberry plants. Little wild ones.
And then he hands me a spiky tuft of cotton. This cotton has beautiful green flecks in it. It's, he explains, slave cotton. On plantations, slaves were allowed to grow cotton for their own clothes, but they weren't allowed to sell it, lest they gain power through gaining money, or upset the slave owners' market. They were only allowed to grow cotton varieties flecked with color, so it could be easily identified, and wouldn't enter the market. Holding this cotton is uncomfortable. The stories behind agricultural diversity are intense. The one most people talk about is the Trail of Tears bean variety (carried by first nations people on the notorious trail of tears). But none has felt so intense, painful, and powerful as this cotton does to me. It feels like it will burn a hole in my hand. It reminds me that we're not trying to go back to a farming system from the past. We're not trying to recreate it as it was. Because it has always had suffering and oppression and environmental degradation in it. We're actually working to build something new, based on shared knowledge and our shared histories. It can't be based on forgetfulness, and this cotton is a reminder.
1:30pm: The congress is done. People are heading home. With potatoes, and bean seeds and jam. And friendships and connections to people doing like work all over the country. I can't wait to get home, seed the potatoes, plant Tom's strawberry plants, and build on those relationships. Juliana texts me that the field is ready to till again, and some fruit trees have arrived that need to be planted.
To close the Congress, two young Slow Food Chapter leaders, Meghan McDermott and Maddie Halpert, donned berets and recited the Slow Food Manifesto. Every time they said something about fast food or the industrial food system, folks booed and hissed. Every time they said "Slow Food," folks cheered. It is a little tradition we have. I suggest you try it next time you get a group of people together over dinner. Don't forget the berets. Here it is:
The Slow Food Manifesto
The Slow Food international movement officially began when delegates from 15 countries endorsed this manifesto, written by founding member Folco Portinari, on December 10, 1989.

Our century, which began and has developed under the insignia of industrial civilization, first invented the machine and then took it as its life model.

We are enslaved by speed and have all succumbed to the same insidious virus: Fast Life, which disrupts our habits, pervades the privacy of our homes and forces us to eat Fast Foods.

To be worthy of the name, Homo Sapiens should rid himself of speed before it reduces him to a species in danger of extinction.

A firm defense of quiet material pleasure is the only way to oppose the universal folly of Fast Life.

May suitable doses of guaranteed sensual pleasure and slow, long-lasting enjoyment preserve us from the contagion of the multitude who mistake frenzy for efficiency.

Our defense should begin at the table with Slow Food.
Let us rediscover the flavors and savors of regional cooking and banish the degrading effects of Fast Food.

In the name of productivity, Fast Life has changed our way of being and threatens our environment and our landscapes. So Slow Food is now the only truly progressive answer.

That is what real culture is all about: developing taste rather than demeaning it. And what better way to set about this than an international exchange of experiences, knowledge, projects?

Slow Food guarantees a better future.

Slow Food is an idea that needs plenty of qualified supporters who can help turn this (slow) motion into an international movement, with the little snail as its symbol.
See more Food Informants below:
PHOTO GALLERY
Food Informants