Is there such thing as caring too much about burritos? The Appalachian, the college newspaper for Appalachian State University, thinks so. Jim Romenesko writes about a kerfuffle that occurred after the student paper reported on Twitter and Facebook that a local Mexican restaurant, Los Arcoiris, was closing. It wasn't, and the paper corrected itself 20 minutes later.
Many readers/burrito lovers were upset with the the paper for the misreporting. So many that The Appalachian received more feedback and engagement on the errant restaurant scooplet than it had on any previous story, ever. So, the paper responded by writing an editorial saying how disappointed they were with their readers. It read in part:
[W]e're disappointed. Throughout the morning Wednesday, our Twitter timeline exploded with feedback. We even received a string of phone calls to our office.

All of a sudden, people cared - and it was all about a Mexican restaurant.

Sorry burrito lovers, in a list of the most important issues covered this year, the potential closing of Los wouldn't even make the top 10.

We have never seen students engage with our content the way they did today. And frankly, we think there are things that deserve your attention more.

Instead of suddenly mobilizing when your quesadillas and margaritas are at stake, start engaging with issues that actually affect you - and the thousands of dollars you pay this university each year.
After the editorial was published, student response was less-than-thrilled. The dozens of displeased rejoinders, for the most part, resembled the following: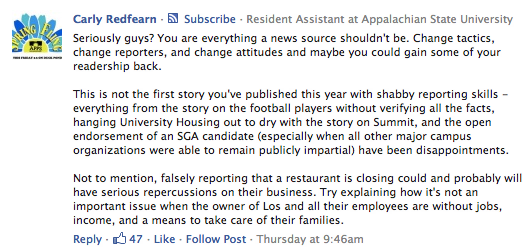 Romenesko reached out to the newspaper's editor-in-chief for comment and heard back from another editor at the paper, Meghan Frick, who acknowledged that the tone of the editorial was "unacceptable":
[We] do understand, at a further remove from the situation, that our tone offended many of our readers. We are deeply sorry for that, just as we're sorry for our original reporting error. We tend to feel, like many college newspapers, that we have a little more room for sass on our opinion page. That's all that was meant by the tone of the editorial — snark, not condescension or deflection of our original responsibility.
Frick concluded, "I'm fully comfortable admitting that, if I had this decision to do over again, I'd do it differently. We stand by the spirit of our editorial, but the tone in which it was delivered was far from ideal." See her full response over at JimRomenesko.com.
So it sounds like everyone can probably relax now -- maybe over some margaritas and burritos from Los Arcoiris.