There's been a lot of discussion recently about mega-stuffed crust pizzas. Pizza Hut UK launched a hot dog stuffed crust pizza and Pizza Hut Middle East went seriously crust crazy by launching a crust with hamburgers and chicken strips. The world has gone nuts for crust.
While these gut bombs have certainly captured the attention of a jealous American audience, the various crusts might be better in theory than in reality. A Dubai-based correspondent for Slice got his hands on the Middle East Crown Crusts and was far from impressed. "If I took the antonym of 'delicious,' strapped it onto a rocket and blasted it twenty thousand light years away, I may begin to get close to my experience with the burger patties," he says. The hot dog stuffed pizza, however, fared better. "It was rubbery and processed and salty and smoky. How, in its own filthy way, could it be anything other than delicious," says The Guardian.
Despite the mixed reports, American stuffed crust pizza lovers can't help but feel slighted by not being included in these displays of pizza gluttony. Perhaps as something of a consolation prize, Pizza Hut U.S. has reintroduced Cheesy Bites pizza to the American audience. For those not familiar, Cheesy Bites pizza consists of 28 cheese-filled bites that surround the pizza's perimeter in the place of crust. You can tear these bites off, and dip them into marinara sauce. The rest of the pizza remains the same.
"Nothing captures the attention of our customers quite like the fan favorite Cheesy Bites Pizza, says Pizza Hut CMO Kurt Kane in a press release, "With Cheesy Bites, you're getting our mouth-watering pizza surrounded by cheese-filled miracles that can take pizza night from good to great."
We may have gotten the short end of the pizza crust genre, but it was HuffPost Food's duty -- as Americans -- to sample this fare. And after sampling, we came to the conclusion that when it comes to crust, crazier isn't always better. Cheese-filled miracles, they are not. The cheesy bites were heavy on the breading and light on the cheese. We sampled three different pizzas -- plain, pepperoni and mushroom -- and the cheesy bite crust had slightly different seasonings on each, but mostly had a too generous shake of garlic salt. There was a distinct artificial butter taste as well. While the crust was not offensive and was certainly palatable, it didn't really elevate the pizza as a whole. Actually, we found ourselves craving regular crust. Do we actually need more cheese or breading on pizza? No.
Perhaps much of the allure of all these crusts are not so much the flavor, but rather the idea of something new. And, given how successful Pizza Hut's initial launch of Stuffed Crust pizza was back in the day, the company has certainly found its niche with various novelty pizza offerings. We might not have loved the crust, but we have a feeling that people will still want to experience this innovative crust craze for themselves. In the meantime, we're curious to see what the company comes up with next.
See the Cheesy Bites up close: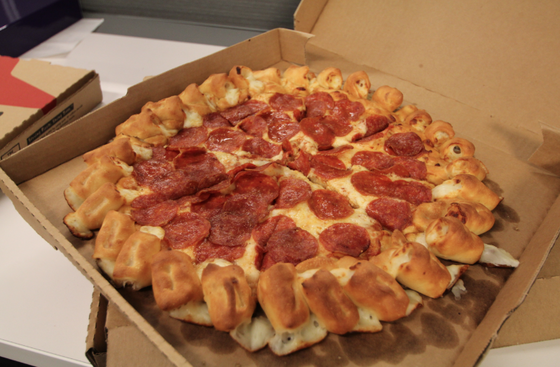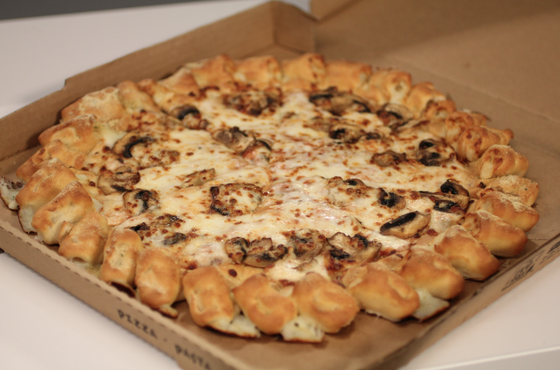 BEFORE YOU GO
PHOTO GALLERY
The Worst Fast Food Creations of 2011