Madonna has had many reincarnations throughout her life, but her racy sex phase throughout the 90s was arguably her most prolific period. One iconic photograph of the singer/actress/performer shot in 1990 and printed in 1991 sums up her transformation to come in the following decade. Fashion photographer Steven Meisel captured this in one black-and-white photograph titled "Madonna," now up for auction at Bonhams along with 169 other famous images. The photograph is estimated to fetch $5,000 to $7,000.
"Madonna" features the pop icon lying on her back, naked on a bed with a sheet loosely covering her nether regions. Her platinum blonde hair is in a mess of curls on her head, her eyes heavily doused with makeup. She stares directly into the camera while smoking a cigarette. It's provocative, it's sexy, it's direct -- everything Madonna was going for at the time. Despite the many evolutions of Madonna then and since, her "sex" phase was arguably the most memorable.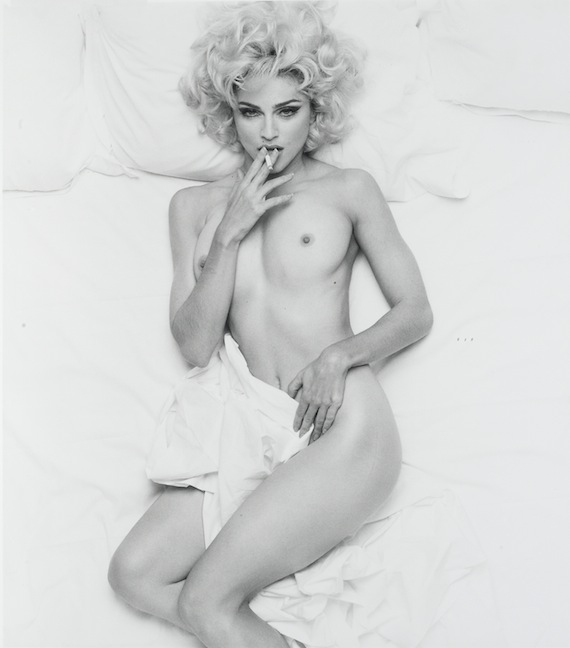 In November 1990, Madonna released her first greatest hits compilation, The Immaculate Collection. While the album and new song, "Justify My Love," were both wildly successful, the music video for the track didn't fare as well. The video was so explicit (sadomasochism, bondage, nudity) that stations like MTV banned it.
The following year, she released her controversial book "Sex" (also shot by Meisel) alongside her equally shocking album Erotica. The book displayed Madonna in a number of suggestive sexual positions, often categorized as soft-core porn.
In 1990 and 1993, she embarked on two world tours -- the Blond Ambition World Tour and The Girlie Show World Tour. Rolling Stone called Blond Ambition a "sexually provocative extravaganza." Madonna faked masturbation during "Like A Virgin." The Pope requested Christians not to attend the concert.
By the mid 90s, Madonna was on to yet another reincarnation of herself. She began to counter her sexual image, with out-of-character choices, like her turn as Argentine activist Eva Peron in the film version "Evita" in 1996.
Bonhams will also be auctioning off works by other major photographers including Bert Stern's "Marilyn Monroe-The Last Sitting" from 1962 and Gered Mankowitz's "Jimi Hendrix, Smoking" from 1967.
Click through below to see highlights from the upcoming Bonhams auction (NSFW):

BEFORE YOU GO