Cameron Diaz continues her fashion spree on the cover of Harper's Bazaar UK's June issue, getting hosed down in a beige dress for a rather dangerous photo. Seriously, girl is a centimeter (and one airbrushing crew) away from a nip slip a la Katy Perry. Bold, Cam.
Photographed by Tom Munro, Cameron also posed in a white button-down and her undies (and a hat, but that seems besides the point) for the sexy shoot. While looks gorgeous, it's definitely a different vibe from her high fashion turn in last month's InStyle which found the actress wrapped in Versace and Valentino.
If you ask us, we prefer the casual, I-just-threw-this-on Cameron to Couture Cameron -- to us, she'll never stop being the girl who rolled around in a gas station bathroom in "The Sweetest Thing" and slathered on that D.I.Y. hair gel in "There's Something About Mary." So somehow, despite the near-wardrobe malfunction, the messy-sexy vibe of Harper's Bazaar UK seems just right.
Do you like Diaz's latest shoot?
PHOTO: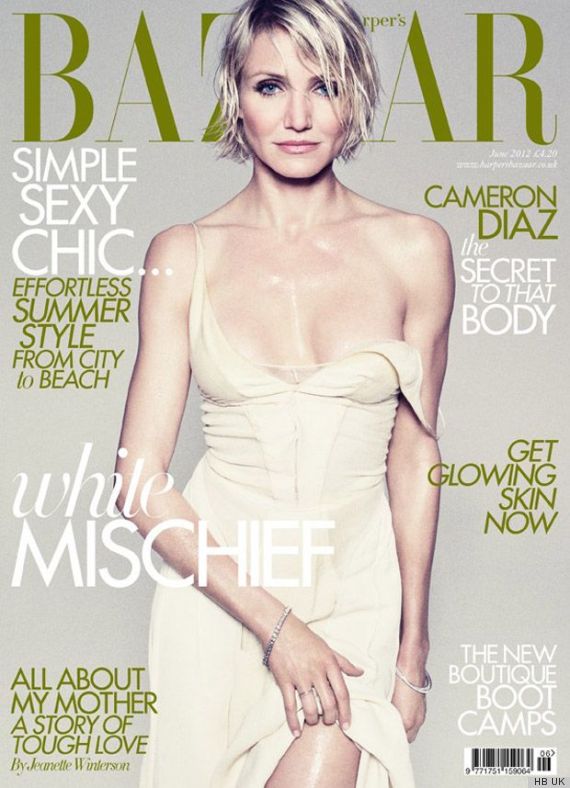 BEFORE YOU GO
PHOTO GALLERY
Cameron Diaz Style Evo(CLONED)