What is the Big Jambox? Well, it's like the Jambox...but bigger.
Much bigger.
The original Jambox, for those who don't know, is a highly-stylish portable Bluetooth speaker made by audio company Jawbone; first released in 2011 to critical and consumer acclaim, it has become, in about a year, the world's most popular portable speaker, per Jawbone's stats. You simply connect your mobile device -- smartphone, tablet or laptop -- via wireless Bluetooth or through a cord that runs through a standard headphone jack and play your music from the device. It also comes with a microphone preinstalled, so that if someone called your smartphone while you were listening to music through your Jambox, you could simply press a button and use the Jambox as a speakerphone.
It was ultra-portable, at less than a pound; delivered surprisingly crisp, loud sound through its stylish rubbery frame; and was, perhaps most importantly, really easy to use and set up for non-techies.
Now here's the sequel to the initial smash success: It's a Jambox, but bigger, and it's called The Big Jambox.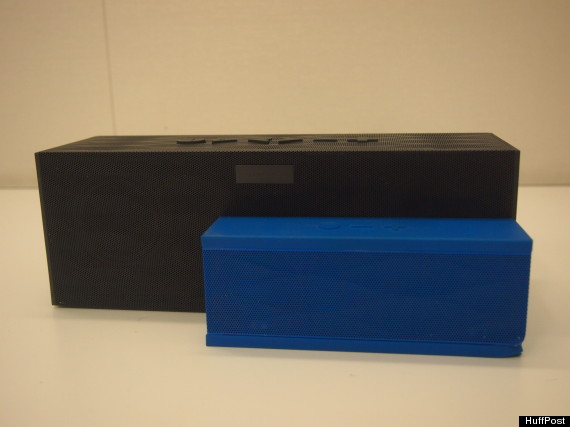 The Big Jambox (back) with the original Jambox (front)

The Big Jambox essentially repeats the successful design and functionality of the first Jambox, except all of the dimensions have ballooned: Where the original Jambox weighed 0.75 pounds, this one is noticeably heavier, at almost 3 pounds; where the original Jambox was 6'' long x 2.2'' wide x 1.6'' high, the Big Jambox is 10'' x 3.1'' x 3.6''; while the original Jambox could easily fit in your purse or bag for easy transportation, the Big Jambox is probably better to leave in one place, given its size. An iPad laid on its side fits comfortably on top of the Big Jambox, and a Jambox spokesperson suggested that the Big Jambox would make a perfect external speaker for watching video on the iPad. (See slideshow below for the ingenious setup).
Indeed, Jawbone is selling its Big Jambox as a sound-system replacement, as a speaker made for powering parties and outdoor listening for groups. With its added weight and size comes a few perks -- most notably, the Big Jambox is much, much louder than its smaller cousin. It also gets much better battery life (15 hours for the Big Jambox versus 10 hours for the original) and adds a few more convenient physical buttons. When your smartphone, MP3 player or tablet is hooked up to the Big Jambox, you can now change the song, pause or play the track.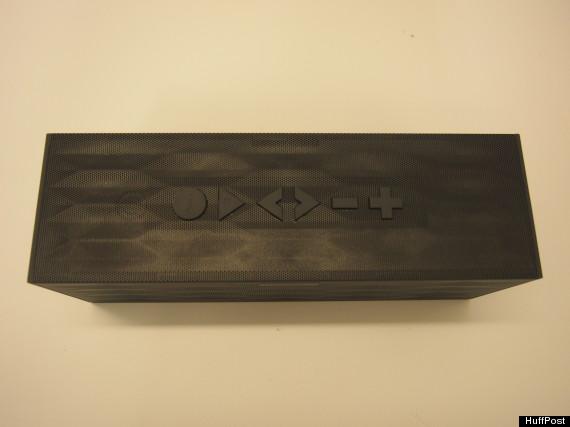 While your Big Jambox isn't going to outperform two big speakers and a subwoofer, I found that it did maintain high sound quality at a high volume. There is a new dedicated pairing button on the side of the Big Jambox that makes connecting your smartphone or laptop via Bluetooth to the speaker super easy; I also love the new Play/Pause, next/previous buttons on top of the speaker, so that you can control what's playing without finding the actual player. Hopefully those make it to the smaller Jambox at some point.
What you gain in volume and functionality, however, you're giving up in portability, weight, and -- alas -- price. The original Jambox is $199; the Big Jambox is $299. The smaller Jambox gives enough audio for most personal listening, though if you're looking for an easy-to-use, wireless speaker that gets really loud, the Big Jambox is a solid, attractive, fully functional option.
Pre-orders start May 1st for the Big Jambox, which comes in red, white, and graphite, at Jawbone's website; the Big Jambox will be available in retail stores on May 15th.