A small group of protesters wreaked sizable damage in San Francisco's Mission District on Monday night, as participants smashed windows, spray painted cars and vandalized several popular restaurants and a police station after an Occupy rally in Dolores Park.
The San Francisco Chronicle reported that the group marched from Dolores Park around 9 p.m. following an Occupy rally preceding Tuesday's May Day general strike and day of action.
(SCROLL DOWN FOR LIVE UPDATES)
On a phone call with The Huffington Post, Occupy San Francisco denied any involvement with the vandalism.
"This was not Occupy," said Magick, a spokesperson for Occupy SF to HuffPost. "For the past few months we've been working hard to build support for peaceful, creative May Day events, and then this happens in one of our very dearest neighborhoods: the Mission. We don't know who did this and it's heartbreaking that this group would undermine our efforts."
Magick said that members of Occupy SF spent Tuesday morning sweeping up glass and talking with affected business owners. "These are the very people we are trying to protect," she said. On Tuesday morning, Occupy launched its May Day events, as planned. (Click here for a schedule of the events.)
Reportedly, at least 30 businesses were affected by the vandalism including Tartine Bakery, Locanda, Four Barrel Coffee, Farina, Brick & Mortar and ArtZone 461 Gallery. Dozens of cars were also vandalized.
On Tuesday morning, Locanda posted a note on the restaurant's website:
"Thanks for all the support. Tonight's service was about as crazy as it gets, we're just thankful that all of the guests and staff are safe."
Two eyewitness readers wrote local blog Mission Mission describing the scene outside of Farina:
Readers Christina and Steve were there. Christina first: "I was trapped in the middle of the riot while they threw paint on me and hit my friend with a chair from Farina's outside seating area. They smashed a window of a car and threw a flame inside trying to light it on fire." And now Steve: "They threw tables around and broke some glass in front of Farina, then smashed an SUV window by the end of the block. Escalated pretty quickly and was moving at a very quick, intentional pace from the start."
Although Occupy has denied involvement with the vandalism, business owners expressed frustration with the organization.
"Occupy is saying it's not them, but we wouldn't be here if it wasn't for Occupy, now would we?" said real estate broker Michelle Horneff-Cohen to the Chronicle. Horneff-Cohen's business Property Management Systems suffered broken windows in the attack. "I think it's bullshit," she continued. "We are the 99 percent and this is bullshit."
Mission Mission acquired a video taken at the Monday night incident that displays both the vandalism and what appears to be contention in the ranks. Watch Mission Mission's video in the clip below. (Vandalism appears to begin at the 48 second mark.)
05/02/2012 2:51 AM EDT
Dozens Arrested At Occupy Oakland Protests
Twenty-five people were arrested on May 1 during the Occupy Oakland demonstrations, the City of Oakland reported. Although a complete breakdown of the arrests is not currently available, at least one person was detained for assaulting a police officer. Two others face felony arson arrests (one of the suspected arsonists allegedly set a police vehicle on fire).
Incidents of vandalism were reported at three banks. The windows of an Oakland Police Department van were broken and the tires of one news media vehicle were also punctured.
Public Works crews are now trying to clean up the damage and restore the city before daybreak.
-- Jade Walker
05/02/2012 1:03 AM EDT
After Massive March, May Day In New York Ends With Assembly And Scattered Arrests
As thousands of people streamed down Broadway into Lower Manhattan, they faced a choice: go home to their apartments or stick around to see what happened next. Many -- including almost all the union members and immigrant rights' activists, it seemed -- chose the former. The younger demonstrators who remained, many of them clad in black, headed to the Vietnam Veterans Memorial Plaza.
By 9 p.m., perhaps a thousand protesters were gathered in the small park. "This park officially closes at 10 p.m. Some of us will stay here indefinitely," one speaker announced over the human microphone. The goal was nothing short of re-occupation.
As the hour wore on, people sat and chatted and something of a General Assembly occurred. (Occupy Wall Street hasn't had one of those gatherings since March.) Shortly after 10 p.m., a police officer on a bullhorn announced that anyone who stayed would be arrested. Most of those assembled complied with police orders. A few -- reportedly from Veterans for Peace and Occupy Faith -- stayed on, willing to be arrested.
Hundreds streamed into the night, some getting on subway trains and others engaging in a cat-and-mouse game with the police through the Financial District's narrow streets. The Huffington Post witnessed several arrestees loaded into a police van at Hanover Square, including one of a man wearing an Oakland Athletic's baseball cap.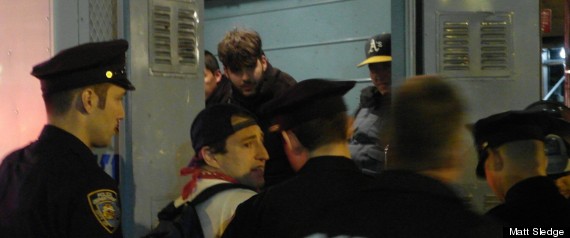 By the end, a few hundred protesters gathered in Zuccotti Park to wind down a successful day's gathering and relive old times. In the city host to the A's, meanwhile, the night was only getting started.
-- Matt Sledge
05/02/2012 12:30 AM EDT
Bomb Plot Suspects Had Limited Connections To Occupy Movement
Business Week reports that the men charged with plotting to blow up a bridge had only vague associations with Occupy Cleveland. Although they had attended Occupy events in the past, FBI spokesperson Vicki Anderson told the publication that there was no link between the alleged bomb conspiracy and the Occupy group.
"This was not an Occupy movement plot," she said. "They were individuals that formed their own group to conspire."
The men allegedly felt that the Occupy movement didn't go far enough and were considering a hospital or a cargo ship as possible targets.
USA Today reported: "What sets the alleged Ohio operation apart is its link to self-proclaimed anarchists -- with no connections to international terrorist organizations -- who believed that members of the ubiquitous Occupy protest movement had not gone far enough to express their displeasure with high-flying corporate America."
-- Jason Cherkis
05/01/2012 11:29 PM EDT
More Images From Occupy LA's May Day Actions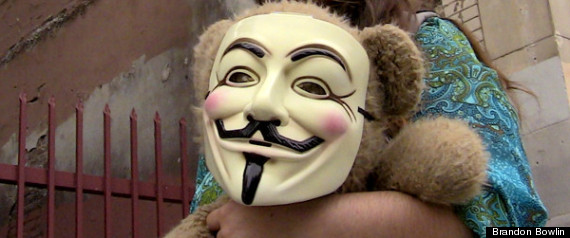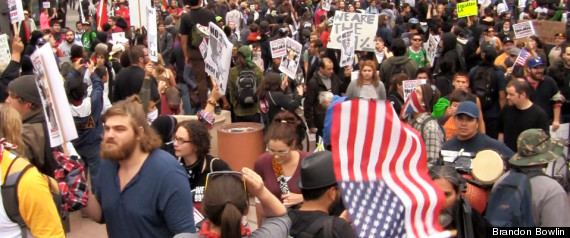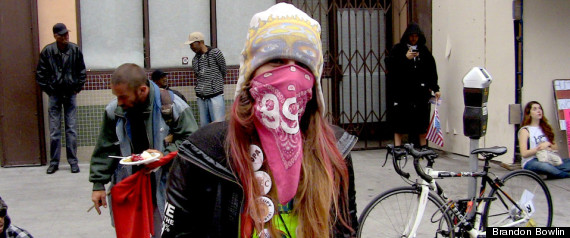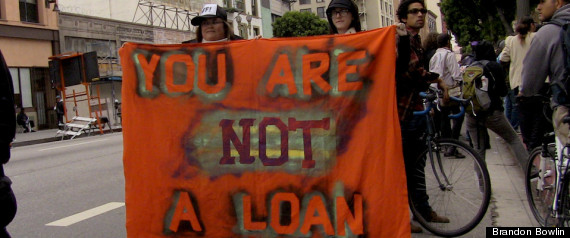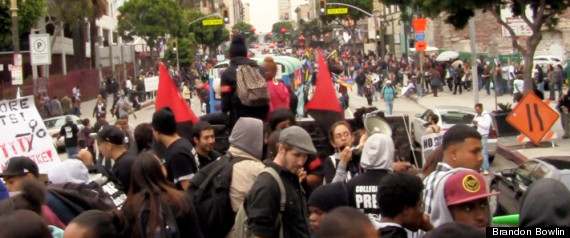 -- Photos by Brandon Bowlin/thedarkroome.com
05/01/2012 11:25 PM EDT
Scenes From Occupy LA's May Day Actions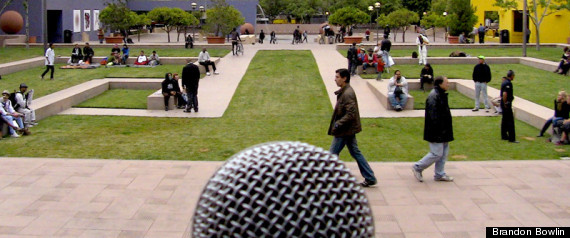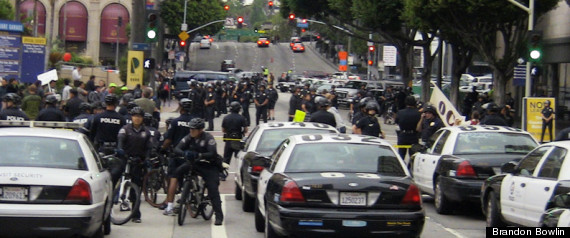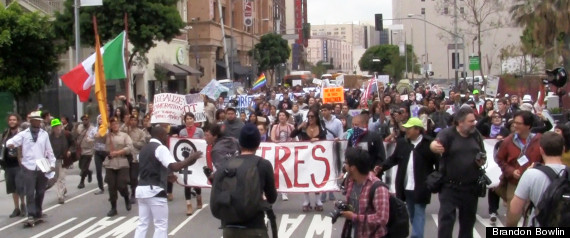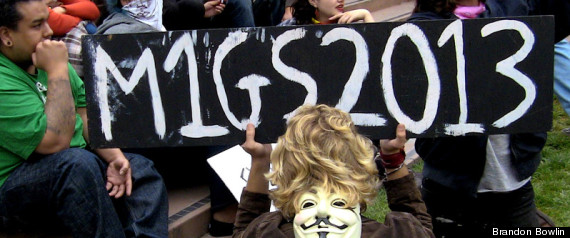 -- Photos by Brandon Bowlin/thedarkroome.com
05/01/2012 10:52 PM EDT
Occupy Wall Street Protesters Smash Windows At Wells Fargo Bank Branch In Seattle
Protesters smashed windows at a Wells Fargo bank branch and Starbucks store in Seattle on May Day, according to the Puget Sound Business Journal. The Wells Fargo Center in downtown Seattle "had the feel of a building about to be under siege, but not just yet."
You can view a slideshow of the Seattle protest here, from the Puget Sound Business Journal.
--Bonnie Kavoussi
05/01/2012 10:51 PM EDT
Profiles Of 3 Alleged Anarchists Arrested By The FBI For Plotting To Blow Up Bridge
Brandon Baxter
The former Lakewood resident was arrested a few times as a juvenile — including a September 2009 incident when he was arrested for allegedly stabbing a family member with a knife. Lakewood police charged him with aggravated attempted murder, but the outcome of the case is not available as juvenile court records were sealed. As an adult, Baxter -- whom acquaintances told Patch was intelligent, quiet and strange -- was charged with criminal trespassing in 2010, stemming from an incident at Lakewood Park.
Anthony Hayne
With a criminal history that stretches back to 2000, Hayne's record is littered with charges of theft, drugs and receiving stolen property. Hayne was most recently found guilty of breaking and entering in November 2011. In that case, he was sentenced to probation.
Joshua Stafford
In August 2010, Stafford pleaded guilty to charges of contributing to the delinquency of a minor; giving false information to a police officer; and possession of drug paraphernalia. In Lorain County, he also was charged with criminal trespassing, theft and receiving stolen property and attempted breaking and entering.
-- Colin McEwen
05/01/2012 10:41 PM EDT
Occupy LA Assembly About To Begin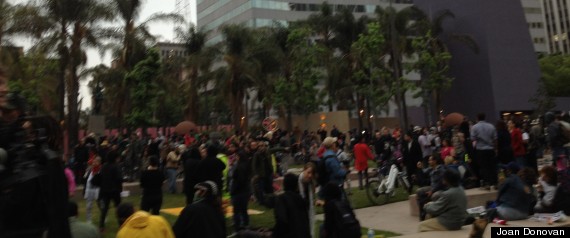 -- Photo submitted by Occupy activist Joan Donovan.
05/01/2012 10:38 PM EDT
Occupy Miami Releases Statement About Arrests
Occupy Miami blames police for the arrest of 3 May Day protestors, including a live-streamer accused of assaulting an officer. In a statement, the group said police prompted a skirmish by becoming overly agressive while providing what an Miami Police Department incident report termed "safe escort":
Miami police escalated what was a peaceful protest by pulling three individuals out of the crowd of 100 in front of the Wells Fargo and beating them with fists and batons. They also punched our live stream media in the face and nearly broke his phone...

While the protestors had not instigated any problems the police and been escalating the action towards violence for most of the march by running cars and bicycles into the peaceful marchers.
Occupiers are now holding a candlelight vigil outside the jail to protest the arrests. Get the full story, at HuffPost Miami.
-- Janie Campbell
05/01/2012 10:21 PM EDT
NYPD Moving In
Police appear to be ready to make a move against the protesters at 55 Water street. The NYCLU reports: "NYPD on bullhorn saying that park is closed, you will have few minutes to leave, if you refuse you will be arrested."
Reporter Matt Sledge says that "Police lining up around edge of Vietnam vets, speaker says 'know that this decision is your own.'"
Another Twitter user reports, "Several NYPD vans just rolled up to 55 Water. Very scary sight."
-- Jonah Green