Sutter Brown, California's First Dog and favorite Corgi, is paying a visit to Los Angeles Wednesday on official state business.
He'll be joining his dad, Governor Jerry Brown, actor Pierce Brosnan and animal rights activist Cesar Millan to tout California's Pet Lover's License Plate, reports the Sacramento Bee, and fans will have a chance to see the pup at 2:30 p.m. at Petco in Westwood.
Sutter's handlers (or should we say foot servants?) are documenting the roadtrip on Twitter. For the past few hours, Jennifer Fearing, California state director for The Human Society of the United States, has been tweeting bathroom and food breaks, multiple press stops and how Sutter likes to cuddle.
One tweet pokes fun at Mitt Romney's preferred method of transporting pets (Crate-Gate) with a picture of a dog crate on top of a car.
Um, who packed this car, Mitt Romney? @SutterBrown & @HumaneSociety say NO to doggies on top!lockerz.com/s/205848191

— Jennifer Fearing (@JenniferFearing) May 2, 2012
Sutter, however, seemed a little more confused.
I'm in a car. Who are these people!? RT @JenniferFearing I have the pooch! @CapitolAlert 1st dog hits road for LA sacb.ee/IlHCWX

— Sutter Brown (@SutterBrown) May 2, 2012
Brown's spokesman Gil Duran is also having a little fun with the event. In response to a tweet asking, "How come I wasn't invited?" (accompanied by a picture of a sad-looking dog), Duran responds cooly that the pup has "a face for radio."
A face for radio. RT @eashford how come I wasn't invited? yfrog.com/kjfmawvj

— gil duran (@gilduran76) May 1, 2012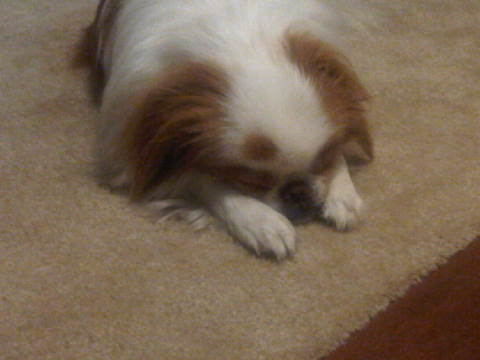 Photo by Twitter user eashford.
In all seriousness, the morning's Twitter action is calling attention to new state license plates that donate a portion of the proceeds to spay and neuter programs across California. For plates that start at $50, drivers who are also animal lovers can have a hand in reducing the need to euthanize over one million dogs and cats every year, statewide. Production starts once orders hit 7,500; to date, the quota is more than half way there at 4,620.
In an impassioned blog for The Huffington Post Wednesday, dog whisperer Millan trumpeted the spay and neuter cause by calling attention to the fact that in Los Angeles alone, the kill rate in shelters is 30 percent. A new city-wide campaign, called No Kill Los Angeles (NKLA), aims to bring that number down to zero.
Hopefully it isn't all work and no play for Sutter Brown in Los Angeles. After he's done with his very important doggy duty, we suggest meeting up with these fun-and-sun-loving pooches for a night on the town.
RELATED ON HUFFPOST:
View images from the NKLA effort below, courtesy of TBWA\Chiat\Day.