Food Informants is a week-in-the-life series profiling fascinating people in the food world. We hope it will give you a first-hand look at the many different corners of the food industry. Know someone who would make a great Food Informant? Tell us why.
Deb Music comes by her role at Theo having been a serious chocolate devotee since a young age. After many years spent juggling various passions and honing her marketing acumen in a variety of roles, Deb took a 3,000 mile leap of faith in 2004 and moved from her home in the northeast clear across the country to Seattle, to help her ex-husband fulfill his dream of building the first organic and fair trade certified chocolate factory in the United States, as chief sales and marketing guru. Seven years later, she continues to ensure that Theo Chocolate is firmly rooted in its commitment to organic, fair trade chocolate while creating a model for sustainable business. Deb lives in Bellevue, Washington with her husband, a Microsoft geek, and her son, a budding musician. She continues to eat chocolate (and kale) every single day.
Read more about Debra's role within a growing company and learn about Theo chocolate below.
Monday, April 16
6:40am: Out of bed, at my kitchen table, on my laptop. I try to sneak in an hour of work before my husband and son are awake. I check my email and determine my work plan for the day. Our designer is out sick today (which changes my agenda); our national sales manager, David, shares the date for our Whole Foods category review meeting in May, and a request from a consultant I am working with for a call later in the afternoon.
6:53am: I put on a pot of water to boil, and step outside for a breath of morning air. We have had some glorious days here in Seattle over the past few weeks and as result, in a bold move, I decided to plant some flowers yesterday. They survived the night. It's a beautiful morning -- grey, but lush with a gentle rain. There's no place more beautiful than Seattle in the springtime.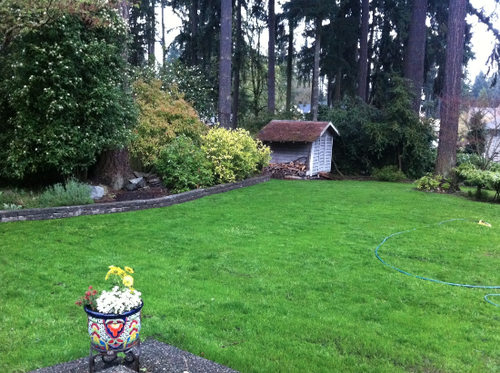 Step back inside, say good morning and goodbye to my husband, Brad, who is standing in the kitchen eating a banana and headed to the gym. Make myself a cup of Rishi Emerald Lily green tea with organic honey, and jump online to book myself a flight to Austin for Whole Foods meeting before the day ramps up and I forget. There's only one daily direct flight from Seattle to Austin and it fills up fast.
7:09am: Check out the demo site for our new website. We have been working on it for months and are attempting to achieve a May 1 launch. I get to work on writing content for the section on Theo product certifications (organic, fair trade, non-GMO). Shoot my team at the factory an email letting them know I'm working from home. We have an open seating plan at Theo (no offices) so it's best to do work that requires quiet and concentrated thought from home, where there are no distractions. Once I'm at the factory, sitting at my desk, let the interruptions begin!
7:47am: Head downstairs to prod my 16 year old son, Henry, up and out of bed so he's not late for school. Throw together a salad for him for lunch as he's experimenting with a raw food diet.
8:20am: Zip Hen to the bus stop.

10:15am: Call with Audrey, our sales and marketing manager, to review logistical plan for our upcoming summit on the future of agriculture in Congo with our partner Eastern Congo Initiative, next Monday at our factory. We're going to host roughly 40 stakeholders and need to make sure Ben Affleck, the founder, can Skype in and greet everyone. We also sync on our social media strategy for this week. We've got some new products launching and are highlighting our very cool retro Seattle Next 50 labels, commemorating the 50th anniversary of the World's Fair held here in Seattle.
Spend the morning writing web content, responding to incoming emails, working on Theo brand guidelines, analyzing national sales data and reviewing my FY 2013 departmental staffing plan and budget. Did I mention we are growing fast? I sometimes liken scaling Theo to pushing an increasingly large snowball up an increasingly steep mountain. Ok, a steep, chocolate-covered mountain. Speaking of chocolate...crack open a Theo dark salted almond bar = morning snack.
Noon: Eat some kale salad and a banana with peanut butter. Organize my arsenal of green cleaning supplies. It's my bday on Thursday and as one (of many!) gift(s) to myself I am having my house professionally cleaned this afternoon.

2:30pm: Pack up my stuff for yoga this evening, and head across Lake Washington for a meeting with Joe, (my ex-husband, father of my child and boss, all rolled into one larger-than-life guy whom I love dearly.) Working together as ex-spouses is brilliant in some ways (deep trust, knowing of the other person), and highly challenging in others (we know how to push each other's buttons better than anyone). Right now we're focusing energy on how to effectively scale while maintaining culture and expectations.
6:20pm: Arrive home. Situate myself next to my husband on the couch while he watches the Mariners game. He's a fan. I'm still loyal to the Bo'Sox. Dinner consists of leftover marinated black cod from last night's supper and kale. Laptop on lap, I recheck the demo site again to see what updates have been made over the course of the day and then write some more content.
Tuesday, April 17
5:50am: Guzzle a coconut water, throw on yoga clothes and head to Shakti for a Baptiste style power vinyasa flow class. It's great. I leave sweaty and happy.
8:55am: At my desk -- Theo has won another SOFI award for our 12 piece caramel collection. I'm happy but flummoxed that our honey saffron caramel didn't win. It won a gold medal in London and it's AMAZING!
9:40am-11:30am: Joe and I debate whether or not to drop a cobranded product. The maker is using GMO sugar and promised us to switch, but has delayed beyond our comfort level. Review options for adding bar codes to our POP displays. Check in with my retail manager -- We need to hire 4 new retail associates for our retail/tour operations. This summer we are going to offer 10 factory tours daily (versus 6 now) and we have a lot of work to do to get ready. Swing into confection kitchen to see the new video we installed for our tours. It looks great. Needs a little color correcting. Becky is table-tempering chocolate and it's gorgeous!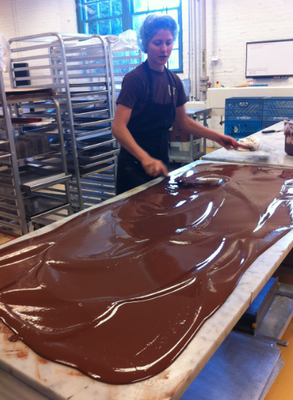 Munch a couple of salted caramels off the sample tray before leaving the kitchen. Stop into retail store to say hi to team and check in. Sign off on a new label for printing.
12:45pm: Lunch at Farestart with Audrey and Christina Starr, the restaurant's marketing managers. Farestart recently won a James Beard award and it is one of my absolute favorite organizations, providing culinary job training and job placements for homeless and disadvantaged individuals. We propose a collaboration that will begin with some of their Phase 3 students joining our confection team at the Theo factory for training working with chocolate, and result in a confection collection that will benefit Farestart during the holiday season. Christina loves the idea! Lunch is a yummy polenta, egg, marinara concoction with some braised greens nestled in.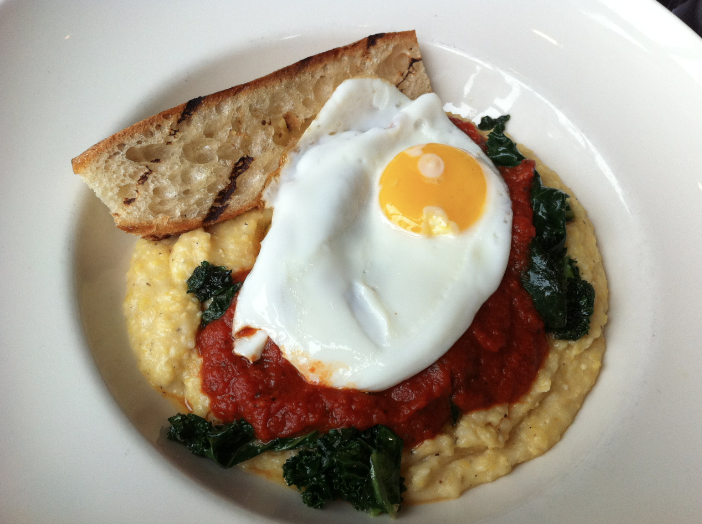 4:30pm: Meeting at Madison Park Conservatory with Cormac Mahoney. We discuss potential projects. In addition to being an amazing friend, Mac was just voted Best New Chef by Food & Wine Magazine. We scheme cool collaborations.
7:30pm: Home. My parents have arrived from New York for the week and I am overjoyed to see them! We laugh and talk over dinner and catch up.
Wednesday, April 18
7:30am: In the chocolate factory. Smells like warm brownies when I walk in the door. Check in with Erin, our chief chocolate maker, on details for the new manufacturing line we are putting in. Check in with Audrey, email, schedule videographer for next week, schedule sales planning sessions and tastings for next week when David is in town. Eat a honey saffron caramel. Damn, that should have won!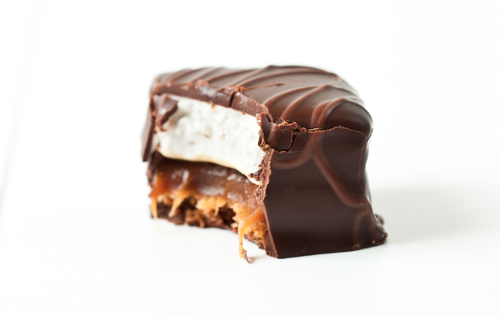 10am: Sacred Wednesday morning product development meeting with the team. Managers from production, retail, sales and marketing come together to discuss upcoming products, forecasts and deadlines. Most of our creative brainstorming happens at this meeting. We taste our new bouchee line which includes a maple almond praline -- organic maple sugar and organic almonds with crisp feuilletine enrobed in milk chocolate. Melt in your mouth, AMEN.
11:15am: Impromptu introduction and energetic conversation at my desk with Monika Firl, head of producer relations for Cooperative Coffees in Montreal about issues surrounding the fair trade movement.
Noon: Lunch at Revel with Autumn Martin, Theo's original chocolatier, who now makes a yummy line of caramel and chocolate sauces under her own brand, Hot Cakes. I offer her some guidance on launching products into national distribution.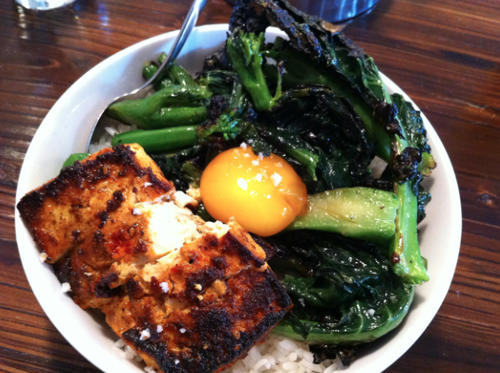 1pm: Branding presentation and discussion with Zaara our brilliant illustrator to talk through textures and elements for our brand design going forward. Joe, Audrey, Zaara and I all leave the meeting energized and excited.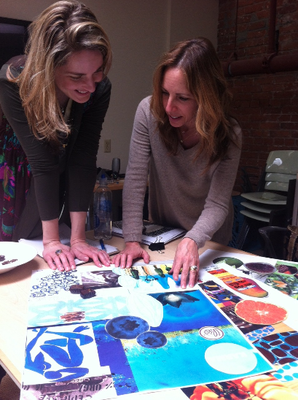 3:15pm: Call with potential videographer, meeting with product photographer, head downtown for meeting with potential brand consultant.
6:30pm: Arrive home to a house full of birthday flowers from my husband -- roses, lilies and daffodils on the eve of my birthday.
7pm: Dinner with the family. Enthusiastic and lively conversation with my parents over a dinner consisting of kitchen sink salad, steamed broccoli and marinated tuna steaks. Topics range from Vonnegut to bridge conventions to Michael Sandel.
Thursday, April 19 -- My birthday and I'm taking the day off!
6:30am: Flowers all over the house, cupcakes and happy birthday serenade around our kitchen island.
Noon: Mom and I head downtown for birthday lunch at Mistral Kitchen. Hamachi crudo and beautiful leafy green salad with manadarin oranges and fennel, punctuated by yummy focacia with extra butter.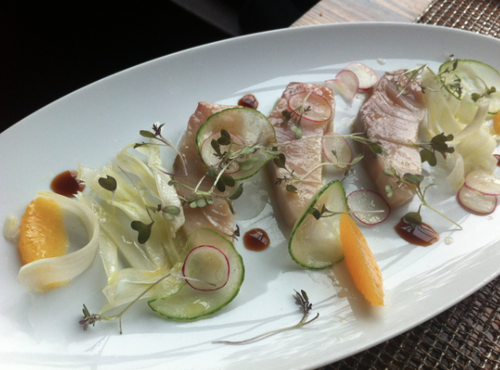 5pm: Arrive home to flower delivery from Joe and Trina. How many women get flowers and a sweet card on their birthday from their ex-husband and his new wife!? I'm really touched. And my house is beginning to look like a botanical garden. Throughout the day I'm showered with bday wishes via email, phone, text, facebook and UPS from places as far flung as Bosnia, China and NYC...it all feels like an incredible global hug.
7pm: Dinner at Boat Street Cafe with my family and close friends. The energy is warm and festive. More love and gifts and cards and I am in awe of the group sharing the table with me. Dinner is beautifully roasted brussel sprouts, a cheese plate and a special meatless dish the kitchen dreamed up featuring cannellini beans, sautéed greens and a fried egg.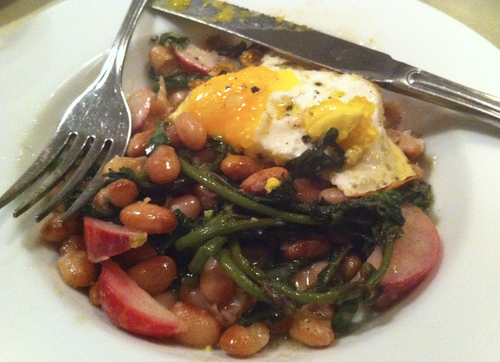 It's unexpectedly rich and delicious. For dessert we order one of everything: chocolate pot de crème, ginger cake with rhubarb compote and cream, tart cherry clafouti, lemon buttermilk ice cream, and the spoons are flying.
10:30pm: Swing by the Theo factory so I can show my parents all of the equipment upgrades and renovations we've done in the last year. My mom happily munches on salted caramels from the sample trays even after the 4 desserts!
Friday, April 20
7:29am: Work on website, receive request from The Huffington Post to write a blog post on working as a divorced couple. OK - after I finish Food Informants! Find out we have been nominated for first annual "Top Supplier" award from Whole Foods. I am going to need to book another flight to Austin!
Noon: Lunch meeting (at Revel, again) with Gail Hudson. Gail co-authors all of Dr. Jane Goodall's books and they are currently working on a book about plant species, including a chapter on cocoa. We discuss the content, do a little editing of the text. After lunch Gail and I head to Theo to comb through photographs we've taken in recently in DRC, Ecuador and Peru that would work well in the book.
3:30pm: Audrey is working on the timeline for our Facebook fan page. She takes a picture of me, Joe and Erin outside the building holding our first bars off the line EVER. (Wonder how that chocolate tastes 6 years later?)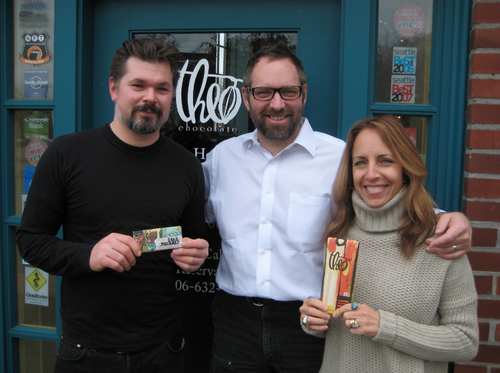 Saturday, April 21
1pm: Meeting at factory with Joe, our partner Dhena Bassara, visiting us from Congo, and Larry and Dario from Jane Goodall Institute. Dario is here from Congo and we are lucky to have grabbed some time with him as his travel schedule is tight. He shares the incredibly complex strategy the JGI is now implementing to ensure the survival of Great Apes in the DRC. It's impressive and awe-inspiring to hear the comprehensive efforts they have undertaken and the success they are having. We discuss the viability of cultivating cocoa in the regions where JGI is currently working. Larry and Joe and I discuss our ongoing partnership with the JGI, and some upcoming collaborations.
5pm: Head back home across the bridge in time to greet one of my closest friends, Zoe, who has flown up from San Fran to spend my birthday with me. She is 31 weeks pregnant and it's incredible to see her in full bloom.
8pm: My parents, Henry and Brad play a rousing game of Jutwhist and discuss bridge for the next several hours, while Zoe and I catch up and discuss her birthing plan. The plan is for me to be the third wheel in the delivery room with her and her husband, Kenny -- and I need to be prepared. Zoe gets online and orders several books for me to read in preparation.
Sunday, April 22
7:30am: Zoe, Brad, my parents and I convene in the kitchen for coffee, tea and the New York Times.
8 am: My beloved friend Julie arrives for my bday brunch. She has flown in directly from China en route back home to Texas. That's a GREAT friend!
1-2:30pm: Birthday brunch at Madison Park Conservatory featuring prosecco bellini's with rhubarb puree, beautiful pastries from Ines Patisserie and gorgeous food. Brad surprises me with a live violinist to accompany us while we eat. Dessert is rhubarb shortcakes and each of my guests gets a candle to blow out 'cuz we all need a little help from our friends.
See more Food Informants below:
PHOTO GALLERY
Food Informants