Two shocking videos have emerged capturing three violent attacks against police officers at Tuesday's May Day 2012 protest.
In the video below, a young man walks past a female officer and then quickly turns around to hit her in the head with his snare drum. What he likely didn't anticipate was having a decent shot of his face caught on camera.
CLICK HERE OR SCROLL DOWN FOR UPDATES.
WATCH:
The second and third attacks are captured in the video below. A young man, covering his face with a black t-shirt and carrying a half-red, half-yellow skateboard, hit another female officer in the head, hard, with his skateboard. At minute 3:15 in the video below, you can hear the loud cracking sound. In fact, the blow was so hard that it dented the police officer's helmet. She was taken to the hospital and released later that night, and is expected to recover, the LA Weekly reports.
Although neither have been identified by the police, the skateboarder, like the drummer, was caught red (and yellow)-handed on camera: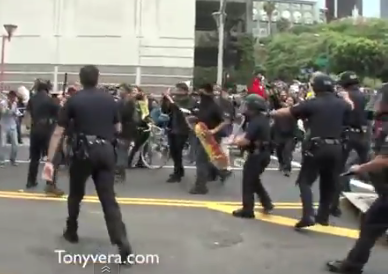 A third attack (at minute 2:40 in the video below) involved two men shoving four cops at once from behind with a wooden sign. The officers reacted by swinging their batons in the direction of the instigators. One officer faced a protestor shouting, "F*ck you!" to him while taking pictures, as if hoping to provoke a reaction from the officer, who remained calm.
Soon after, a crowd of agitated protestors can be seen cornering a group of about eight officers. Eventually, a few protestors succeeded in encouraging the encroaching crowd to back off.
At minute 1:23, a young woman shouted in a megaphone to officers in riot gear just a couple yards in front of her. "What the f*ck do you think you're doing?! F*ck the police!" she screamed. Then, "F*ck the police" can be heard chanted in repetition by a group to a drumbeat. A lone protestor can be heard trying to calm the group down: "Peaceful! Peaceful!"
Aside from swinging batons in the air in response to the physical attacks, the police remained calm as protestors exercised their first amendment right to freedom of speech. An officer on the scene described the day's protests as "All things considered, peaceful." But, he added, "There's a lot of angry people as you can see in the last couple minutes."
WATCH:
At 8 p.m. Tuesday, LAPD Chief Charlie Beck
tweeted
a request for help in tracking down the skateboarder who injured an officer.
Help find this susp.Tweet me or send infoon Suspect to lapdonline.org:Ofcr assaulted w/skateboard latimesblogs.latimes.com/lanow/2012/05/… via @lanow

— Chief Charlie Beck (@LAPDChiefBeck) May 2, 2012
There were at least 14 arrests, including 10 pre-designated detentions at Los Angeles International Airport, three in North Hollywood and one downtown involving a false bomb threat against a bank, according to the Los Angeles Times.
Approximately 1,000 Occupy LA protestors concluded the day in Pershing Square for the largest General Assembly since the group occupied City Hall lawn, LAist reports.
UPDATE: At a 3 p.m. press conference Wednesday, Chief Beck called on anyone with any information about the attackers to contact the police. Referring to the attacker who used a drum to hit a small female officer, Beck said, "This was a cowardly attack from the rear, entirely unprovoked, that could have seriously ended her career or even ended her life." He said that Los Angeles has had "very successful" May Days over the last few years and that the violent events of yesterday seriously marred that.
Police officers have detained a suspect they believe is the man who hit a female officer with a drum, the Times reports.
The suspect was later identified as Brian Mendoza, 23. According to CBS2, Mendoza was booked for a felony and is being held without bail.
Click through photos of the May Day 2012 protest in downtown LA: