This story has been updated with comment from the Detroit Police Department.
Detroit Police Department officers enforcing a 10 p.m. curfew cleared a group of about 20 Occupy Detroit members out of Grand Circus Park Tuesday night. Earlier that evening, members of the organization had pledged to spend the night at the park, where they had set up an earlier Occupy Wall Street-inspired protest encampment last fall.
The overnight protest came after a day of marching and activity to celebrate May Day, coordinated with protests and Occupy movement actions around the country.
There were no arrests, but Occupiers called the police presence dramatic.
"There were about 50 police lined up in a phalanx," said Occupy Detroit member Erik Shelley, who was present Tuesday night. "Police cars lined up entire length of the park. There was a black bus for taking people away."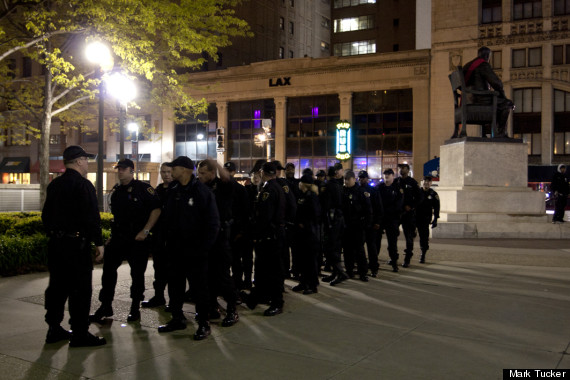 10:25 p.m. Detroit police officers lined up in Grand Circus Park.
The Detroit Police Department would not verify the number of officers deployed that evening, and a spokeswoman did not return a request for further comment.
Occupy Detroit member Mark Tucker said police pulled a device, which he thought was a sound cannon, from a suitcase and pointed it at a small crowd gathered by the Hazen S. Pingree statue at the corner of Woodward and Adams. (Shelley said he thought the device was a P.A. system.) Tucker said an officer then declared the gathering an illegal assembly and asked the crowd to disperse.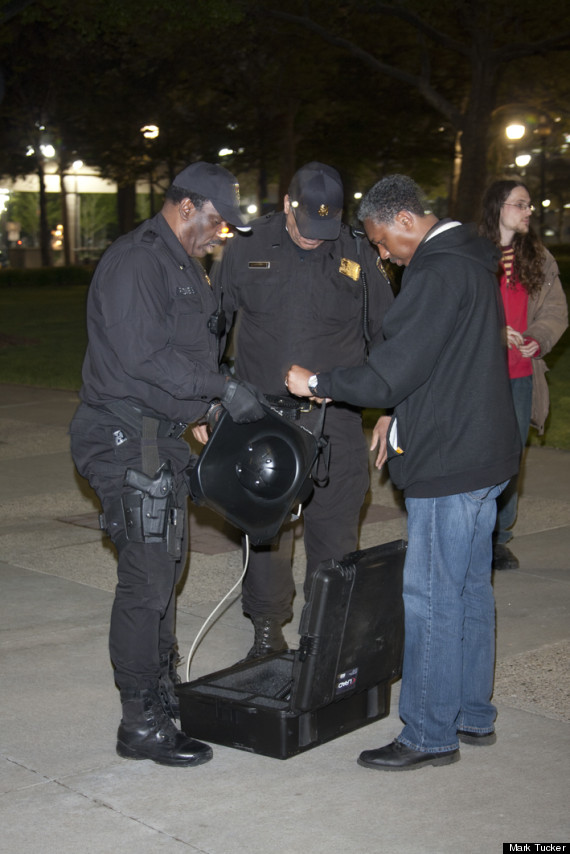 10:10 p.m. Police unpacking what may have been a Long Range Acoustic Device (LRAD, or sound canon), or simply a P.A. system.
According to Tucker, members of the group told police they had a legal right to assemble on the public sidewalk, but were unable to persuade the officers to let them stay.
Attorney Kathy Murphy, who monitored the protest as a legal observer for the National Lawyers Guild, said it was her understanding that police refused to allow people to sit on the sidewalk because they considered it part of the park.
"It's my opinion, and that of the NLG, that people have a first amendment right to be on the sidewalk at any hour as long as they're not interfering with pedestrian traffic," she said.
The group took consensus and decided to leave the scene, even though some members had said they were willing to risk arrest. The two-dozen Occupiers then moved on to rally with signs at another nearby Campus Martius Park, then proceeded to march along Woodward Ave. until approximately 7 a.m. Wednesday morning. Tucker called a this activity a "mobile encampment."
Tucker said he's glad the group stuck up for members' constitutional right to assemble, even though they did not end up spending the night in the park.
Sarah Coffey, another member of Occupy Detroit who was present during the confrontation with police, said it was a learning experience for younger members about what to expect from law enforcement.
"They were definitely sending a clear message that things are not going to be the same as last year," she said.
Occupy Detroit had a largely positive relationship with the Detroit Police Department during its month-long encampment in Grand Circus Park last fall. Activists chose to leave the park voluntarily when their permit expired in mid-November.
UPDATE: Thursday, 10:10 a.m. -- Detroit Police Department spokeswoman Sgt. Eren Stephens responded to HuffPost's request for comment on the Tuesday night police presence:
"As occurs in all demonstrations involving a large number of individuals, members of the Detroit Police Department were deployed in order to ensure that the public safety of all concerned is protected and that marches and demonstrations are orderly and safe. It has been and will continue to be the policy of the Detroit Police Department to respect and protect the rights of individuals to exercise First Amendment rights while enforcing the law."
Stephens also noted no arrests were made. "The Department will continue to attempt to maintain an open line of communication with all protestors," she said.
BEFORE YOU GO