A bill that would create legal civil unions for Colorado's same-sex couples will be heard today in the Republican controlled House where it needs only one vote to pass. However, the House Judiciary committee, which is hearing the bill today, defeated a similar bill in 2011 on a party-line vote.
UPDATE:
Joining five other House Democrats, Republican Rep. B.J. Nikkel of Loveland voted in favor of Colorado's civil unions bill, effectively passing the bill on a 6-5 vote late Thursday night.
The bill now faces votes in the House Finance and Appropriations committees before it makes it to the House floor.
EARLIER:
(SCROLL DOWN FOR PHOTOS, LIVEBLOG)
In an unexpected turn of events, Republican Rep. Mark Barker suffered a stroke and was hospitalized Tuesday night and will not be able to attend the hearing today. The Denver Post reports that House Speaker Frank McNulty selected Republican Rep. Randy Baumgardner to fill in for Rep. Barker for the civil unions bill hearing.
The replacement of Barker by Baumgardner seems unlikely to affect the outcome of today's vote on Senate Bill 2. On Wednesday, McNulty said that he would fill Barker's seat on the committee with someone who shares Barker's point of view on the issue -- Barker opposes civil unions, as does Baumgardner.
Last week, three Republicans in the House joined Democrats in approving SB-2. And in the House, Fox31 reports that several House Republicans have expressed support for the civil unions proposal, however none of them are on the House Judiciary committee. If the bill gets through the House committee today, it could very likely pass the full House -- Republicans only hold a one seat majority and there is enough bipartisan support to push it through.
"I don't have anyone in my family who's gay, as far as I know," Sen. Nancy Spence, R-Centennial, one of three republicans who voted for last year's bill said according to KDVR. "I'm not here for any reason except to say that this bill, the civil unions bill, is the right thing to do."
If the bill got to Hickenlooper's desk, it is expected that he would sign it into law. In his State of the State Address at the beginning of 2012, Hickenlooper urged lawmakers to "pass civil unions this year."
Read the full text of the bill here.
Last year the Capitol was abuzz with rumors that there was some Republican support for a civil unions bill in the House, but after it failed to pass Mark Ferrandino (D-Denver), the bill's sponsor at the time, made it a goal to equip the bill with a Republican sponsor this year.
Representative Brian Del Grosso, R-Loveland, was rumored to be one of those open to civil unions.
I think the deciding factor at the end of the day was that 2006, so just four and a half years ago, (Colorado voters) said, we don't support that and so I don't feel like, as a legislator it's not my... I shouldn't override the will of the voter.
But in early April, a poll by Public Policy Polling found that contrary to the feelings of 2006, 62 percent of Coloradans would now be in favor of a civil unions bill and 53 percent would also be in favor of gay marriage.
While this year's Senate Bill 2 does have the support of some Republicans, it still does not have a Republican sponsor in the House where they hold a one-vote majority.
According to The Denver Post, proponents of the civil unions bill are holding a noon rally on the steps of the City-County Building. Denver Mayor Michael Hancock and House Minority Leader Mark Ferrandino will be among the speakers in attendance.
Today's hearing begins at 1:30, but there are several bills up before civil unions so the hearing is expected to run late.
LOOK: Civil Unions bill rally
PHOTO GALLERY
Civil Unions Rally At The Denver City And County Building
05/03/2012 11:56 PM EDT
Civil Unions Bill, SB 2 passes the House Judiciary Committee on a historic 6-5 vote
After 3 1/2 hours of testimony and questions in front of the House Judiciary Committee, Rep. B.J. Nikkel of Loveland, a Republican, broke the party-line by voting yes.
After her vote successfully carried the bill out of committee, Nikkel told the Denver Post, "I think it was the right thing to do. We're all Coloradans, right? It's not something I'm passionate about but I think we ought to move forward and bring it to a vote in the House."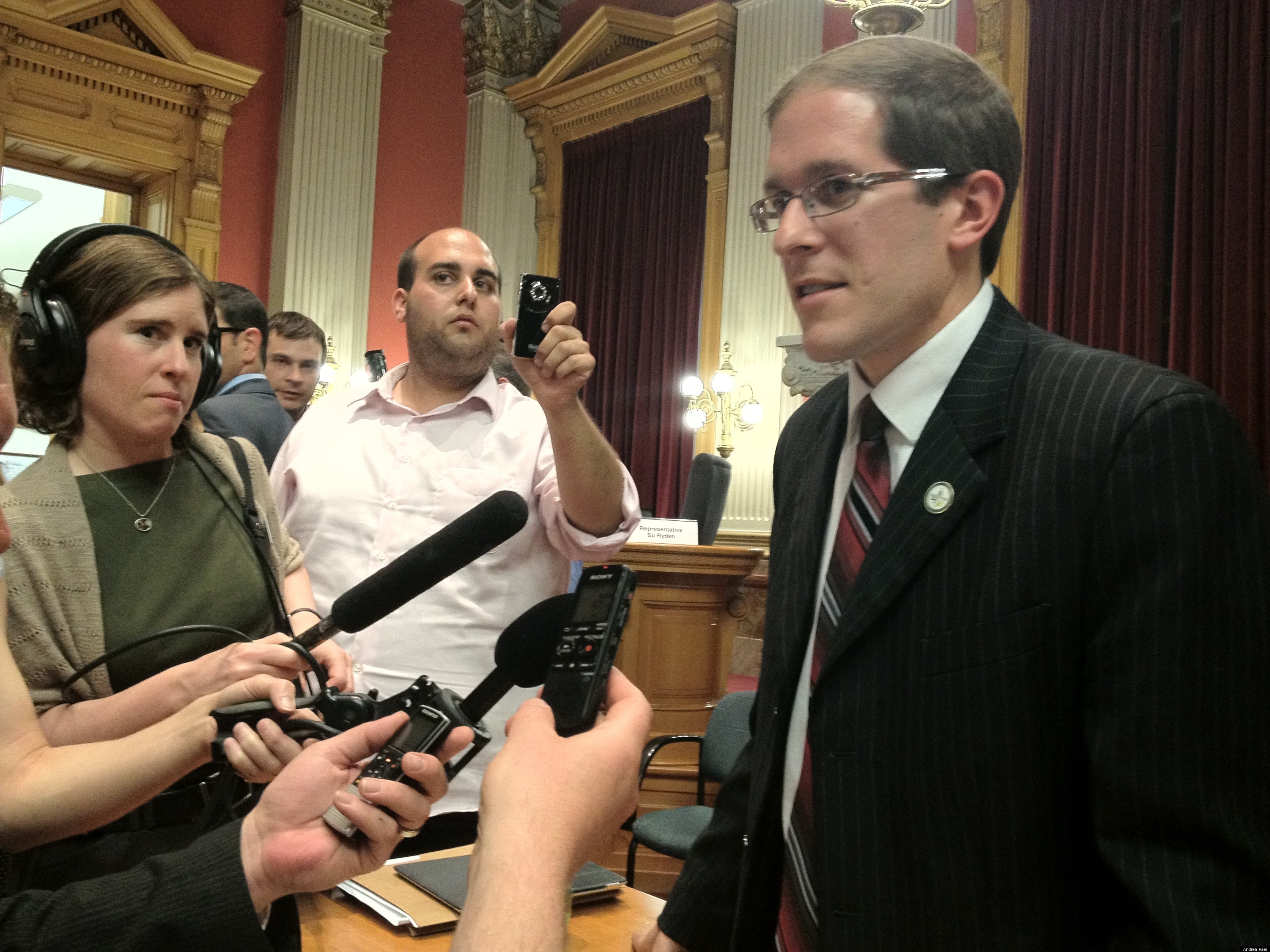 Ferrandino says he's very happy the bill passed and that Rep. Nikkel must have changed her mind after listening to tonight's testimony.
05/03/2012 11:24 PM EDT
Back to Rep. Ferrandino for the wrap up
I and the people you've heard before are not asking for a validation of our relationship. My partner and I have been together for 13 years, and whatever happens here today does not change my relationship with Greg. We love each other and will continue to be with each other no matter what happens.
What we're asking for is equal rights... as I sit here on the floor before you, I don't have equal access to that law... my family, as many of you know, Greg and I are thinking of adopting and my child won't have equal access to that law.
All we're asking for is equal access to those books behind you mister chairman... we should treat all families as the same under the law.
05/03/2012 10:49 PM EDT
David DeGiacomo describes himself as "attracted to men" but against civil unions
DiGiacomo testifies that he is attracted to men, and goes on to detail his belief that this led him to "bathhouses" and "orgies".
DiGiacomo refers to the "gay lifestyle" as the "culture of death." He goes on to thank the Catholic and other religious groups that provide "ex-gay" programs.
No committee questions for DiGiacomo.
05/03/2012 10:42 PM EDT
Father Bill Carmody, representing the Catholic bishops in Colorado testifies
"Children deserve both a mom and a dad...SB 2 gives couples an out. I can hear the debate now, 'I won't marry you, but we can have a civil union'... what civil unions would do should be opposed. This is not good for children, this is not good for society at large. Simply put, this is bad public policy"
Father Carmody is thanking the committee for the exemption by child providers to opt out based on religious beliefs. He urges the committee to still vote agains SB 2 however.
05/03/2012 10:34 PM EDT
Testimony against the civil unions bill begins, gets heated with former Republican Sen. Ed Jones
Former Sen. Ed Jones testifies against SB2
"I don't like the bill, the same reason I didn't like it last year."
Ed Jones is a Republican from Colorado Springs who co-chaired President George H.W. Bush's 1992 re-election campaign in Colorado.
Jones says he takes issue with civil unions being called "civil rights" because, he says, civil unions are about choices. He also says that in his personal opinion, this bill redefines marriage and that the Bible said "Adam and Eve, not two Adams or two Eves."
He said, "Think about the man, the woman and the babies," arguing that "babies" or rather, children, would be stigmatized for having gay parents.
Jones says, "I've got gay friends, I go to football games with them. But I don't necessarily agree with their lifestyle."
Rep. Dan Pabon, one of the five Democrats on the House Judiciary Committee tells Jones that in the time of civil rights, "I bet not all of (the people who supported your rights) were black, I bet some of them were white, yellow, brown and all the colors of the rainbows [sic] and I bet that not all of them were straight. This is not about defending one person's rights. This is about everyone's rights."
At the end of Rep. Pabon's lengthy comment, he was asked by Rep. Bob Gardner--who is chair of the House Judiciary Committee-- "Rep. Pabon, is there a question you're asking?"
Pabon answered tongue-in-cheek, "Don't you think?"
05/03/2012 9:44 PM EDT
ACLU of Colorado public policy director testifies
Mayes says the ACLU supports the Civil Unions bill but would prefer if it did not give a pass for child placement agencies to opt out based on religious beliefs.
05/03/2012 9:31 PM EDT
Chairman for College Republicans of Colorado says this bill is a "no-brainer"
Speaking for the civil unions bill, Troy Ard, testifies as an openly-gay man and urges other Republicans to support Rep. Pat Steadman's bill.
05/03/2012 9:22 PM EDT
Mary Moses, a representative of the Colorado Bar Association with a background in family law, testifies:
This measure has broad support in the Colorado Bar Association.

I want to point out 2 particular areas that are important in this legislation...This law would provide children with the ability to have two legal parents.

What designated beneficiaries does not do, is establish responsibility.
Moses is now discussing the inability of "designated beneficiaries" to give the "panoply of rights" provided by civil unions.
For instance, "designated beneficiaries" do not protect the economically-disadvantaged spouse if the couple splits.
05/03/2012 9:00 PM EDT
Sonrisa Lucero, Secretary of the Colorado Latino Forum testifies in favor of SB 2
"Society will not collapse, but will thrive from the participation of ALL its members."
Lucero testifies that she is bi-sexual and has a girlfriend.
"We are not asking that those who oppose us change their beliefs... I'm not asking you as representatives to change your belief, but allow us to live ours. There is nothing about being gay, bisexual or transexual that requires us to be single. We've accepted so much room for mystery in religion, why can't we accept this one?
We hunger for a place in our society."
05/03/2012 8:50 PM EDT
Fran And Ana Simon, a same-sex couple with a son testify
Ana Simon testifies:
I love this woman so much, and I just want the security of knowing I can take care of her the way she takes care of Jeremy (our son) and me.

She's the one I trust to raise a child with...People understand that a civil union means she is the one I want to visit me in the hospital, to make decisions for me if I'm seriously injured or die.
Fran Simon testifies:
If you want stronger communities in Colorado, then vote yes.
BEFORE YOU GO