Pablo Picasso reportedly once said, "All children are artists. The problem is how to remain an artist once he grows up."

With this in mind, we are pleased to announced a new feature of HuffPost Arts: Instagram Spotlight. We just love the youth-centric iPhone feature that turns amateurs into artists with the click of a button. Instagram reminds us that even those who aren't working artists still have a vision worth sharing, and HuffPost Arts wants to provide a platform to these photographers who are moved by beautiful moments. We will be featuring our favorite gems on the site along with their stories and inspirations, and will continue to scour the web for budding photographers. If you think this could be you, keep being creative and we will find you!
This week we spoke to Michele Reiner, who actually uses her iPhone camera without Instagram. But her hypnotic old-timey shots of Los Angeles were just too gorgeous to go unseen, so this week's Instagram Spotlight is dedicated to her.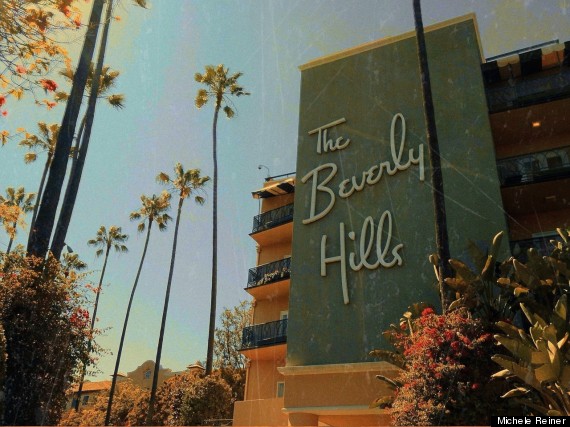 HP: Are you a professional photographer? If not what is your "day job"?
MR: I was a professional photographer in New York twenty years ago. Since I moved to LA, I have raised three kids and have been involved in promoting early childhood education through a TV show and DVDs. I have also been involved in the fight for gay marriage, initiating a lawsuit to overturn Prop 8. I also have produced two readings, in NY and LA, of the play '8' on that subject.
HP: Who are your favorite photographers?
MR: Photographers I like: Irving Penn, Richard Misrach, Andre Kertesz, Helmut Newton, Nick Brandt, Sebastiao Salgado, etc….and any photograph of Marilyn Monroe.
HP: Where is your favorite place in LA to find inspiration?
MR: I had taken a photo in the take out line of In-N-Out Burger of the Fox movie theater and had edited it on the iPhone and made it look old. My husband had just moved into a 1930's building and suggested we drive around LA and shoot all the landmarks.
HP: Has there ever been a moment you were especially happy to have had your cameraphone handy?
MR: I have my iPhone with me wherever I go. I hardly ever use my cameras anymore. The camera on the iPhone is incredible.
We agree. Check out Reiner's pictures and remember why Los Angeles is the city of angels in the slideshow below.
BEFORE YOU GO