Food Informants is a week-in-the-life series profiling fascinating people in the food world. We hope it will give you a first-hand look at the many different corners of the food industry. Know someone who would make a great Food Informant? Tell us why.
January 2010 found Dan Earnest and Carrie Megginson moving in to their picturesque farmhouse in the beautiful South Central Allegheny Mountains of Pennsylvania. In the spring, they acquired their first Tamworth cross piglets and began dedicating their time to raising the happiest, pastured, heritage-breed pigs in the region. Their passion for great pork, ethically produced, has been an unbelievable learning experience -- as well as a source of pride and joy. And no, neither Carrie nor Dan had farmed before they chose to jump in at the deep end of sustainable agriculture.
Read more to learn about how Carrie cares for her pigs and tries to grow her small business.
Monday, April 23
4:38am: One of the cats wakes me. I let her in and settle into a doze on the sofa by the front door. In a few more minutes, another of the cats is asking to be let in. The deep front porch shelters me from the worst of the weather, but the wind is blowing and there's a wet, snowy sleet falling.
6:15am: All four cats receive a tiny serving of the raw milk we buy from our neighbors up the road at Hidden Hills Dairy. Hidden Hills uses most of the milk from their Jersey cow herd to make artisanal raw milk cheeses. As a courtesy, they also provide milk to customers who sign waivers acknowledging their awareness of the dangers of drinking unpasteurized milk. Our farm has an arrangement to collect waste whey from Hidden Hills for our herd of pastured pigs. The whey adds protein and valuable amino acids to our Tamworth cross swine feeding plan. In addition, whey promotes the growth of beneficial intestinal flora in all omnivores -- pigs as well as people.
6:20am: I dash through the light morning snow--it was 70° and sunny only three days ago -- to put out feed for the chickens and open up the two chicken coops just east of the farmhouse. Chickens hate being "cooped up," and they come pouring out of the coops in twos and threes when I open their doors. They spend their days here wandering at will looking for bugs and tasty plants.

7:45am: As I finish tidying the kitchen, I find a couple containers of quinoa salad in the fridge. They showed up at the potluck Pig Roast we hosted on Saturday. By now everyone in the house who wanted leftovers has had their fill. The quinoa salads will make a nice addition to our sows', Ruby and Garnet, breakfast. I set the salads aside.
8:30am: Coffee and top milk from my non-homogenized milk bottle, and I'm standing in the kitchen buffing away dirt and other encrustations on a couple baskets of eggs from our hens. Under 2 oz and the egg is a "medium." Two oz to 2.25 oz and the egg is large, 2.3 oz or more and the egg is extra-large.
9:15am: I call up the stairs to let Dan know our farmhand, Sebastiaan Zijp, is waiting outside to run breakfast to the pigs in the pastures. While the men look after the big pigs, I have another cup of coffee and phone my mother to say hey.
10:30am: I've had phone calls from two of the folks with whom we're working closely to form a producers' co-op for marketing our best agricultural goods down in the premium markets of DC and Baltimore. Though we're located in Pennsylvania, we're 140 miles through the mountains to Pittsburgh, and more than 200 miles to Philadelphia. DC is fewer than 125 miles from our farm, and Baltimore is only five miles more.
1:00pm: I fix a sandwich of herbed tofu fried in pork drippings adorned with homemade pimiento cheese and coleslaw on a toasted burger bun. I just love leftovers. While I eat, I read a few pages of "Guns, Germs and Steel."
2:30pm: Out to the barn to check on Ruby and Garnet and their nine piglets. Despite the cooler weather, everyone looks just fine. Lancelot "Tiny" Tamworth is the breakout crowd pleaser on the Facebook page. I get a picture of him napping in a piggy pile to post for the faithful followers. He's the cute little blonde one in the middle.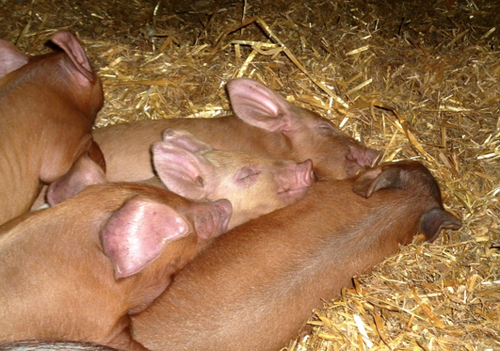 Napping Tamworth Cross Piglets, Tiny in the middle
4:19pm: I get a call returned from a fellow farmer. She's opening a farm-to-table restaurant along the Lincoln Highway and she wants one of our pigs on a whole-hog basis. We settle on a date for slaughter, and work out from then when she'll be able to pick up her pork. We have a pig scheduled to go off to the butcher's this week, and I remind our fearless pig-loading team that they're booked to swing into action.
6:45pm: Chickens are fed, covered hot dish is loaded into the truck, and the guys fed the pigs early this evening. Dan and I are dashing up county to a meeting for the producers' co-op. Turnout is low, but the quality of the potluck is high. We brought our Italian sausage cooked on a bed of sauerkraut. Our site hostess made a brilliant chicken pot pie. I need to find out how she does the crust. By the end of the meeting, we're all the way to selecting steering committee members.
9:25pm: The feed store put out feed for us to pick up from the loading dock, since we weren't going to be by until after they closed. We slide a check through the slot in the office door and take our 200 lbs of feed back to the farm.
Tuesday, April 24
6:05am: The cats have their milk ration, and I suit up. The temperature's at freezing when I step outside. But there's no sleety snow, or chilling wind this morning. I walk with the dog, and three out of four cats, a half mile down the road and back again. The dog is a creature of her suburban upbringing, and likes the one-to-one time with me.
6:25am: I go to the garden shed and see one of the Ameraucana chickens has gone broody. She is spending the night on her nesting site, and not safely in the coop.

9:20am: Today, I'm hungry for my breakfast: bacon from Amy, honey from the bees, biscuits with lard from Lance, and eggs from the hens. My coffee is spiked with milk from Hidden Hills Dairy. It's a good day to be a locavore.

10:40am: Dan's running errands up in town. I'm back from collecting eggs and checking on Tiny. We put off castrating him when we did his brothers -- Floyd and Wayne -- because he was just so small. Now Tiny's almost caught up with his birth cohort and the job doesn't get easier to do when the piglet is bigger.
12:30am: Fortified by fresh baguette, more of our honey and a schmear of butter, we head out. I take anchor position. When Sebastiaan brings in the piglet, he sets Tiny upside down on my lap. I wrap the piglet firmly in a sturdy old towel. Sebastiaan holds the back legs immobile. Dan wields the scalpel, making the incision which opens the skin. Then he makes a second, delicate incision which pierces the thin membrane immediately beneath the skin. Handle the second incision poorly, and there's blood and squealing piglet everywhere. The third stage is to squeeze the actual testes out, and cut the connective vas deferens. Happily, Dan knows his way around a pig castration, and we were done and packed up in fewer than ten minutes. And Tiny was running around with the piglet pack before we were gone.
3:20pm: I finish a blog post about the development of our piglets. Downstairs, Sebastiaan has pulled out the fully cooled and ripened liver pâté he made from Lucky's innards (Lucky being the star of the Pig Roast last Saturday night). I find a package of water crackers in the pantry. We indulge in yet more locally grown eats. Dan and Sebastiaan put 250 onion starts into the big garden east of the home acres. We still have flats of Cipollini starts grown from seed under lights in a garden shed. We're waiting for the weather to become less variable before we plant those.
6:30pm: Dan and Sebastiaan load our stock trailer into the north forest pigging pasture. They leave the ramp down, and feed all five pigs in a trough set by the ramp. Tomorrow morning one of the barrows, a castrated male, will head up the road to his first, and last, appointment. Wiggle and Bump are within a few pounds of each other. Either one will do for our next round of hog shares and samples for commercial accounts.
8:00pm: Steak and (Lucky's) kidney pie for dinner tonight, and Sebastiaan remembered to put in lots of peas as well as making the mashed potato topping extra rich with a few eggs beaten in.
Wednesday, April 25
6:42am: The dog refuses breakfast. Saturday night, she tried to prove she could eat her own weight in pork fat and leavin's. Instead, she's proved the opposite. She doesn't even protest when the cats take turns eating from her bowl.
7:00am: I call up the stairs to Dan. The coffee's made and he needs to get down to the barn early to prepare the chopped fruits and veggies, buckets of mash, and more buckets of water to take to the pigs in the woods. Today, one of our pigs heads off to the butcher -- and the men are on a tight timeline to get all the pigs fed, the right pig into the livestock trailer and the trailer hitched to the pick-up truck and trundling in to town.
9:35am: Dan and Sebastiaan are back from the butcher's. Wiggle met his maker within a few minutes of being unloaded. We raise cheerful, unstressed pigs for a reason, and prefer they go to slaughter without any unnecessary fuss. The place we use treats livestock respectfully and is timely and efficient without being callous or cruel.

10:30am: I head into our woods. We have a final walk-through with the forester on Friday morning to see if the timbering crew left our forest in good order. My specific goal is to see how the Lady Slippers are doing. They're a wild orchid, and fussy about their habitat. I asked the loggers to work carefully in the area I marked as densely grown with the Lady Slippers. I'm delighted to see how careful they were, and how well the little orchids are coming along.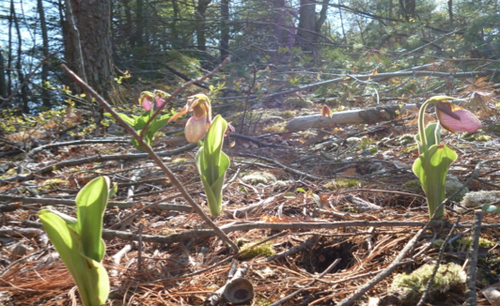 1:15pm: Dan heads back into town for feed, whey and to leave our cut list with the butcher.
4:40pm: Dan and Sebastiaan are planting even more onion sets in the market garden. I've been researching the likelihood of my chickens being in the midst of molting. It's the only explanation I can find for why we've been getting fewer and fewer eggs for the past five weeks. Many of the chickens are a year old or just over. Helpful sites remind one again and again that the hens' one-year anniversary is apt to bring a spate of feather replacement -- even if this isn't autumn when molting more traditionally occurs. Once the girls are done refurbishing their feathers, egg production will go up again. I need to relax about my egg count for the next month or so.
8:15pm: The men put a nachos platter on the table for dinner. It's a nice break from meat. We have the blondies I made earlier for dessert. They're a little too sweet with the shredded coconut in them. And they're a little wet too. I'll try again until I get a version I can post on my blog with confidence.
Thursday, April 26
4:48am: I'm wide awake and fully rested. Here's an hour I can steal to make headway on the book I've been trying to read all week.
11:38am: I just made my last spring tree orders. They'll ship immediately (and affordably) from The Arbor Day Foundation. We already put in three kinds of blush cherry: Emperor Francis, Gold and Royal Anne. And we planted two kinds of sweet red cherry to help with pollination for the blush cherries: Hedelfingen and Van. We have three types of sour cherries on site: Montmorency, English Morello and Balaton. I decided to extend our sour cherry season by a week at the beginning with Early Richmond. And I've colored outside the lines altogether by ordering five damson plum trees, because I can't go on forever without my very own Damson Plum Jam.
12:45pm: I've tweaked the volunteer information sheet again. It felt stiff and Dickensian when I reread it yesterday. It's not easy to walk the line between being welcoming to all who wish to share their labor and learn farm skills, and winnowing out the slack, the attitudinous and the out-and-out crazy. Dan and I have met some wonderful people as we host volunteers on our farm through organizations like WWOOF USA and GrowFood.org. We've also met some folks through these programs who were a few sprinkles short of a cupcake. We work to reduce their incidence on the farm, as erratic care is hard on our swine.
4:40pm: The butcher says Wiggle will be ready for pick-up on Saturday morning. They close at noon, so we'll plan any errands we need to do around this piece of the schedule. Wiggle's "hanging weight," without skin or head or hooves or innards, was 214 lbs. His live weight was about 290 lbs. Commercially raised hogs have a hanging weight conversion ratio of about .65. Our Wiggle just registered at .74 -- and that's before considering the abdominal lard for making leaf lard, the major offal for addition to charcuterie (heart, liver, tongue and kidneys), and the back fat for rendering into general purpose lard. We expect to recover all but 18 percent of Wiggle's live weight, based on our records.
8:25pm: I go out to latch the chicken coops shut, so the hens and their roosters aren't molested while they sleep. And yes, chickens do come home to roost every night. They just put themselves away on the perches according to their flock status. For the last five months, the rooster of the mini-coop, Big Boy by name, has put himself away in the upper coop. Every night, I -- or one of the volunteers -- moves Big Boy to the mini-coop while shutting the coops for the night. Tonight, for whatever reason, Big Boy put himself away in the mini-coop. I won't fully rejoice until he does it three times running, though.
Friday, April 27
6:40am: It's windy, and feels colder out than the thermometer reads. I've released and fed the chickens, walked the dog, waved to the garbage truck, fed the house beasts and started the coffee.
8:45am: Our final walk through with the forester to assess the re-grading of the timbering trails, and the rebuilding of the banks of two runs (a creek has water in it year round; a run is dry part of every year). Everything looks as it should, and our forester already reseeded the trails with a woodland grasses mix which will sprout as soon as the weather is less chilly.
3:00pm: Time to bring in a bunch of nettle tops. My sinuses are going crazy with all the pollen and my eyes are so itchy I can hardly see out. I steep the nettles in hot water, strain the leaves out and keep a bottle of that tea in my fridge to drink hot or cold as often as I want anything with a flavor in it. Nettle tea works at keeping my allergy symptoms to a manageable level. I make the tea through mid-spring until the nettles develop their sting and begin to flower.
5:30pm: I've fed the chickens and house beasts early, as well as scarfed down some of the pâté myself. I'm headed up county. I'll spend the evening there listening to the man, Jerry Brunetti, who's the last word in mineral supplements, better pasture through better soil management, and remedies for naturally raised livestock.
10:30pm: I'm glad I got to hear Jerry Brunetti, and ask him my burning question. While our herd has some ongoing concerns, our single most challenging obstacle in bringing our operations in line with our ideals has been getting our animals off corn-and-soy based supplemental feed. And we've been hitting brick walls in our research for 14 months now. What did pigs eat before we started feeding them corn and soy? What can we feed our pigs that will optimize their health and promote balanced growth? So I asked. And I got two answers. The first was that woodland creatures like pigs thrive on the dropped produce of woody plants. If we were to plant trees to complement the oak, hickory and beech mast we already have, our pigs could be wholly self-feeding year round. Jerry Brunetti suggested Chinese Chestnuts, Honey Locusts and Persimmons as a good start. I love the idea. And we may even implement a long-term, permaculture solution to our swine's dietary needs, matured in 10 or 15 years. In the meantime, we have pigs to feed right now. The next suggestion he made was soaked, sprouted grain in conjunction with alfalfa pasture and alfalfa hay. This I can work with. This I could have in place soon, by the end of the summer certainly. Just as soon as I'm convinced our pigs can have their nutritional needs met with this supplemental feed plan.
Saturday, April 28
6:09am: Big Boy put himself away in the mini-coop again last night. If he's there tomorrow morning, we'll have an established pattern. Not that carrying a recalcitrant rooster to his roost every night is so very onerous, but it is one thing more than I absolutely need on my plate.
8:40am: Dan asked for waffles this morning to go with the maple syrup our friends Emily Vaughn and Bryan Corle made this spring. The syrup has a darker, earthier flavor than Grade A Amber. I could eat it with a spoon from the jar -- but this is as much of that maple syrup as we'll have this year, so I restrain myself.
9:26am: It's fun to watch the piglets learn to eat solids. It's more fun because the chickens like to help, in their own opportunistic way.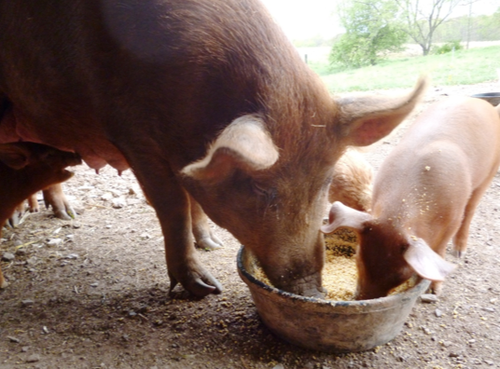 Ruby and her daughter Hyacinth share a morning bowl of feed
10:00am: I call Emily Vaughn, who's working as a sales rep for our nascent producers marketing co-op, Allegheny Farm Fresh. She's been cold calling restaurants on the Washingtonian's Top 100 Restaurants list for us. We're sending our hand, Sebastiaan, down to the city on Wednesday and Thursday of next week to introduce these great chefs to our great pork. Wiggle will be doing a lot of the heavy lifting in the form of select samples for the prospective restaurants. But Chef Sebastiaan Zijp has a culinary degree and a dozen years in the trenches of Manhattan kitchens under his belt. We're extremely lucky to have someone of his caliber, let alone work ethic, volunteering on our farm for a whole year. Emily has seven appointments set for Sebastiaan. We've plotted the routes from restaurant to restaurant to see if it's physically possible to get through the congestion of the DC metro area in time to meet each chef promptly. I'm taking the time to "fluff" our brochure and our introductory letter. Sebastiaan is investigating the menus of the restaurants and the chefs' backgrounds, so as to pack the perfect samples for each appointment.
11:30am: Wiggle is back from the butcher in two large coolers. He's yielded a large volume of abdominal fat for making leaf lard. Sebastiaan begins vacuum packing the chops and offal up right away. Ribs and belly are waiting on ice for us to decide how best to use them. We fridge the hams and shoulders, as they'll mostly go to sausage making on Monday. We have a fabulous grinder with a motor and a turn of the 20th century, hand-cranked, cast-iron sausage stuffer. It's definitely more fun to make sausage when you have the right tools.
2:00pm: I post the blondies recipe to my blog. The recipe is just the way I want it. Terrifying, really. And I wrap up an email exchange with a potential WWOOFer wishing to come at the beginning of August for two months. If he shows, and if he works out, I've done a good day's work. We see lots of WWOOFers through the meat of the summer, but they thin down drastically when colleges start back into session. This guy will be around for all of the tomato and pepper harvesting. They're main cash crops here, so help into autumn is useful in the extreme.
3:40pm: I'm walking our property looking for good sites for near-future pig pastures. We want spots which are fairly level, easy to reach by existing trails and farm roads, and capable of being connected to our water supply at the agricultural well on the northeastern corner of our farm. We will need about seven pastures for our various cohort and breeding herds. My siting work is complicated by the mess timbering has left in our woods. We wanted the brushy tops of the trees left where they fell to provide shelter for wildlife and the necessary proportion of organic matter to help the forest break down all that wood and return it to humus. But there aren't a lot of clean sight-lines for running fencing anywhere. I find a few likely looking spots to show Dan and Sebastiaan, they'll estimate how much chainsaw work will be required to make the pastures happen.
6:00pm: I'm serving Bolognese sauce over spaghetti for dinner. I had a package of our own Italian sausage in the fridge and it wasn't getting any younger. The sauce is finally simmering away. We won't be able to eat until 8:00 if it's going to get quality burner time. Now I can feed the chickens and get the dog out while Dan feeds the pigs solo, since Sebastiaan is off-farm for the night.
8:00pm: Dinner's on. Dan and I agree the sauce is a little watery still. I set the pot on a low burner and let it run through the evening to reduce and thicken.

Sunday, April 29
6:12am: I'm a little late out the door. The sky is beautiful and the air is crisp and still at 29°F. Big Boy is in the mini-coop, right where he should be, when I unlatch the chicken door.
9:20am: I help Dan get feed and water into five gallon buckets. We load the farm utility vehicle with the woods pigs' breakfast and head out. The pigs are delighted to see us and frisky too. The little guys, not so little anymore, are living in a permanent frat-house environment of their own creation. They're rowdy, but well-meaning.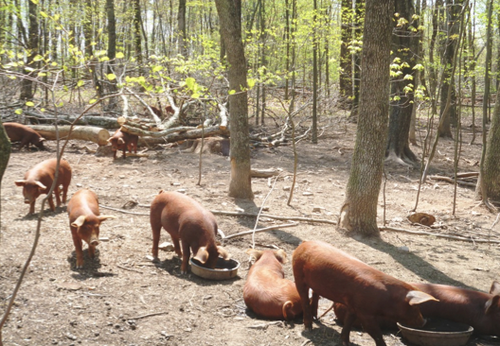 The Rowdiest Tamworth Cross Pigs in the Woods at Buckland Farm
10:40am: I have a guest booked in to our farmstay. She's arriving this afternoon. The room needs a little freshening, as does the bathroom. And the great room needs tidying in the worst way. Happily I have efficient cleaning and clearing routines and make pretty quick work of the domestic labor. Everything will be ship-shape in good time.
1:45pm: I'm researching sprouted grain, particularly barley since it isn't on the Genetically Modified Organism list, and my head is spinning. Apparently the grain will be more nutritious, and with a high enough protein content if it's sprouted. But the barley will need to be heated to dry it, and crushed to make it compatible with the pigs' ability to digest it. According to some sources, the grain will become even more bio-available and mineral-chelated if we also add the extra step of a 24 hour whey ferment after sprouting and before drying and crushing (!). I could devise the system, and even figure out how to integrate it into our daily routine. But I'm not sure we'll be able to raise the capital easily. We used Kickstarter just last autumn, and went flat out to bring in the support for our well at the barn. I don't see the many-times-more monies for a dedicated, feed processing mini-plant being realistic just yet.

3:30pm: Our guest arrives as I'm out roaming the home acres looking for eggs. She's also our hand's mother, and has been to Buckland Farm several times. Sebastiaan and his mom tour the barn and gardens for much of the afternoon.
4:45pm: Time to start the mushroom and leek lasagna. I make a béchamel sauce, and sauté mushrooms and leeks from our winter garden together. I add lots of flat-leaf parsley and basil to the veggies. Using the Bolognese from last night, I build a whopper of lasagna and have it in the oven by 6:00pm.
9:05pm: Dinner's over and cleared.
See more Food Informants below:
PHOTO GALLERY
Food Informants