Norman Seeff is a South African rock photographer known for capturing the grit and glamor of the world's most creative minds, though he didn't start out as an artist. After injuring his leg in a professional soccer game, he began his career studying medicine, then tried his hand at photography and film when he moved to the United States in the late 1960s. Seeff is perhaps best known for his iconic photo of young Steve Jobs, portraying the late visionary as a wise and cool yogi-braniac, but his photo of Patti Smith and Robert Mapplethorpe below is also a moving tribute to the creative mind. Seeff's black-and-white photos of icons from music, film and art are aesthetically razor-sharp, and yet they contain the nonchalance of candid shots among friends. The photographer and filmmaker has worked to make his prints affordable, so if you're interested in seeing more, we suggest you visit Art For All.
To find out more about his work, we asked him a few questions on his fascinating career. Scroll down to see the slideshow.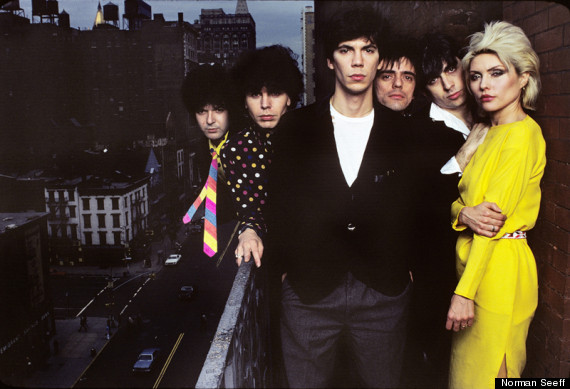 Image: "Blondie on the Balcony." New York, NY 1979.
HP: How did you transition from medicine to photography?
NS: I always had this duality of art and science as a passion. At a certain point it became expedient for me to leave South Africa and escape the oppressive political and cultural environment. I wanted freedom to express myself and in a moment of revelation I knew I wanted to come to the United States. Everything was precipitous, within a week I was on a plan to New York. Without my American certification in medicine I chose to focus on my passion for creative expression. In New York I discovered the transition was not as easy as I thought. I had never been to art school or been trained in photography in any formal way and so it was an intense and frightening learning experience -- and at the same time I got a lot of help. Within a year and a half my career initiated as a rock photographer and later expanded to working with public figures across the various creative disciplines.
HP: How do you tackle the challenges of portraying the spirit of an artist and other subjects you've captured over the span of your career?
NS: The core to my personal approach as a photographer was to create an environment for relationship and creative interaction with artists. It's about being emotionally vulnerable and present in the moment and allowing the outcome to unfold naturally. I never tried to "get a shot" I'm always more focused on creating an authentic experience that I simply document. If the experience is real the images are real.
HP: Was anyone particularly challenging to photograph?
NS: Yes, me. I was the biggest challenge to my photography, in the sense that I had to shift my paradigm inside out once I began working in the arena of public personalities. My discovery was that true communication is emotion based -- emotions are the fuel of the creative process. In the world I had come from emotions were considered to be an impediment to being objective. The very inner resources at the source of creativity, both imagination and emotion, were considered weak, irrelevant and embarrassing. And then I find myself in a new world where those fundamental resources of the creative process are the foundation out of which thoughtful creativity emerges. I had to begin learning the 101 fundamentals of how to create an intimate, emotional interaction between artists and it scared the s--- out of me.

HP: Which new photographers inspire or intrigue you?
NS: I wish I could answer this, but the interesting issue here is that I actually stopped being a full-time photographer more than 25 years ago. Subsequently, I have been making films, specifically documentaries exploring the creative process from the inside out. I use photography and film making as a vehicle to explore creativity and focusing specifically on the inner dynamics of the creative process since, in fact, creativity is an inside job and only then is the outer expression manifested. I specifically avoided having exhibitions or making my images available in any formal way up until now, as I see myself as a multi-platform artist who uses photography, film making and consciousness exploration as the foundation of my process. What is about to happen is these three core components of what I call "The Sessions Project" are in the process of being made available for the public in their entirety.
My real creative identity includes various art forms from photography, graphic design and filmmaking but all toward the focus of exploring a new paradigm shift of creativity. And how, using this information, we can vision and dream a fulfilling and successful future. We are currently developing workshops to this end. It is an exciting time.
BEFORE YOU GO