On Spotify, you can find music by Loverboy, or you can find a lover boy by music.
The popular music streaming service has released two new apps that assist not with music discovery but with people discovery. The apps, fellody and Tastebuds, both work similarly: After you sign in with Facebook or with a unique username, the applications scan through your music library to find your favorite artists and songs; you are then presented with profiles of other Spotify users with similar tastes in music.
You can refine your matches based on desired gender, age, location. Both Fellody and Tastebuds have functions that allow you to send messages to your potential matches; fellody also comes with a "Flirt" button, which notifies the flirtee that you are flirting with him or her, a little like the old Facebook Poke button.
Below, check out fellody, and two of my highest matches within 220 kilometers on there (apologies to my girlfriend, whom I would never cheat on via social music service app or otherwise). As you can see, Fellody spits out a compatibility score, the musical artists you have in common, a profile photo of your match, and your match's age and Boston. From there, it's up to you to make a move by either hitting the flirt button or actually composing an introductory message: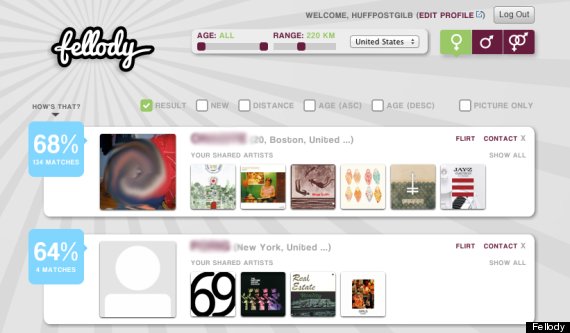 And here, once again with apologies to my lovely girlfriend, are my results on Tastebuds. Tastebuds profiles are a bit more robust and customizable; users can write a little about themselves, manually input their favorite artists, and upload multiple profile photos. Tastebuds also displays, specifically, which songs you and your potential match have enjoyed recently (conversation starter?):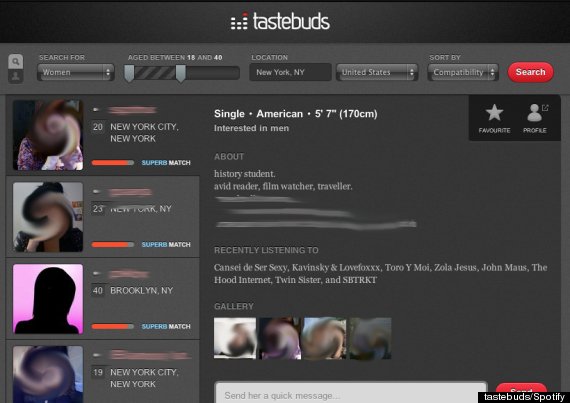 Will we start seeing Spotifiancees in the same way we've seen couples meet via Words With Friends? That's the aim, apparently. Personally, I'm not sold on the names of these Spotify dating apps: "fellody" recalls a sex act once illegal in Alabama, while "Tastebuds" will always remind me of an infamous song by King Khan that has some of the lewdest, most sexually-perverse lyrics I've ever heard.
But that's a personal hangup, I'm sure. This seems like a positive step forward for Spotify, at the very least, in the company's quest to become the operating system for music listeners, a lofty goal that CEO Daniel Ek recently announced, apropos of the much-hyped launch of its app ecosystem back in November.
Six months later, these two apps are Spotify's first that don't deal explicitly with learning about or discovering new music. Whereas before you could use Spotify's apps to get the lyrics to your favorite song, or find recommended artists, now you can get a date for Friday night, or flirt with a cutie with a booty who loves Tutti Fruiti.
Uh, or something like that. You can add fellody and Tastebuds to your Spotify desktop player and start flirting now. And check out our favorite Spotify apps from the initial launch below:
PHOTO GALLERY
The Best New Spotify Features
BEFORE YOU GO