Update below:
Sen. Rand Paul (R-Ky.) is lending his name and political clout to a gun group's email campaign that features an image of a rifle pointed at the head of President Barack Obama.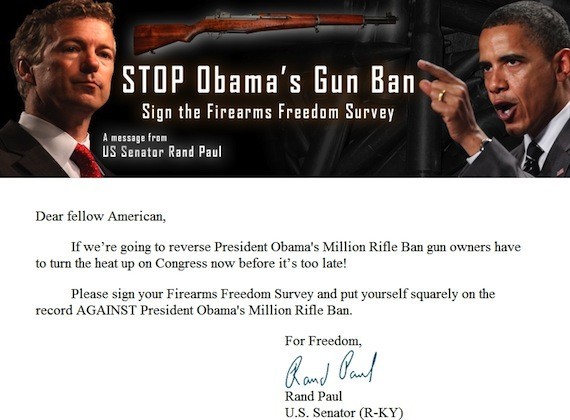 The effort is being spearheaded by the National Association for Gun Rights (NAGR), a Virginia-based 501c(4) that bills itself as the "fastest growing gun rights group in America." NAGR also touts its efforts against the U.N. Small Arms Treaty and for the derailment of H.R.45, both foundations for conspiracy theories about the government's supposed plan to confiscate guns from U.S. citizens.
The so-called Million Rifle Ban is another popular rallying point for gun rights advocates upset with an Obama administration decision to block the import of hundreds of thousands of Korean War-era rifles over concerns about their magazines and firepower. Paul has supported the group's efforts before, but the latest push, shown in the picture above, displays an M1 Garand -- the rifle model at the heart of the controversy -- pointing toward Obama's head.
On Thursday, Ladd Everitt, director of communications for The Coalition to Stop Gun Violence, told Raw Story he found the image troubling.
"Death threats against this president are up 400 percent as compared to President Bush," Everitt said. "We are living today in a supercharged, partisan political climate where threats of violence and violent rhetoric are everywhere, and you would think that anyone -- anyone, no matter what their political views or disagreements with this president -- would have the common sense and decency to not create a banner image for a conspiracy theory-fueled email that shows a gun pointing directly at [the president's] head, while simultaneously preaching to folks about some ridiculous Obama gun ban that exists only in a fantasy world."
That Obama's supposed efforts to limit access to firearms have managed to effectively energize gun rights advocates is perhaps surprising given the president's notable lack of action on gun control initiatives.
Second Amendment champions such as National Rifle Association President Wayne LaPierre have frequently used the specter of a gun-snatching Obama to rile up the base. While such fear mongering serves as a serious boon for business, even the most vocal proponents of gun control tend to concede that there is unlikely to be a path to successful legislation, even in the wake of a mass shooting in Tucson, Ariz. and uproar over Stand Your Ground laws after the death of Florida teen Trayvon Martin.
UPDATE -- 5/11:
The image housed at the website for the campaign has been changed. The rifle now points toward the head of Sen. Paul.
BEFORE YOU GO