Bring the blooming outdoors to your walls with this Craft Of The Day. All it takes is a little hot glue, a bold, colorful fabric and a simple sewing technique, and you can have a framed flower that'll last all spring and for seasons to come. Keep reading for the how-to.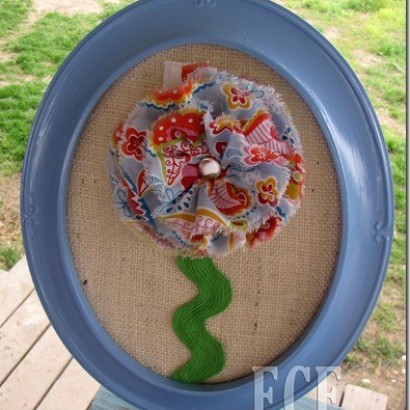 "
Photo by Amanda Jones of Every Creative Endeavor
What You'll Need:
Oval frame
Styrofoam
Spray paint
Burlap fabric
Patterned fabric
Silver brad
Ric-rac trim
Hot glue gun
How To Make It:
1. Spray paint the frame the color of your choice.
2. Cut a piece of of styrofoam to fit inside the frame.
3. Wrap the styrofoam with burlap and secure with hot glue.
4. Tear (to get a frayed effect) a 2-inch-wide strip of patterned fabric.
5. Baste-stitch the other edge of the fabric.
6. Gather the fabric up and form in a circle so it takes the shape of a flower.
7. Add a silver brad in the middle as the flower's center.
8. Glue the flower to the burlap.
9. Glue a piece of green ric-rac trim from the bottom of the flower down (to look like a stem).
10. Insert into the frame.
For the full tutorial, visit Every Creative Endeavor. And, be sure to check out the other great crafts in our Craft Of The Day slideshow below.
PHOTO GALLERY
Craft Of The Day