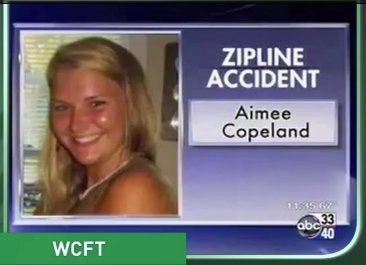 Her father wrote on a Facebook page he created that her hands "went from a splotchy purple color to a red tone and then to a pinkish flesh tone. Yesterday I had noticed them turning back to an angry red," Fox News reported.
UPDATED May 14: Aimee Copeland will have to have her fingers amputated, though doctors may be able to restore "life back to the palms of her hands, which could allow her the muscle control to use helpful prosthetics," according to a statement on the University of West Georgia Psychology website, ABC News reported.
Aimee Copeland, the 24-year-old Georgia student who has already lost her leg to necrotizing fasciitis, a rare, flesh-eating bacteria, is in critical condition and may also lose her hands and her other foot, according to news reports.
Even though the doctors cleaned and closed the wound, it became infected, the Associated Press reported, most likely from bacteria at the zip line site.
"I couldn't conceive of what it would be like for my daughter to lose her hands and the only other foot she has, as well, and that appears to be what is going to happen," her father Andy Copeland told ABC affiliate WSB-TV. "The most important thing is my daughter is still alive."
The Associated Press reported that the specific bacterium that infected Copeland is called Aeromonas hydrophila. This kind of bacteria usually causes diarrhea (when people swallow water contaminated with it), and cases where the bacteria cause flesh-eating diseases are very rare, the AP reported.
ABC News reported on a 2010 study in the journal Clinical Microbiology Reviews, that showed that necrotizing fasciitis from Aeromonas bacteria has a death rate of more than 60 percent. But according to a 2007 study in the World Journal of Emergency Surgery, death rates from the condition can range anywhere from 25 to 73 percent.
The risk for necrotizing fasciitis increases when a person's immune system is already weakened; when a person has other health problems like diabetes or kidney disease; when there are cuts on the skin; when the body has decreased infection resistance because of medications; and when a person has just the chickenpox or another kind of viral infection, WebMD reported.
There are about 10,000 to 15,000 necrotizing fasciitis infections each year in the U.S., with 2,000 to 3,000 deaths, according to the Wisconsin Department of Health Services.
According to the 2007 World Journal of Emergency Surgery study, necrotizing fasciitis can be hard to diagnose -- but being too slow to diagnose it carries an increased risk of death.
The first symptoms are typically seen in the first day, and include new wounds elsewhere (even though the original wound usually doesn't yet look infected), the sensation of pain somewhere near the original wound and flu-like symptoms.
Three or four days later, the part of the body where the infected wound is may start to swell up and dark marks and rashes may occur. The actual wound may also start to have a "bluish, white, or dark, mottled, flaky appearance," according to the study. And within four or five days, the body's blood pressure may decrease and may experience septic shock. The person may also become unconscious.
Treatments for necrotizing fasciitis may include antibiotics and surgery -- as Copeland received -- so that the infected parts of the body are removed and don't spread the infection elsewhere, according to WebMD. Other treatments may be needed for the other problems that come with infection -- like possible organ failure or shock -- and hyperbaric oxygen therapy may also be used to stop the body's tissue from dying, WebMD reported.
News reports did not say specifically what other treatments Copeland is undergoing aside from the amputation of her leg and the potential amputation of her hands and other foot, though ABC News noted that she breathes through a ventilator.
BEFORE YOU GO