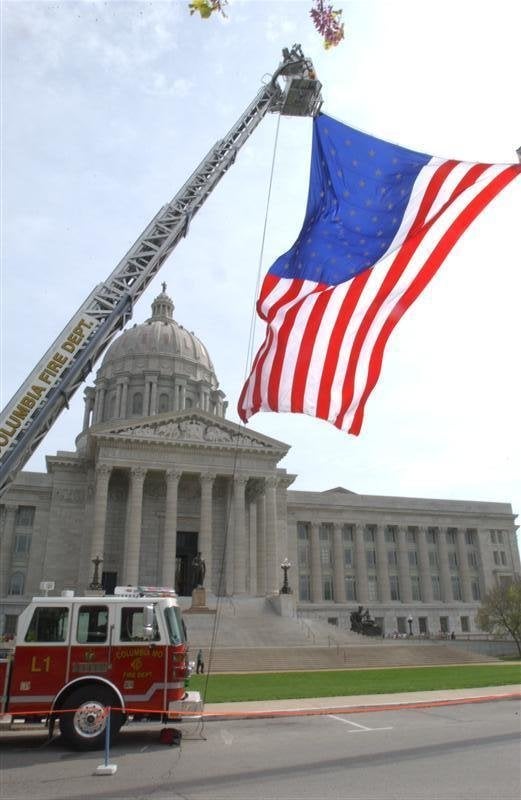 The 162-year-old border war between Missouri and Kansas heated up again this week as Show Me State lawmakers voted three times to ban a Kansas logo from their Missouri license plates.
A bipartisan team of Missouri lawmakers proposed amendments to three separate bills to prohibit the University of Kansas' Jayhawk logo from being displayed on Missouri plates, a request made by KU's alumni association. The effort is the latest in a war between the two states which began over slavery issues in 1850 and continues today over college athletics, jobs and almost anything else.
"Like generations of Missourians before us, we face an incursion from the west," Missouri Rep. Stephen Webber (D-Columbia) said on the House floor Tuesday. "It will be repulsed. This is the effort to affix the dreaded, disgusting Jayhawks symbol to our Missouri license plates."
Webber has joined Missouri Rep. Caleb Jones (R-California) to push the legislation. Webber told HuffPost that the actual amendment does not single out KU or Kansans, but rather mandates legislative approval before issuing any university-related license plates. Currently, specialty plates can either be approved by the Legislature or by petition to the state revenue department. KU alums filed a petition on the subject prompting the move by Jones and Webber, whose district encompasses the University of Missouri campus.
In order to make the measure a state law, Webber said he and Jones have affixed the measure to various bills on the House floor to ensure it passes the House and Senate, and gets to Gov. Jay Nixon's desk. Three of those have passed through the House.
"We are getting it on everything," Webber told HuffPost, noting the amendments passed each time.
Webber said that he and Jones are trying to joke about the subject, but the Missouri-Kansas rivalry is serious business between the two states. It has turned primarily into a sports rivalry between KU and University of Missouri in both football and basketball. Mizzou's football team has historically ranked higher than KU's, while KU's men's basketball team has been superior to Mizzou's, but the sports war is likely coming to an end as Mizzou has changed conferences and KU will not play the team again.
"It is exceptionally insulting this year," Webber said Tuesday. "This year is the year that those folks to the west after 120 years of competition have decided not to meet our teams on the field of competition. I don't like KU on any circumstances. This year that they can't find the heart and courage to play us, is the year they want to add something to our license plates. Not if this Legislature has anything to do about it."
Webber did say that if KU is willing to play Mizzou again, he would sponsor legislation to allow the plates.
The Missouri measure has managed to unite Democratic and Republican lawmakers in the Republican-dominated Kansas Legislature. Kansas Rep. Brett Hildabrand (R-Merriam) said that as a Kansas State University alum he can understand rivalry with KU, but he is standing behind his home state. He said he is prepared to file similar legislation if Mizzou alums attempt to place their logo on Kansas plates.
Kansas Rep. Mike Slattery (D-Mission) joined his GOP colleague in attacking their neighbors to the east. "That is the most ridiculous display and a waste of time," Slattery said with a laugh. "If that is the most important thing they can do in Missouri, then go for it. We have been taking Missouri jobs for years. If they want to stop the license plates as a form of payback, then so be it."
During last week's debate over allowing local school districts to hold referendums on student activity fees, Kansas lawmakers took several swipes at Missouri, including comments that Missourians are fleeing to the Sunflower State for better schools and jobs.
Webber told HuffPost that he believes the feuding will continue, even if the sports rivalry ends. "We've been fighting since 1850, we just need something to fight about," he said.
CORRECTION: This article has been corrected to identify that the University of Missouri has changed conferences, not the University of Kansas.
BEFORE YOU GO