Michael Marcus is an idea man.
The publisher and game designer is responsible for the "Hamtramck Idea Men" line of comic books and tabletop games. He founded the business, known for its "IF-X" and "Pulp Dreams" comics, with artist George McVey in 2007. And with Detroit Tradecraft, a comics-related group composed of local artists, writers, editors and other creative people , he works to produce independent art in the Metro Detroit area.
With the Motor City Comic Con coming to Novi this weekend, The Huffington Post caught up with Marcus (who will be tabling the event with Detroit Tradecraft) to talk about the convention and the struggles and joys of producing independent comics.
What's Motor City Comic Con like, say, for those who haven't attended?
Motor City has basically two things going on: They have comics guests and they have media guests. The media guests will give autographs and talk to people as will the comic artists. Most of us artists have something to sell -- we need to in order to pay for the tables they're charging us for.
The other thing they'll find is various stores from the area will be selling their comics and shirts there. The thing that's fun about it -- if you are into comics or into games or being creative -- [is] there's plenty of things to be inspired by. Artists bring their own stuff [and] for me that's where the excitement is. You get to see artists displaying their independent work.
From an actual exhibitor's point of view, you spend your time watching people walk right past your stuff. They rarely want to get involved with you because you don't carry anything Marvel or DC, and since you're not selling "Spiderman" for a dollar, they don't want to spend much time at your table. You just participate in it to get some exposure to let people know your product exists on the market.
[Marcus suggests comics fans check out SPACE, an independent comics convention that takes place in Columbus, Ohio, in April; and Detroit FanFare, a Dearborn show that happens in October.]
Tell us about the comics you publish.
"IF-X" is an anthology series. Every issue has a theme [and] we have prose piece related to each theme in addition to comic book pieces. Each one can cross over into Sci-Fi, Fantasy, whichever genre people are inspired to work in -- as a result every issue is original and pretty much self contained. We put out an "April Fool's" issue in April. Coming out in June will be "Luck."
We're not really continuing to publish "Pulp Dreams" right now. George left to pursue other things. There's two different stories in the books. "Terra 2920," which is an over the top tribute to the old pulp novels -- a man and his robot escape from a government on the moon then return to earth only to find it a world gone mad. The other story is "Portal Prime," a story of a pair of super-advanced beings that travel to a medieval-type world and bring the troubles between them to the planet.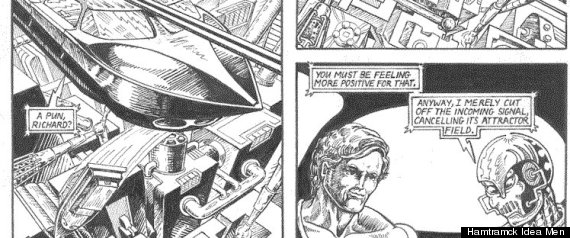 Who are some of the artists you've worked with?
Locally I've worked with Pat [Jackson] and Mark [Dudley of Detroit Tradecraft] and I've worked with David Perrin III. He's helped with the cover illustration on a past issue of "IF-X" and worked with Marvel in the past. I've collaborated a little with Arvell Jones. Bill Bryan used to do pencilling for Marvel and DC -- a fantastic artist. Christina Fleischer-Casper -- she's actually a world famous artist who's got some work in several museum collections throughout the South and in Disney's private collection. Jim Anderson is a cartoonist. He does comic called "Ellie On Planet X."
These are all [in the] Metro Detroit area. Some of us are in Hamtramck. Matt Feazell, "The Amazing Cynicalman" -- the man is brilliant. He can do stuff with stick figures that people have a hard time expressing in any other way. We helped him put together the Cynicalman movie. I even got a chance to overact in that.
What's it's like being an indie publisher around here?
It's like this: I enjoy the publishing process. I love putting together IF-X. It's a great vehicle to give people a voice and give people a sandbox to play in. As far as selling ads, it's proving kind of difficult, which means more money's coming out of my pocket than would normally happen and it's threatening to impede my ability to publish these books.
There are number of problems I've run across. When stores are only buying a book or two at a time and it costs $4 a gallon for gas -- traveling to stores to get them the books -- it's essentially a loss. I need to find a better way to get the books distributed. This is not a friendly environment for the small publisher. We have to fight for every piece of shelf space we can get.
What is Detroit Tradecraft?
They're a local organization that's reaching out for creative collaboration and invention among artists, authors, designers and other creators in the Metro Detroit area.
Right now, they're just stretching their legs into the comics arena. They have two issues of a comic, "The Door," that we've edited and published together. You can think of it as a cross between "The Wizard of Oz" and an African folktale.
The other project, Heather Spraga's "Angel Cry," is a gothic fantasy [graphic] novel about a young woman who finds out not only is the world not quite what it seems to be, but her place is far different than she could ever imagine.
Anything else you want to share about the world of comics?
Probably the one thing people need to know is that the largest portion of the market makes its profit over selling the same characters and same stories over and over again. How many times have they rebooted Superman, rebooted Spiderman? If you keep giving them your money, they'll keep selling you the same stories over and over and over again. The only way to inspire new stories and new creations is to buy independent.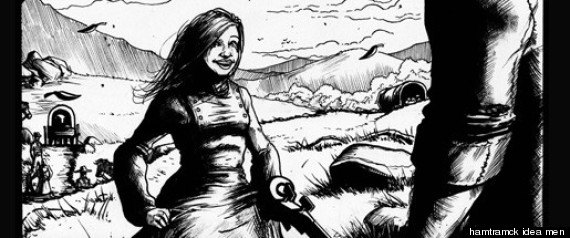 BEFORE YOU GO