This is what geek love looks like in Los Angeles.
When developer Priscilla Dao (otherwise known as Rusty Halos) found out she had to leave Los Angeles, her hometown, she found herself feeling "a little sentimental." Using Frank Lloyd Wright's famous quote for inspiration ("Tip the world over on its side and everything loose will land in Los Angeles"), she put together a customized homescreen for her smartphone that would remind her of LA wherever he went. Rusty Halos explains more in a Lifehacker comment post from early May:
CLICK HERE OR SCROLL DOWN FOR UPDATES.
This is the set-up I'm currently using, entitled "Love Letter to Los Angeles." Why something so sappy, you ask? Well, I'm leaving my hometown of (you guessed it) Los Angeles, very soon, maybe for good, so I'm feeling a little sentimental. I found a small graphic of the Los Angeles skyline floating around online, and thought I would edit it in Photoshop and turn it into a wallpaper for my phone. Approximately eight hours and endless bouts with Minimalistic Text later, this was the result.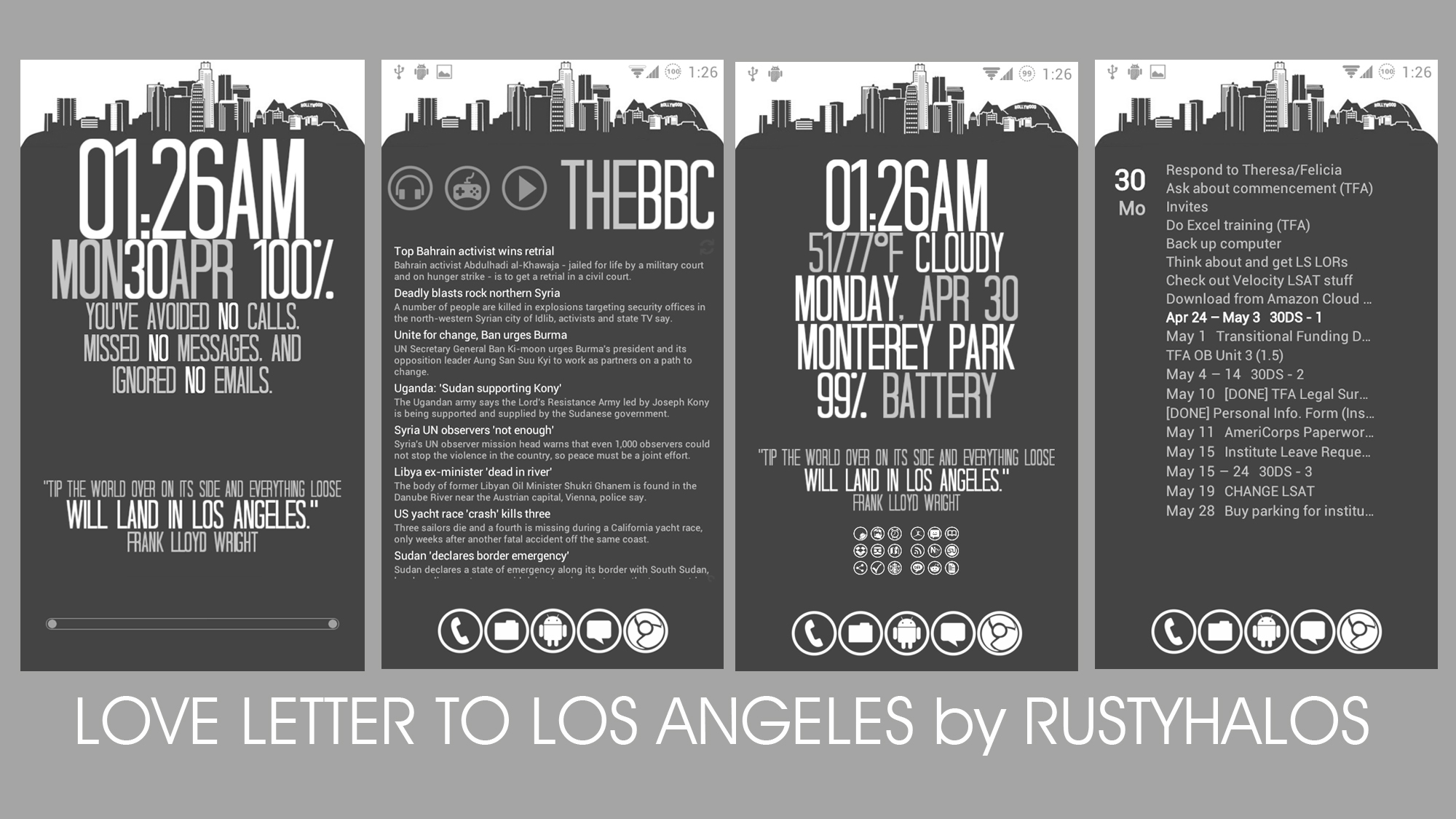 Lifehacker editors featured the customized homescreen Wednesday and invited other readers to post their customized wallpapers on the #homescreenshowcase forum.
Dao explains to Android phone developers how she modified her phone on her MyColorScreen.com profile. Unfortunately, LA-loving iPhone programmers will just have to sit this one out. And pout.
UPDATE: The Huffington Post contacted Dao over the phone, and she hadn't realized that Lifehacker had featured her customized homescreen on their site. When we informed her that Lifehacker assumed she was male, she laughed and said, "That's understandable! I haven't given them any information about myself."
Dao is headed to Houston because she was just accepted into the prestigious Teach For America program. She plans to be away from Los Angeles for at least two years.
"I've never really lived anywhere else for an extended period," said Dao to HuffPost. When asked what she was going to miss about LA, the teen sighed. "Everything! I'm going to miss the weather, food, people -- my entire life."
CORRECTION: A previous version of this story incorrectly assumed that Dao was male, based on Lifehacker's article. We regret the error.