The old adage rings true: One person's trash really is another person's treasure. In a stroke of creative genius, Flickr user Urban Woodswalker, aka Chicago-based artist Mary Anne Enriquez, turned empty plastic laundry detergent and softener bottles, yogurt bottles and fused plastic bags into this stunning headpiece. Since we're obsessed with all things upcycling, we had to know more!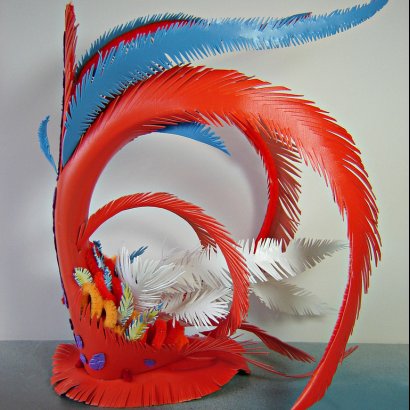 Flickr photo by Urban Woodswalker
It turns out the headpiece is part of an entire ensemble, including a wearable dress, hand-held mask and ring Enriquez constructed for a 2011 fashion show of garments showcasing discarded items. We love that 95 percent of her pieces are made of reclaimed plastics, but even more impressive is the fact that Enriquez has no formal fashion design training at all, which is why her eye-catching headdress deserves being named our Highlight Of The Week.
To see the rest of her outfit, visit her Flickr stream.
Have something to say? Be sure to check out Stylelist Home on Twitter, Facebook and Pinterest.
BEFORE YOU GO