Ofri Cnaani's exhibition "Special Effects" asks, or perhaps dares: "Can you see a trick while it's happening?"
If this question sounds simple, you've already underestimated her work. The road to catching a trick in action is filled with unrest, anxiety and eventually failure, and the Israeli artist challenges us to spot the moments we are being beguiled by making cyanotypes that are (literally) translucent. Cnaani shows her construction along with her final product, yet the result only makes the works more puzzling. One gets the feeling they are seeing both the skeleton and the ghost.
The cyanotypes contain a selection of pretty, yet enigmatic objects, strewn about like evidence up for examination by the jury. Exuding both elegance and insanity, the works are made of film celluloid, paper cut-outs and broken glass placed on blue photosensitive paper. Cameos and necklaces recur through the blueprints, offering us cryptic clues. Yet this momentary clarity leads nowhere (a trick Hitchcock used himself to falsely attract attention). The works invite failure, of both understanding and construction, because they are made without a camera.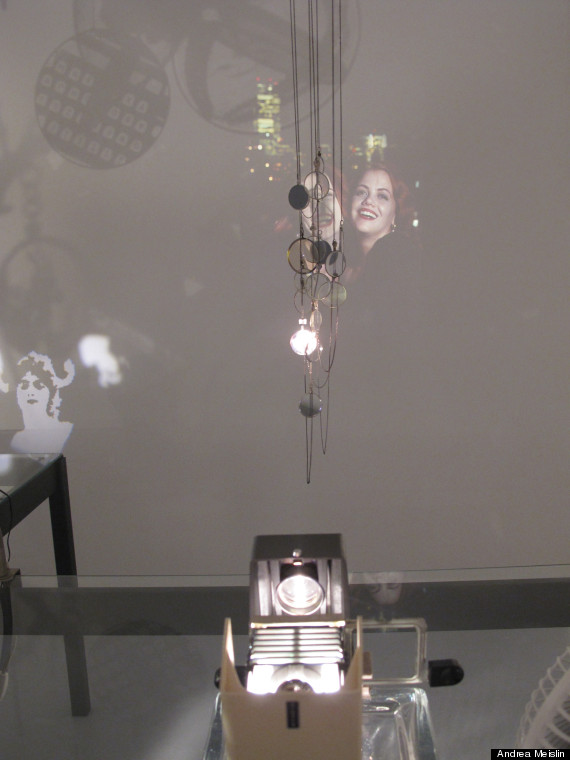 "Magic on Hold," is a sculptural installation which explores the mechanics of trickery. Moviemakers act as projection devices on transparent tabletops project swirling shadows onto the gallery space around them. Though they look sculptural, our attention is quickly drawn elsewhere. The works, named "The McGuffin Machine" and "The Cliche Machine," claim to give us a backstage glimpse at trickery in the works while actually tricking us once again. Cnaani said to Rhizome in an interview: "At the end of the day, failure is very transformative. I rejoice in playing." She continues, "This play is so difficult but it's my privilege. Failure is a central part of this play and my aesthetics go in the direction of the non-functioning." We'll have to wait and see what this shadowplay reveals next.
"Special Effects" will show until June 2 at Andrea Meislin Gallery.
PHOTO GALLERY
Ofri Cnaani
BEFORE YOU GO