Ordinary clothespins become the basis for a stand-out chandelier with this Craft Of The Day. This light fixture, made entirely of clothespins from Young House Love, is a quirky, fun way to add oomph and texture to any room. We think it's a great accent to a living room or bedroom, but it would obviously be fitting in a laundry room too! Keep reading for the how to.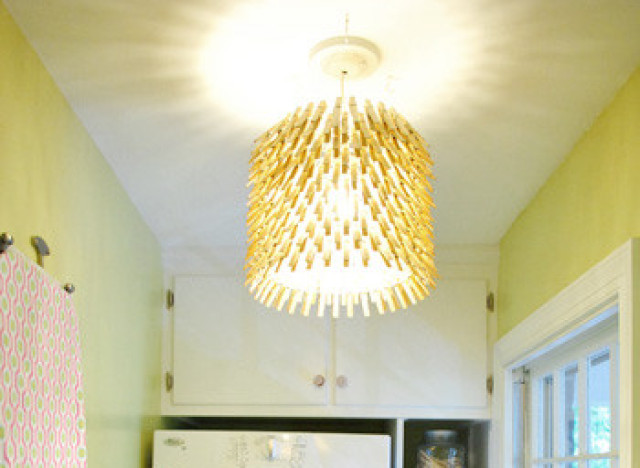 Photo by Young House Love.
What You'll Need:
Light Kit (like this cord set from Ikea)
Ceiling Canopy (of your choice)
Wire Fencing (Simliar products available at Lowes)
White Gloss Spray Paint
22-gauge craft store wire
Gloves
Metal Snips (such as these metal snips from Grainger.com)
Eight bags of medium sized clothes pins
Three heavy-duty ceiling hooks
How to Make It:
1. With the help of a handy man or electrician, install the light kit and attach the ceiling canopy of your choice.
2. After donning your gloves, cut out a piece of wire fencing about 9.5" tall. Bend it into a loop, creating a drum-shade shape with a 10" diameter.
3. Bind the loop using 22-gauge wire.
4. Spray the wire fencing with white glossy spray paint.
5. Attach the clothespins to the wire framing in any pattern you'd like (zig-zagging: clipping every other clothes pin on adjacent rows, allowing for more light exposure).
6. Finally, screw in three heavy-duty ceiling hooks around the ceiling canopy and attach the chandelier with more 22-gauge wire. Voila!
For the full tutorial, visit Young House Love.
And, be sure to check out our other great crafts in our Craft Of The Day slideshow below.
PHOTO GALLERY
Craft Of The Day
Have something to say? Check out HuffPost Home on Twitter, Facebook, Pinterest, Tumblr and Instagram.