The largest exhibition of Roy Lichtenstein's work to date will be traveling to a number of museums in the U.S. and Europe this summer. First stop: the Art Institute of Chicago.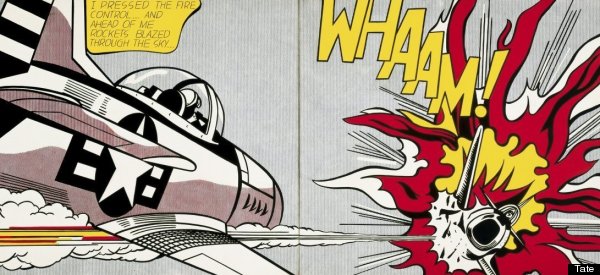 "Our aim with this exhibition is to explore the full range of absorbing contradictions at the heart of Lichtenstein's work -- starting with the paradox that Lichtenstein systematically dismantled the history of modern art while becoming a fixture in that canon," says co-curator James Rondeau to AFP. More than 160 works are on display, from his iconic Pop Art comic strip works to more unusual pieces that one doesn't automatically associate with the artist -- including landscapes, ink paintings, nudes, and even a triple-screen film shot by Lichtenstein. ("Three Landscapes," is the only film the artist ever made.) "What really comes out in this exhibition is Roy's sense of humor," says Jay Dandy, a researcher for the exhibition and former president of the Society for Contemporary Art, to the Chicago Reader.
Humor is a big part of contemporary art; so much has been done already, and sometimes we just have to laugh at the absurdity and commercialism that has crept into every aspect of our lives. Lichtenstein knows all this, which is why his work is so enduring. His work is fresh, even though "Look Mickey," which opens the exhibition, was painted in 1961. In a 1997 interview with David Sylvester, Lichtenstein muses on the humor in his work, saying, "Picasso himself would probably have thrown up looking at my pictures." Here's to a man who can laugh at himself, and all of us.
"Roy Lichtenstein: A Retrospective" will be on view at the Art Institute of Chicago (May 22–September 3, 2012); National Gallery of Art, Washington, DC (October 14–January 13, 2013); Tate Modern, London (February 21–May 27, 2013); and Centre Pompidou, Paris (July 3–November 4, 2013).
PHOTO GALLERY
Roy Lichtenstein
BEFORE YOU GO