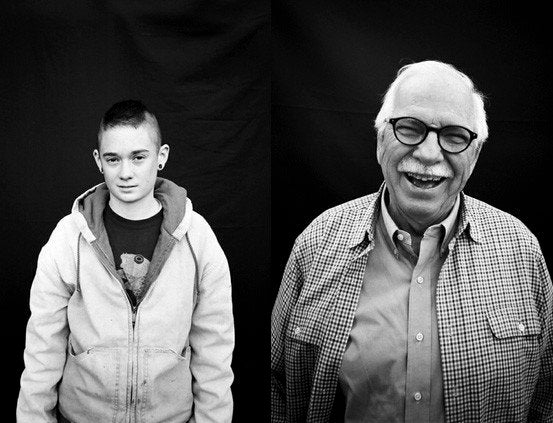 There is plenty of debate surrounding the fight for LGBTQ equality these days, but photographer iO Tillett Wright is out to show that sometimes no rhetoric is as powerful as seeing the faces of the people legislation affects. In 2010 Tillett Wright embarked on a project to photograph LGBTQ America as it exists today, capturing simple portraits of anyone who finds themselves anywhere other than strictly straight on the sexual spectrum. Two years later Tillett Wright has captured 1675 portraits, and won't finish the project until the U.S. offers equality to all of its citizens.
The photographer, who writes for The New York Times Magazine and has blogged for The Huffington Post, does not pose or dress up her subjects in any way. Through this relaxed process, the black-and-white photos capture the wide spectrum of gay America from policemen to models to farmers.
While the New York-based photography darling often captures the gritty nightlife of sexy looking misfits, here she ditches her edgy aesthetic for a straightforward face-to-face encounter. The subjects' diversity is overpowered by an overwhelming sense of humanity, epitomizing the project's core belief that "people don't fit into over-simplified boxes. Everyone falls somewhere on a nuanced spectrum of human sexuality."
PHOTO GALLERY
iO Tillett Wright
Correction: In an earlier version of this article, "JD Samson & MEN" was listed as "JD Samson and MEN." In addition, we listed "Caveman" as "Cavemen." We apologize for the errors.
BEFORE YOU GO