Candy, a fashion magazine that celebrates "transvestism, transexuality, crossdressing and androgyny in all their glory," has a way of giving its cover stars such thorough makeovers that they're virtually unrecognizable. (Refresher: Candy's the one who put James Franco in drag.)
Although you wouldn't know it at first glance, Tilda Swinton is Candy's latest cover star. The typical barefaced actress appears wearing more makeup than a Kardashian, a wig of thick wavy red locks and an over-the-top gold dress -- in other words, exactly the sort of thing Tilda never wears.
But Candy bills itself as "a publication that pushes people to take on the persona they've always wanted," meaning Tilda can swap out her solid-colored Jil Sander dresses and bare face for a more blatantly sexy look. We truly didn't recognize her at first (in fact, we thought we were looking at an overly made-up Dakota Fanning).
Now that we know what Tilda looks like with glamorous makeup, colorful hair and clothes, a.k.a. a typical Hollywood persona, what do you think? Do you prefer Tilda's more ascetic aesthetic?
PHOTO: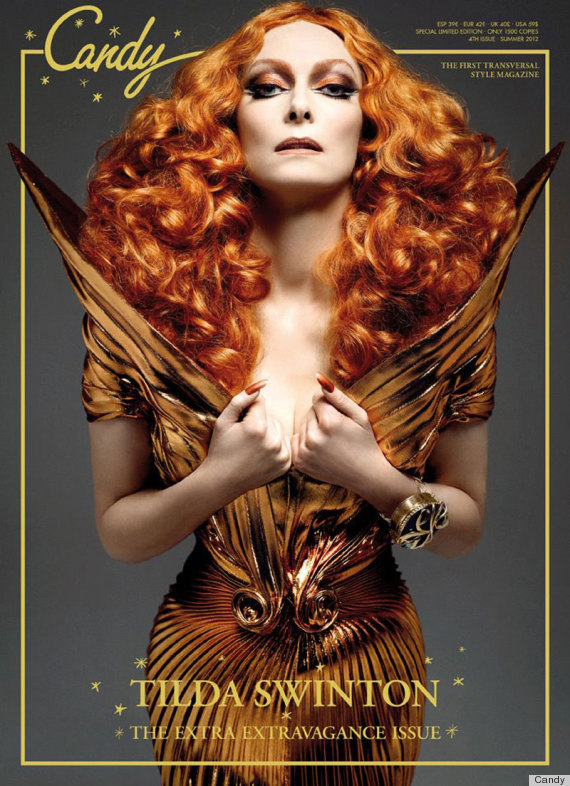 See Tilda Swinton's style evolution:
PHOTO GALLERY
Tilda Swinton Style Evolution