Get ready for another fist-pumping gorilla juicehead to hit the shore in 2030 or so, because Snooki is having a baby boy!
The "Jersey Shore" star revealed her exciting baby news to In Touch, saying, "Everyone said I was going to have a boy, and they were right!"
Though she admitted she was a bit disappointed at first -- she said she was hoping for a little girl -- she's now thrilled and can't wait to meet her little one, who will likely be named either Lorenzo or Jionni Jr., after her fiance Jionni LaValle.
The baby boy news comes just weeks after Snooki was spotted shopping for pink baby products, leading many fans to wonder if a mini-Snooki was on the way, but perhaps she was just browsing.
Thanks to Twitter, fans have been able to follow along with the star's pregnancy, and Snooki has been fairly open about discussing her journey into motherhood.
"Ah I can't wait to see my little one whose either going to be a dedicated cheerleader like mommy or a strong wrestler like daddy," she tweeted April 2.
But will we be seeing Snooki this summer at the now-legendary "Jersey Shore" house in Seaside Heights? According to the E!, she'll be there -- she just won't be living at the house with the cast. She'll reportedly be living in a house nearby, presumably so she can take care of herself during the final months of her pregnancy.
For more on Snooki's exciting baby news, head over to In Touch, and don't miss their new issue, on newsstands now.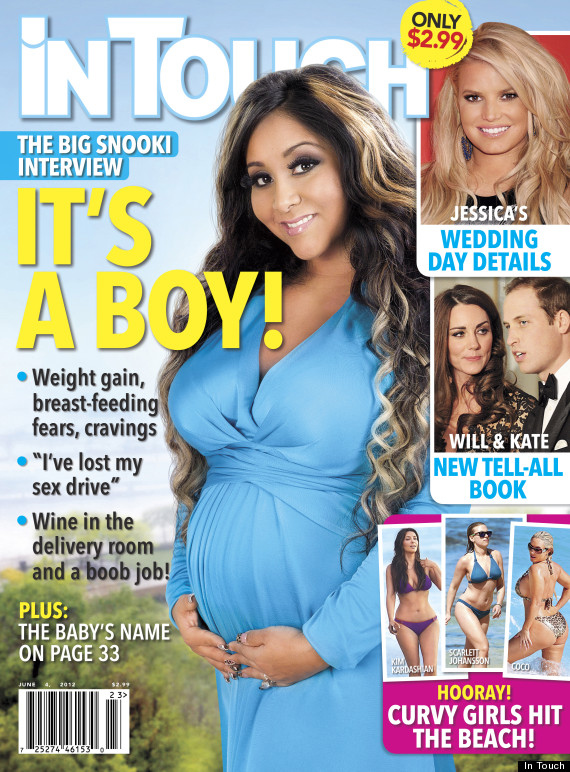 Check out other stars who are expecting:
PHOTO GALLERY
Celebrity Babies On The Way
BEFORE YOU GO