New Yorkers may have been somewhat surprised on Thursday morning if they caught a glance of either the front or back cover of the Daily News.
The Yankees might be sold? The Steinbrenners are rumored to be selling?
Michael O'keeffe and Bill Madden of the Daily News cited "multiple baseball and finance sources" in reporting that the Steinbrenner family might explore the possibility of selling the New York Yankees.
FRONT BACK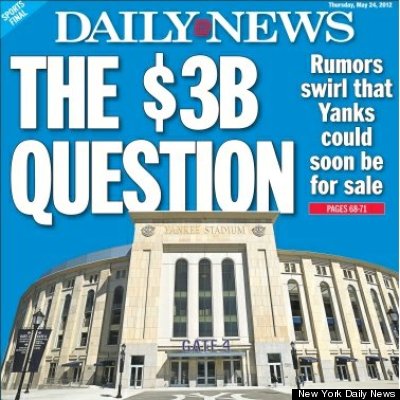 This isn't the first time that New York has gotten itself worked up over a possible shake-up with the Yankees. Back in 1996, there were rumblings that the late Yankees owner George Steinbrenner wanted to move the team to New Jersey. Rudolph Giuliani, the Mayor at the time, even offered Steinbrenner a $1.1 billion new stadium. Of course, the Yankees never left the Bronx and the team moved into the new Yankee Stadium in 2009. While the presence of that palatial park in the Bronx means that a move would be extremely unlikely even if the Yankees were sold it would certainly be the end of an era if the Steinbrenners were to no longer be involved with the club.
It didn't take long for the Steinbrenner family to comment on the story. Hal outright denied the report calling it "complete fiction."
"Me and my family have no intention to sell the Yankees and expect it to be in the family for years to come," he said in a statement.
With that said, the mere possibility of a Yankees sale got plenty of people talking and tweeting.
PHOTO GALLERY
Yankees For Sale?