Think of this as the star map that started it all.
Long before TMZ tours or star map vendors on Sunset Boulevard overran Hollywood, a man named Albert Ragsdale was reproducing hand-drawn maps of local attractions like the Japanese Gardens, Grauman's Chinese theater and, of course, stars' addresses.
The Big Map Blog highlights Ragsdale's 1938 "Movie Guide Map," available for 50 cents (the price would be about eight dollars and change now, adjusted for inflation).
A section of the guide lists "Most Popular Places Where You May See The Movie Stars," which include three locations of the Brown Derby restaurant (none of which are still standing today) and the Cocoanut Grove at the Ambassador Hotel, which is now a high school.
The guide also lists addresses for some of the age's most glorious stars: Shirley Temple, Joan Crawford, Greta Garbo, Fred Astaire, Jimmie Stewart and Henry Fonda.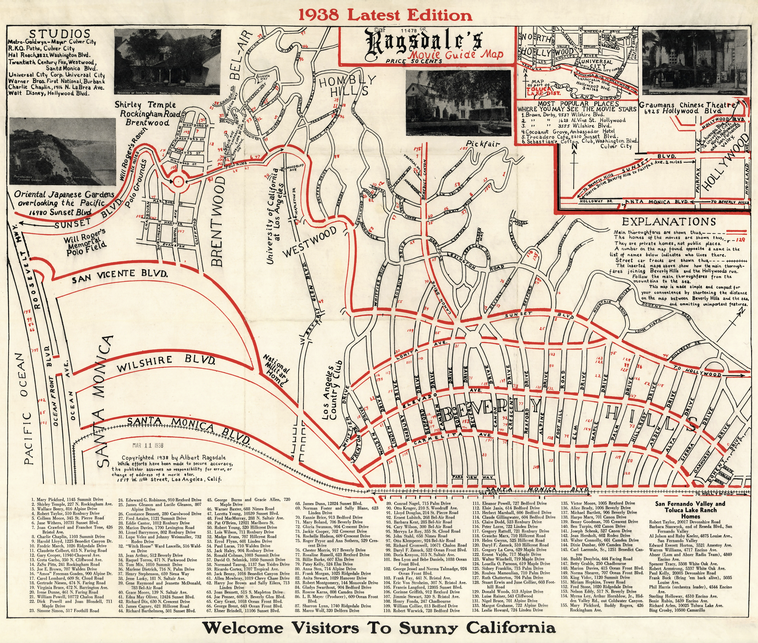 See a bigger version of Ragsdale's "Movie Guide Map."
It's arguably one of the oldest artifacts of star-stalking LA has -- of course, this 1937 star map would beg to differ. It's a lot less useful than Ragsdale's guide because there is no real map to speak of, but the cartoon figures of stars sunbathing in Santa Monica and playing polo at the Will Roger's Memorial Polo Field more than make up for the less-than-accurate directions.
BEFORE YOU GO
Take a trip back in time and discover the passionate romances of Hollywood's Golden Age.