If you've got old books laying around that you don't know what to do with, don't fret. They can be used to make an adorable literary-inspired wreath with this Craft Of The Day. This garland ring by Trash To Treasure can be displayed year-round and is sure to wow guests as they approach your door. Plus, we can't think of a better way to make use of books that have been retired to a dusty shelf. Ready to turn pages into petals? Keep reading for the how-to.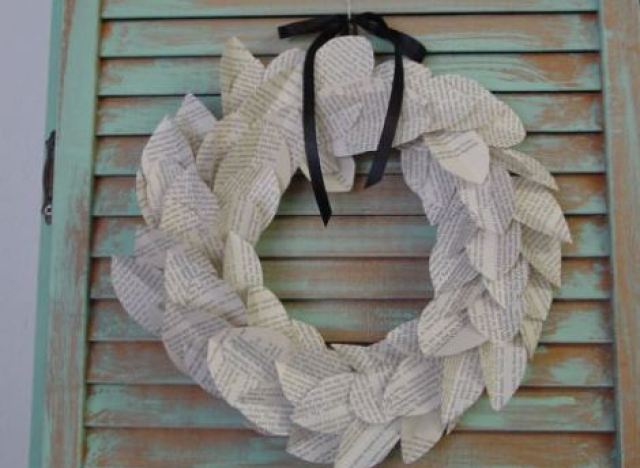 Photo by Trash To Treasure
What You'll Need:
A book (that you don't mind tearing pages from)
Foam wreath (from a local craft store)
Hot glue gun
Scissors
Masking tape
Instant coffee
Cup
Foam paint brush
Cookie sheet
How to Make It:
1.Tear pages from the book in strips and wrap them around the foam wreath, covering it completely. Secure the pages with masking tape.
2. Using scissors, cut out leaf-shaped pieces from the book pages. Cut as many as you think you'll need to cover the wreath. You may need to go back and cut a few more as you go along.
3. To give the paper petals a more weathered look, we suggest staining them. Microwave a mug filled half-way with water for about a minute. Then add three tablespoons of instant coffee.
4. Lay the leaves on a cookie sheet and using a foam paint brush, paint them lightly with the liquid. Let them dry a bit before flipping them to paint the other side.
5. Lastly, carefully glue the leaves to the wreath one by one, using a hot glue gun.
For the full tutorial, visit Trash To Treasure.
And, be sure to check out our other great crafts in our Craft Of The Day slideshow below.
PHOTO GALLERY
Craft Of The Day
Have something to say? Check out HuffPost Home on Twitter, Facebook, Pinterest, Tumblr and Instagram.