Daido Moriyama has become one of the foremost contemporary photographers, known for the uncanny ability to turn ordinary objects into vessels of desire and vice. His muse is Shinjuku, a power center of Tokyo pulsing with wealth and its dangerous effects. In Moriyama's world, businessmen, lonely housewives, prostitutes and mobsters roam the streets, proving interesting and suspicious characters for his seedy stills.
Yet his photographs do not tell stories but rather present a singular moment from an odd and particular vantage point. His personal yet mysterious style is described as "are, bure, boke" (grainy, blurry, out-of-focus.) The high contrast mementos resemble bits of evidence surrounding some great urban mystery that Moriyama doesn't care to solve. Instead we get a jumble of eroticized tunnels, shadows and strangers that, if not understandable are undeniably beautiful. Like the angular shots which teeter on edge, Moriyama's subject matter depicts the collapse of traditional morals in Post-War Japan, a shift which he seems not to condemn but to love. In Shinjuku, desire becomes the law.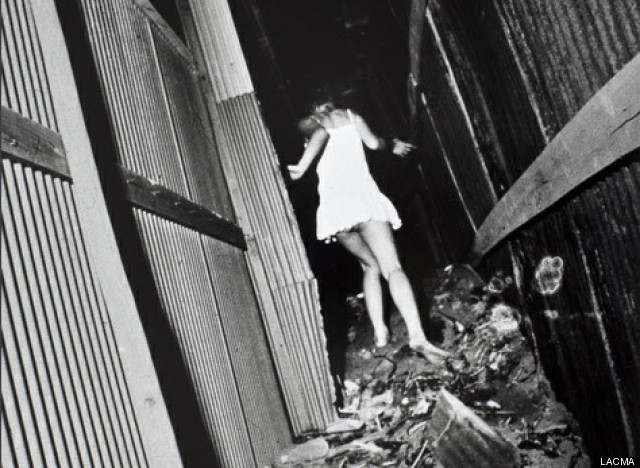 Born in Osaka, Japan, Moriyama later moved to Tokyo to pursue photography. Of his work, he has commented: "Photographs are fossils of light and memory. Photographs are the history of memory." His influences include Shomei Tomatsu, a Japanese photographer whose documentary photos of Nagasaki post-atom bomb border on Surrealism. He has also cited Andy Warhol and Jack Kerouac as influential in their strange and intimate relations with everyday objects. Through these varied influences, a new way of seeing takes shape.
"Fracture" is on view until July 31 at LACMA, Moriyama will show his iconic black-and-white works alongside a collection of newer color photos.
PHOTO GALLERY
Daido Moriyama