The city of Oxford got a little sparklier -- and tanner -- on Wednesday when Donatella Versace took to the podium to sound off about her late brother, reality television and the total "rock and roll" persona of Queen Elizabeth II.

The fashion designer spoke before a crowd of 300 students at the prestigious Oxford Union, reports the Telegraph, in a sit-down chat with Style.com's Tim Blanks and her pals actor Rupert Everett and designer Christopher Kane.
Clad in a studded leather dress, Versace, 57, gushed that she loves the very fashionable musical duo the Kills (a girl after our own hearts!) and reality television, by which we're hoping she means the Miami season of "Jersey Shore."
But our favorite tidbit came when she shared that she loves the British royal family, especially the queen, whom Donatella said she'd like to dress one day, according to the Guardian:
"The Queen can do whatever she wants, but I would dress her in black... she (the Queen) is rock and roll - I'm not joking! And she is the most fashionable person."
As much as we adore Her Majesty's style, we're having a hard time picturing her in an Atelier Versace high slit gown, a sexy bustier dress or other typical Versace wear.
Versace also spoke about a time when the late actress Elizabeth Taylor seduced a ring out of her:
"I was wearing a ring given to me by my brother and she said 'oh, it's so beautiful, can I try it on?'. Of course I said yes. But I didn't have the nerve to ask for it back, and she walked off with it. The next I heard from her was 'I wasn't expecting you to give me the ring, thank you so much,'" Donatella said. "So you see, I understand why so many men wanted to marry her. She is very charming."
Past speakers at the Oxford Union, a debating society founded in 1823 for students at the University of Oxford, have included everyone from Richard Nixon, Jimmy Carter, Ronald Reagan, Winston Churchill and Mother Teresa to Jon Bon Jovi, Salman Rushdie, Pamela Anderson and yes, Anna Wintour.
Click over to the Guardian to read more of Versace's talk, including her thoughts on '90s wear, and to see what Donatella looks like standing in a library with Rupert Everett, keep scrolling.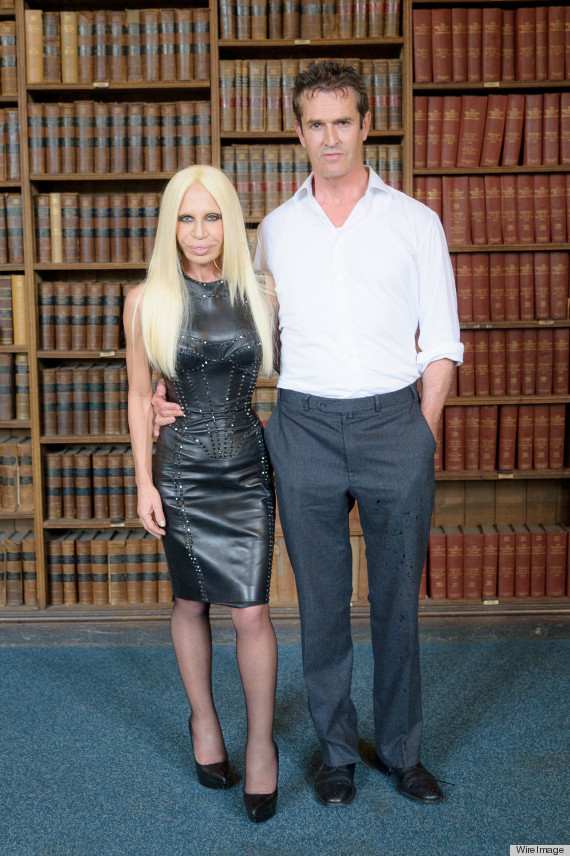 See Donatella's beauty evolution!
PHOTO GALLERY
Donatella Versace's Beauty Evolution
BEFORE YOU GO