Everyone knows you can always count on Urban Outfitters, that chain of hipster goods with flea-market aesthetics for boutique prices, to find leopard prints sunglasses, cheeky tees and an assortment of colored jorts.
But now the retail conglomerate is throwing its fedora into the politics rings: they're selling an array of Mitt Romney-themed campaign tees for the cheeky Republican in your life.
The shirts' slogans, thankfully, skew a little more clever than "NOBAMA," and some even veer profane. One tee reads "Mitt is the Shit" ($28); another has a photo of Mitt in black eye makeup designed to mimic a KISS shirt (discounted to $14.99); another boasts a picture of an oven mitt with an accompanying "Romney" (get it?), marked down to $17.99; and our personal fave: "2 Legit 2 Mitt" with Romney photoshopped into a pair of gold lame Hammer pants.
Despite Urban Outfitters' rebellious and youthful image, Urban Outfitters founder and chairman Richard Hayne is a well-known supporter of conservative causes; Hayne, 64, and his wife have contributed $13,150 to Senator Rick Santorum's campaign and PAC over the years. In 2008, This is Money UK reported that Hayne had "bizarre and old-fashioned" views on homosexuality.
Lest you accuse Urban of being totally partisan, they also sell a tee of President Obama "Tebowing" ($24).
See the Mitt-chandise below.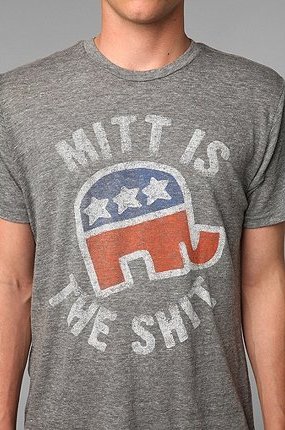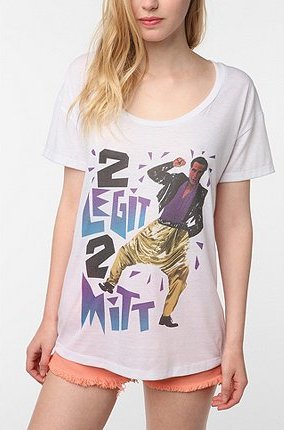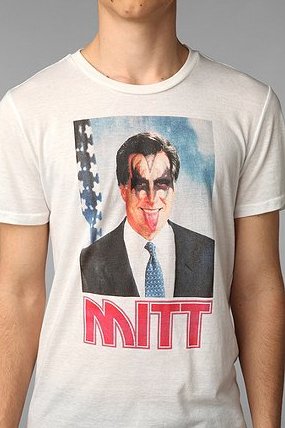 See more Urban Outfitters controversies!
PHOTO GALLERY
Outrageous Urban Outfitters Scandals
BEFORE YOU GO