A woman that investigators believed was posing as a fake immigration officer was arrested at LAX Thursday just minutes before her flight was scheduled to leave for Mexico.
Lt. Adam Ellison with the Los Angeles Sheriff's Department said in a statement that Araceli Martinez, 47, was suspected of posing as an Immigration and Customs Enforcement (ICE) agent to prey on undocumented immigrants.
Fourteen people had come forward to investigators, claiming that they had each paid between $4,000-$8,000 to Martinez in exchange for what they believed to be legal resident status.
When detectives showed up at her home, they discovered she had left less than an hour earlier to catch a flight from LAX. After coordinating with airport police, authorities managed to detain her until sheriff's department deputies arrived to arrest her.
Martinez was booked for theft by false pretenses and is being held on $335,000 bail at the Century Regional Detention Facility in Lynwood, Calif.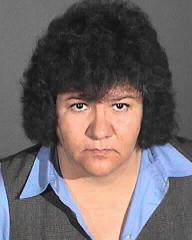 Booking photo of Araceli Martinez released by the LASD.
BEFORE YOU GO
A list of some of the toughest immigration laws in this country.
PHOTO GALLERY
Harsh Immigration Laws