Anna Betbeze's pigmented Flokati carpets don't look like anything you have ever seen before. They kind of resemble a muppet carcass, or perhaps a tie-dyed towel that has been rotting since 1965, but they certainly don't look like your average museum piece.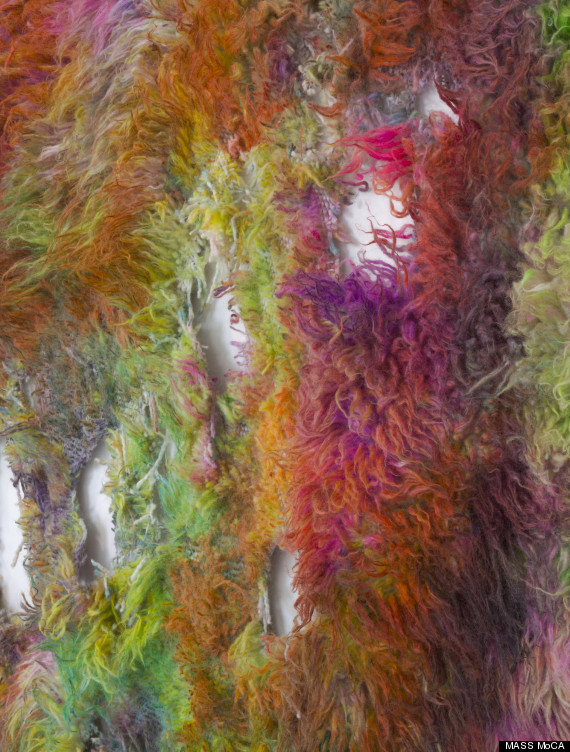 The artist takes the already visually lush Greek rugs and proceeds to cut, tear, and burn away excess material. She then saturates them with acid dye, Manic Panic, beet juice, and other pigments before putting them in the washing machine and hitting the "on" switch. Afterward, she hangs them on nails, and the decaying rugs begin to sag and fold over time. Through this act of mutilating her rugs past the point of recognition, they become something else entirely. Her last exhibition was entitled "Moss Garden" and this one continues to channel imagery of mold, moss, foliage, fungus and rust. The carpet graveyard becomes a playground for color and texture to spawn and grow, resembling fuzzy coral wisps swaying under the sea.
The strange breed of sculpture has been compared to Robert Morris's work, whose felt sculptures similarly use gravity as a medium. In an interview with ARTINFO, Betbeze herself described these felt sculptures as among her favorite things. Others have mentioned Helen Frankenthaler, who stained pigment into raw canvas. But Betbeze's work stands out in its abused aesthetic; rather than a created work her works look like they have been beaten to a pulp. Underneath the bruises, fungus and rot, a new object is born. The works, which must be seen in person to fully grasped, are both attractive and repulsive, luscious and lonely.
Betbeze's new works will show at MASS MoCA until November 5, 2012.
PHOTO GALLERY
Anna Betbeze
Correction: An earlier version of this article misspelled "Flokati." We apologize for the error.
BEFORE YOU GO