Kristen Stewart has blossomed into a fashion star, with plenty of red carpet hits, a fragrance contract with Balenciaga and even a "Best Dressed Woman of 2012" title from Glamour UK.
But as anyone who's seen K-Stew pose in her Chuck Taylors knows, glamour isn't her default. The "On The Road" star tells Vanity Fair in the new July 2012 issue that she dressed like a slobby boy in her pre-"Twilight" days -- and took some serious heat for it:
"Look at a picture of me before I was 15. I am a boy. I wore my brother's clothes, dude! Not like I cared that much, but I remember being made fun of because I wasn't wearing Juicy jeans. I didn't even think about it. I wore my gym clothes. But it's not like I didn't care that they made fun of me. It really bothered me. I remember this girl in sixth grade looked at me in gym and was like, 'Oh my God! That's disgusting -- you don't shave your legs!"
Oy, so mean! Of course now Kristen showcases her smooth legs in all sort of feminine dresses at premieres, parties and even high-fashion shoots. The latest Vanity Fair finds her couture-clad in Paris, posing in avant garde hats and billowing gowns for Mario Testino.
But she's still a jeans-and-sneakers girl at heart. As she once told Allure, "I go outside, and I'm wearing a funky T-shirt and my hair is dirty, and people say, 'What's wrong with her? She needs to invest in a hairbrush.' I'm like, Don't you get it? I'm not that girl! I never was that girl."
By the looks of this new VF cover, she could've fooled us. Check out a very elegant K-Stew below.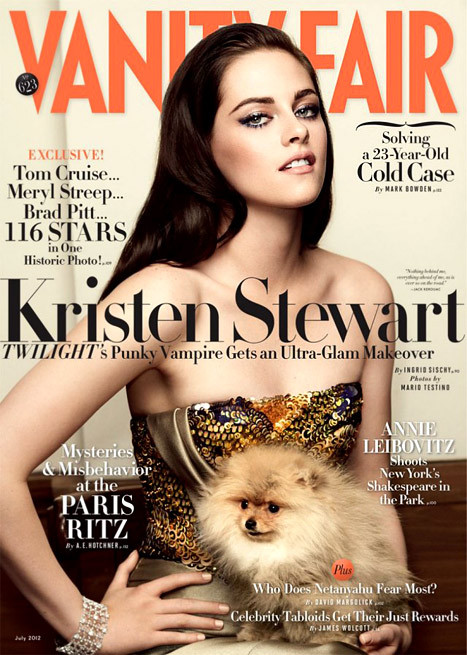 See Kristen Stewart's style evolution:
PHOTO GALLERY
Kristen Stewart's Style Evolution
Want more? Be sure to check out HuffPost Style on Twitter, Facebook, Tumblr and Pinterest.