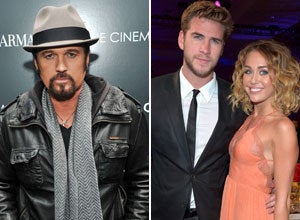 No achy, breaky hearts here -- Billy Ray Cyrus is thrilled daughter Miley is engaged.
The 19-year-old pop star and actress announced her engagement to longtime boyfriend, "Hunger Games" star Liam Hemsworth, on Wednesday and her father couldn't be more proud.
The country singer, who starred alongside his daughter on Disney's "Hannah Montana" took to Twitter yesterday to express his best wishes to the happy couple:
Though Miley's engagement announcement came as a surprise to the public, a source close to the family told RadarOnline that Miley's parents knew the couple would be taking their relationship to the next level, especially since Hemsworth, 22, reportedly asked for their permission.
"Liam lived with Miley and her parents when they began dating in 2009. Billy Ray and Tish love him like a son," said the source, adding that although Billy Ray publicly gave his blessing, he's concerned about how young they are and hopes they don't rush to the altar.
"Billy Ray hopes the engagement will be very long, but he isn't opposed to the marriage at all. Billy Ray got divorced from his first wife Cindy though and he just doesn't want Miley to go through a similar heartbreak," the source explained.
"I'm so happy to be engaged and look forward to a life of happiness with Liam," Miley told People on Wednesday, and later thanked her 5.9 million Twitter followers.
PHOTO GALLERY
Miley Cyrus
BEFORE YOU GO