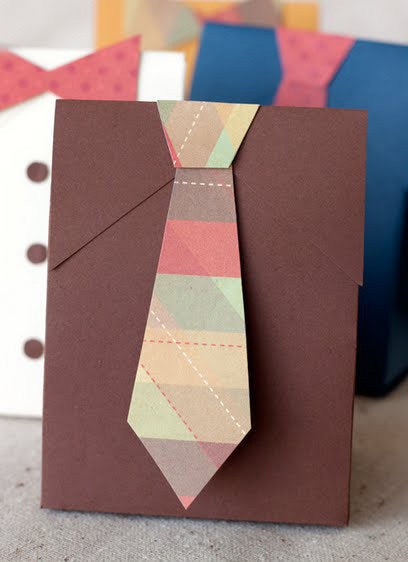 With Father's Day fast-approaching, we immediately turned our attention towards Pinterest. And sure enough, we weren't disappointed. We found some fantastic Father's Day ideas, from golf-themed foods to neck-tie decorations (and lots of them!). Here are five pinners with especially creative Father's Day boards. Just click their links below to check them out!
New Nostalgia/Amy Bowman
We love this blogger's adorable Father's day finds. From delicious-looking pancakes in a beer mug, to dressing up glass bottles with miniature neck tie printables, she's got us covered for our dad's day needs.

Michelle DuPuis
This professional photographer's Father's Day board is filled with cute pictures of gift ideas for dad. Our favorite? The precious photo of a homemade gift: A bag of candy wrapped up with the TV remote, with a card reading, "Okay, You Can Have The Remote, Happy Father's Day!" It doesn't get much cute than that.
Ruthie Nixon-Oneal
This self-described crafty girl's Father's Day board is most definitely full of inspiration. The cards for dad that look like hammers and saws are too cute. And the BBQ cupcakes donning little hot dogs and kabobs made of sweets are to-die-for. This board also features a unique hanging decoration: a neck tie banner, with actual neck ties! It's the perfect accent if you're planning a gathering to celebrate that special dad.
Ashley Sexton Townsend
This creative board features an array of charming printables, including one for "Father's Day Room Service." We don't know many dads out there who wouldn't love breakfast in bed! Another of our favorites is a form for kids to fill out with all the information they know and love about their dads. But wait, the best printable on this page: wrap-arounds for soda cans that read, "Best Pop Ever." Get it? Awww.
Jamie Noce
This mother of four is up-to-date with the best Father's Day gift ideas. Some of these inspirational gems include organizing a new peg board for his tools, DIY stress balls, and BBQ rub in mason jars. These great gifts are sure to keep dad smiling.
Want to see your account in our weekly top 5? Then send us an email! Simply click "Send Us A Tip" (below) with a link to your account. (We also accept nominations!) And don't forget -- Stylelist Home is on Pinterest, too.