Some parents regret choosing too-common appellations that fail to set their kids apart.
That's not something you'll have to worry about if you take Groupon up on its essentially unbelievable new offer.
Forget cheap vacations, dinner deals and budget spa days -- you can now outsource your choice of baby name to the online-offer giant. The name for sale is (drumroll, please) "Clembough." Never heard of it? Well, you're only a click and a thousand dollars away from claiming it for your child.
The offer in question -- which The Chicago Sun-Times reports is real, and Business Insider writes off as a publicity gimmick -- is written in Groupon's standard heavy-on-the-banter style; it starts off: "A rose by any other name would smell as sweet, but a baby that isn't named by Groupon smells like missed opportunity," going on: "All too often, the importance of a child's name takes a backseat to other 'needs' such as food, shelter, and clothing. Groupon, the World's Foremost Authority in Baby Naming™, has stepped up to address this issue."
The site adds: "Any attempt to name your child 'Clembough' independent of this exclusive Groupon will be recognized by the world as a cheap imitation." And indeed, the price tag doesn't appear to have stopped one intrepid Grouponer from signing his or her family up.
Understandably, some users have questions about the deal. In the "Deal Q&A" associated with the offer, Candace B. writes, "This has to be a joke" -- to which a Groupon representative replies: "This is the most serious deal that Groupon has ever seriously run in its serious history."
Baby name experts Pamela Redmond Satran and Linda Rosenkrantz didn't anticipate this particular eventuality when they wrote for HuffPost about common baby-naming mistakes -- but we asked them to weigh in on Groupon's deal today. Pam says, "We certainly hope it's a joke. But if we're going to take this seriously, a query by one of our berries, [readers on their site Nameberry.com] on whether they should name their baby Clembough would be met by a resounding no." She says there are several things wrong with the choice. "Pronunciation and spelling problems would abound. Does it rhyme with snow or cow? And is that a boy or a girl?"
And while you might not be able to get 60 percent off that "Swedish Massage with Optional Organic Seaweed Facial and Lip and Eye Treatment" anywhere else, Pam points out, you can name your baby anything you want. So why not save the $1,000 for yoga deals and discount sushi?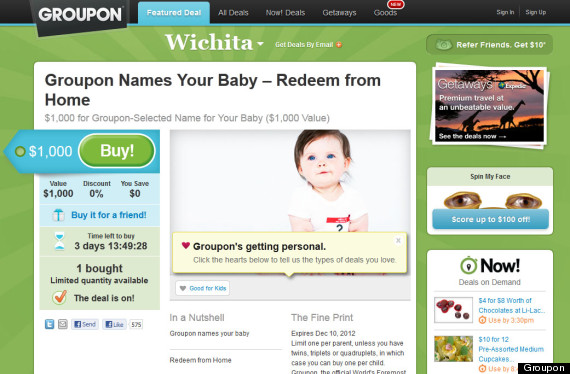 BEFORE YOU GO
PHOTO GALLERY
Weirdest Baby Names