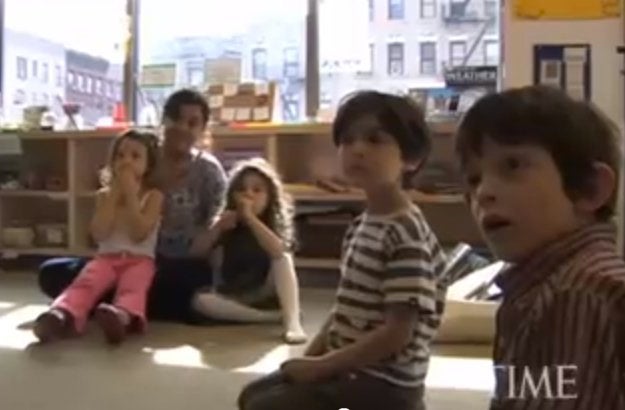 The $32,000 per-year progressive school founded by the Blue Man Group has come under scrutiny by parents, who claim their kids are barely learning to read, the New York Post reports.
The Blue School, a private school located in New York City's Financial District, has no books and no tests and is facing an exodus of students and teachers.
One mother complained to the Post that the school is "unstructured." She is pulling her son at the end of the school year, as are the parents of four of her son's first-grade classmates. Parents also claim that their children are not prepared to take tests and are bored with nothing to do in school.
"A majority of my Upper East Side clients, if they took a look down there, their heads would explode," education adviser Terri Decker of Smart City Kids told the Post. "Literally, their brains would be on the pavement."
The Blue School was originally founded as a play group by members of the theater troupe and their wives in 2006. It received its independent-school charter in 2009. The founders reportedly started the school so they could send their own children to a school that was creative enough for them. A letter from co-founder Matt Goldman on the school's website describes the institution as a "healthy, warm, safe, nurturing environment where community is paramount and where children's interactions between classes is just as important as what happens during classes."
According to the Post, school officials say students decide their own curriculum and have no predetermined arrival time. Currently, the school includes grades K-3, and a fourth grade is being added next year.
If the parents' claims are true, the Blue School debacle could place its students at a disadvantage if those children enter New York public schools after a Blue School term. Emphasis on standardized testing is at an all-time high, as the city's teacher evaluations largely depend on student performance on high-stakes state exams.
BEFORE YOU GO