Food Informants is a week-in-the-life series profiling fascinating people in the food world. We hope it will give you a first-hand look at the many different corners of the food industry. Know someone who would make a great Food Informant? Tell us why.
Amanda Hesser are the Merrill Stubbs are the co-founders of Food52.com, an online social food hub with a focus on cooking and community. Food52 was named the 2012 Publication Of The Year by the James Beard Foundation.
Amanda Hesser is an entrepreneur, best-selling author and has been named one of the 50 most influential women in food by Gourmet. As a longtime staffer at the New York Times, Hesser wrote more than 750 stories and was the food editor at the Times Magazine. She has written the award-winning books "Cooking for Mr. Latte" and "The Cook and the Gardener," and edited the essay collection "Eat, Memory." Her last book, a Times bestseller and the winner of a James Beard award, is The Essential New York Times Cookbook. Hesser is a trustee of Awesome Food, and is an adviser to the Spence Foundation, Real Time Farms and Fondu.
Merrill Stubbs grew up in New York City and after graduating from Brown University with a degree in Comparative Literature, she honed her cooking skills at Le Cordon Bleu in London. Later, she interned in the test kitchen at Cook's Illustrated and was a private chef and cooking instructor. While she was in Boston, she also worked with Joanne Chang at Flour Bakery + Café. Merrill met her Food52 co-founder Amanda Hesser when she signed on to help research and test recipes for The Essential New York Times Cookbook. She has written for T Living, Edible Brooklyn and Body+Soul, and she was the food editor at Herb Quarterly. She lives in Brooklyn with her husband and their 4-month-old daughter.
Read about their growing start-up below.
Monday, May 28
Merrill:
8:30am: Memorial Day. I won a bet with my husband on Friday night, which means I get to sleep in! (Our 4-month-old daughter, Clara, has him on the go at 6:30.)
9:30am: After checking on the site, I'm officially on baby duty. I pack Clara into her carrier, and we head off to Starbucks so I can get an iced coffee (the only thing I ever get at Starbucks -- for some reason, I really love their iced coffee). Back at home, I eat a Fage yogurt with strawberries, watching to see if Clara shows any sign of interest (supposedly she's nearly ready to try solid foods).
3pm: We all go for a brief walk around the neighborhood. It's Clara's first day in the "big girl stroller," and she loves it.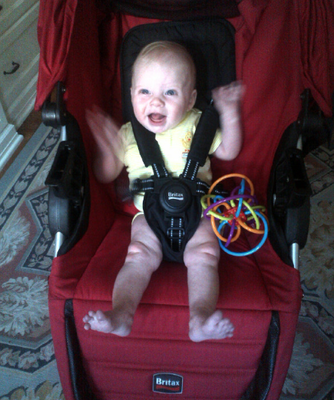 5pm: I put out a plate of prosciutto, sopressata and cheese for us to snack on as we try to entertain our unusually fussy baby. Singing "Doe a Deer" on a constant loop is the only thing that seems to work. When I start getting hoarse, I decide to play this scene from "The Sound of Music" and see if that works. Success!
Amanda:
Leading up to holiday weekends, if you let on that you're staying in the city, rather than escaping to Fire Island or the Berkshires, you are met with looks of pity. But people with no weekend house -- or no invites -- know that these are the best weekends in the city. It's blissfully quiet. And you can get into any restaurant you'd like. That is, if we went to restaurants, which we rarely do. But, otherwise, it's great. It really is.
10am: We have 5-year-old twins and I like to do baking projects with them on the weekends. This morning, we made the Yogurt Biscuits from Heidi Swanson's Super Natural Every Day. They call for spelt flour and last time I'd made them, they were wonderful, downy and tender. But this time, out of spelt, I went for the whole wheat flour substitute, and we sat down to very handsome, square hockey pucks instead. My bad. But nothing a little salted butter can't cure. My kids ate them up happily. (Make them with spelt -- you'll love them, pinky promise.)
2pm: I've mastered futzing around the house, fixing broken toys, doing laundry, organizing sock drawers. My kids and I built a house out of a Fresh Direct box and I taught them to sew; they sewed a flag onto a wooden skewer as a house decoration. Then we posted our project on DIY.org, a great new social site for kids' creative projects.
7pm: We live in a brownstone in Brooklyn, and have a small deck off the back of our apartment that conveniently holds four people, the size of our family. I cook a lot on the weekend to build up a supply of leftovers for the weekdays when I get home too late to cook. This weekend's feast began with Lillet blanc on ice -- for the parents -- followed by sauteed skate and blow fish tails with garlic scape butter; black lentils; and turnip greens with pancetta. For dessert: pistachio, kulfi ice cream with a "strawberry, lemon surprise" created by my daughter who likes to mash up fruits and syrups and seasonings and then freeze them. Surprises they are, indeed.
Tuesday, May 29
Merrill:
9:45am: At the office, I send a few emails and bolt a yogurt before a morning of meetings begins.
1:30pm: I head to Amanda's apartment, where our weekly photo shoot is in full swing. Once there, I sample some torrone that we're photographing for our Shop and devour my favorite avocado and cheddar sandwich from Iris Café, which Jennifer, who runs our test kitchen, has been thoughtful enough to order for me for lunch.
5pm: After a series of photo consults and many more emails, I whip up a strawberry rose spritzer that I want to write about for the site. Everyone seems to like it. Or at least that's what they tell me. I think maybe they're all just happy for an excuse to start cocktail hour.
Amanda:
9am: Back in action! First stop after dropping kids at school: Taralucci e Vino on 18th Street for a cafe au lait and croissant. Tuesdays are our photo shoot days but this week, we had a new team member starting and I wanted to be there to greet and support him for his first day. So while half of our team was at my apartment cooking and shooting, I was at our office near Union Square. (We work at General Assembly, a campus for start-ups.)
2:30pm: Somehow, I missed the memo that Madison Square Eats had been open all month, so it became my duty to make up for lost time. I often don't eat lunch until 2 or 3, and this worked out well for MSE; the crowds thinned by this hour, and I had my choice of treats. Settled on an Asia Dog -- organic beef with pickled mango, and a bracing limeade -- and finished with Birch Coffee cold brew (so mellow and lovely!), and a double chocolate cookie from Momofuku Milk Bar. Read Techcrunch and Pando Daily on my phone.
6pm: Stopped at home to pick up my kids to take them to a "Circus Arts" class. Didn't know I could balance a peacock feather on my chin; duly added to life skill set. Then back to the Food52 test kitchen (aka my apartment) and had some vegan chocolate sorbet, which tastes way better than it sounds.
7pm: Then I was off to Steven Shaw's food blogging class at the International Culinary Center. As the class guest, I was tasked with assessing the students' blogs on the fly. Figured out very quickly that while the technical aspects of creating a blog are fairly simple, the conceptual part is extremely challenging. If you want to a create a food blog that people will read, you need a crisp point of view, a memorable name and a catchy logo. Plus it helps to take beautiful photos. I left feeling stressed out on the students' behalf.
Was invited to have a special lobster dinner at the school, but had emails to answer! Merrill and I do a little bit of everything at Food52, so this means managing, recruiting, editing, brainstorming, business development, and a lot of P.R. -- and much of this is done by email. Which is why I sometimes feel like my professional life is one epic battle with my email account; I am usually losing.
It sounds like I ate a lot of food today, but it was actually one of those days that ended before I could eat all that I would have liked to. Went to bed hungry.
Wednesday, May 30
Merrill:
8:15am: With the baby changed, fed, entertained and back down for her first nap of the day (normally her first nap starts between 9 and 10), I rush to get ready for work and tumble out the door.
10am: At my desk, I proofread and publish the first post of the morning, about making yogurt at home, as I eat a yogurt myself. Very meta.
10:30am - 3:15pm: Non-stop meetings -- I haven't had lunch and am fading fast.
3:45pm: I munch on my new favorite lunch, quinoa and avocado salad, as I catch up on my 77 unread emails.
6:10pm: After a few more impromptu "meetings" across our communal table of desks, I pack up and head home in hopes of spending a few minutes with Clara before she goes to bed. Miraculously I spot a cab, and the cab driver doesn't kick me out when I ask him to take me to Brooklyn. In the taxi, I make a few calls and write two thank-you-notes for baby gifts, which are, oh, about 3 months late.
8pm: I smear some pesto on a couple of arctic char filets and broil them, serving the fish with buttered basmati rice and blanched asparagus with olive oil and lemon juice -- a perfect dinner for a warm, almost-summer evening. I pay some bills, answer more emails and work on other random Food52 stuff with Game 1 of the Stanley Cup Finals on in the background.
Amanda:
9am: Packed kids' lunch (rice salad with red Russian kale; carrot sticks; roasted mango with rum and vanilla) and Tad and I took them to school. Today was the day that the subway had a bad attitude. For a 9am meeting, I was 45 minutes late, or rather, too late; the person I was supposed to have coffee with wisely called it quits. Picked up a Taralucci cafe au lait and apricot muffin, and headed up Broadway to our office.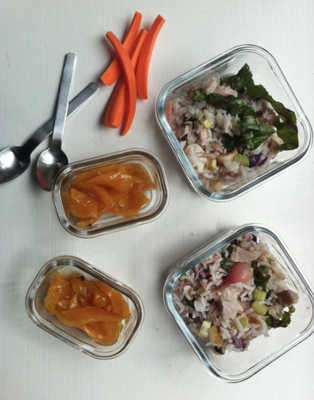 11am: We're on an intense hunt for a VP Technology and a front-end engineer for Food52, so I spend a lot of my days recruiting, interviewing and checking references. Today was a reference checking day; people are always more candid than I expect they'll be, even someone's good friends. We liked this candidate and wanted to hire him. In between calls, had a long meeting about user experience issues on our site. Our assessment: rather than our site feeling like a welcome mat, it's more like a hedgerow. Time to trim down the hedge.
2pm: Back to MSE! This time for fried shrimp with garlic, scallions, chile and sesame, and guava and blackcurrant juice from Hong Kong Street Cart; and chocolate chile ice cream and ricotta and strawberry ice cream from Steve's Craft Ice Cream.
5pm: This afternoon, I met with an engineer who spent several years at Microsoft and then took a year to travel around the world. Most people dream of doing something like this but don't have the guts to. Mental note: do this.
Thursday, May 31
Merrill:
9:50am: Despite having left the house over an hour ago, I am 20 minutes late to a 9:30 meeting. A perfect storm of Brooklyn traffic, subway delays and a long line at Starbucks.
1:30pm: I attempt to brave the lines at Madison Square Eats but lose patience and grab some chilled pea and mint soup and a salad at Pret a Manger instead. I eat this at my desk, after causing one of our summer interns to spill iced coffee all over her computer when I ask her to switch desks with me so I can have a "meeting" with Kristy, our associate editor, while I eat.
5:30pm: I get a text from my husband asking if I can be home in time to relieve the babysitter, since he's held up with a client in New Jersey. So much for the fun Saveur awards party I was supposed to go to -- guess I'll have to hear about it in the morning.
Amanda:
10am: At the office, Kristy Mucci, one of our editors, gave me a dried nectarine from Frog Hollow Farm, a treasure she brought back from a recent trip to SF. This made my morning. Breakfast was interrupted because I was late, per usual, for a meeting. The founders of UnCram came to General Assembly to see us and show us their product, a social info sharing site. They've spent a year building it, and it seems like it. Ariel Porath, one of the founders, looks like he's 12; this is his third company.
11:30am: Merrill and I dashed down the street to meet with a job candidate, who we determined within 3 minutes was not a good fit. Drank mint tea; we made nice. We left -- we had work to do!
2pm: Call me lazy, but I was back at MSE; could not be stopped! Sat with a stranger and her baby and had Roberta's marguerita pizza with pea shoots for extra $1 and also red pepper flakes; a Root soda from Maine (begged the guy at the Red Hook Lobster Pound for the last one); punctuated my lunch with a raspberry basil popsicle from my friend Nathalie's company, People's Pops. Then spent most of the afternoon wondering, whenever I smiled, if I had raspberry seeds stuck in my teeth.
3pm: Stopped at Restoration Hardware on the way back to the office; measured a sofa that I may want to clone in a larger size. Like having household projects going on the side.
4pm: Brainstorm meeting about the Food52 Shop. We want to do more with it; a lot more. Lots of thinking, white boarding, building ahead of us.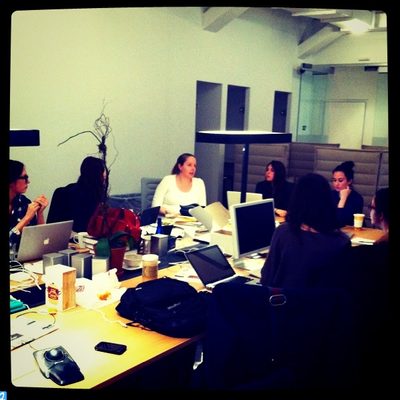 5pm: Met with my friend Greg Galant, the founder of MuckRack. He's helped us many times over the past few years, explaining venture financing and legal issues, and introducing us to people; now, we're helping him with something. Like this about the start-up community.
6pm: Off to the Saveur Food Blogger Awards party. Had never been to their cozy office in Midtown. The kitchen is completely integrated into the office. Was packed with food bloggers. Todd Coleman, Saveur's food editor, trash talked me about an upcoming food styling competition we're partaking in. Drank an Ommegang Witte Ale; ate a crab dumpling, rice cake with chorizo and fig, and a few things I can't remember because I was busy talking to someone about aprons. Saveur gave out engraved cleavers as awards to bloggers -- brilliant!
Friday, June 1
Merrill:
10am: I usually work from home on Fridays, but since Monday was a holiday, I need another day of face time at the office. At my desk. I eat a croissant from Balthazar and gulp down my usual vat of iced coffee as I'm regaled with tales of kitchen tours and foodie bonding at the Saveur party. Seems I missed out on a great evening. Sigh.
6pm: The afternoon flies by in a flurry of emails, and before I know it, it's time to head home.
8pm: We order dinner from our favorite halal restaurant in the neighborhood: lamb schwarma, salad and pita. We watch an episode of the Sopranos and head to bed around midnight to rest up for a weekend of baby duty ahead!
Amanda:
10am: Discussed engineer candidate with our lead engineer; called him and made an offer.
11am: Another engineer meeting, with someone who was great but who wants to start his own company. Dang! May need to turn to hypnosis.
3pm: Was the last day for MSE, and was determined to make my month-packed-into-a-week worth it. Went with two of our editors and waited in line for a shrimp roll and Nutella whoopie pie at the Red Hook Lobster Pound. Sprinted back to the office for a meeting. Kristy brought me a red plum shaved ice; owe her forever. More Food52 Shop meetings.
4pm: Merrill and I had a conference call with Charlotte Druckman, our co-conspirator of The Piglet, our cookbook tournament. Today we decided on a list of judges to ask. We aim for a mix of people that cross all areas of the food world as well as NY culture.
6pm: Walking to the subway, I received an email from the engineer we made an offer to -- he took another job. Bummer! But we had a nice exchange; I think we'll stay in touch. Very few relationships in this industry end; always seems like you're circling back and crossing paths again.
Saturday, June 2
Merrill:
11am: After Clara's morning nap, we all pile into the car and head off to meet our friends Peter and Sarah and their baby, Charlie, just 9 days older than Clara. The babies haven't seen each other since they were less than a month old, so it's high time for another playdate.
12pm: We meet Peter and Sarah (and Charlie) at the PS 8 Street Fair in Brooklyn Heights, where we paw through baby clothes and used books. Peter picks up a dog-eared children's "cookbook" called Mud Pies and Other Recipes. It has recipes for things like Fried Water and Roasted Rocks, and lovely illustrations. We are more than slightly envious.
1pm: Famished and eager to get out of the sun, we manage to nab a table at a hot new Mexican restaurant near the Brooklyn Bridge called Gran Electrica. We devour fresh crab and avocado tostadas spiked with jalapeno and lime, pork carnitas tacos, and a generous bowl of guacamole with homemade blue tortilla chips. We also can't resist sampling a few of their delicious margaritas -- one with cucumber that's got some serious kick, and a more mellow grapefruit version. The babies nap as we gab.
2:30pm: We amble through Brooklyn Bridge Park and weave our way back to Sarah and Peter's apartment, where the babies have a little roll on the floor together.
Amanda:
8:30am: Woke up after my kids and Tad. Went running with my daughter; did a yoga DVD with Tad. Ate croissant, orange juice and cafe au lait for breakfast.
2pm: Played "capture the flag" on Pier 6 while we waited for the East River Ferry. Took the ferry to Williamsburg, where it docks right in front of Smorgasburg, so we stopped in for Porchetta's porchetta sandwich and a rhubarb shaved ice from People's Pops. (You must think I only eat at food fairs. This is apparently true.)
4pm: Dragged the kids to The Future Perfect and other like design stores to look at lamps and sofas. Went to an art exhibit about abandoned cars and airplanes. Aka a pot of gold for 5 year old kids.
6pm: Had a burger with fries and horseradish aioli; asparagus; wood-roasted olives; and a rye beer at Reynard's in the Wythe Hotel. Felt cool for about 5 seconds. Then got back on the ferry.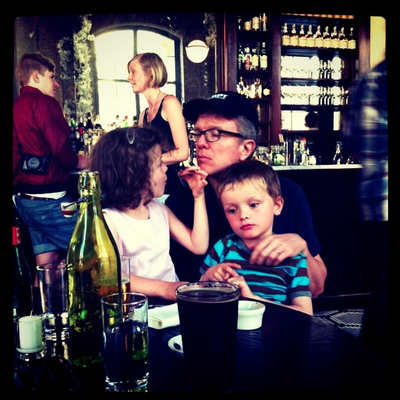 8:30pm: Got our kids to bed, then ate cookies and worked.
See more Food Informants below:
PHOTO GALLERY
Food Informants