In honor of Caribbean-American heritage month, art from the islands is taking over New York in June. A new exhibition titled, "Caribbean: Crossroads of the World," is bringing 500 works of art from over 400 years and 39 countries to three museums in one city. Whew!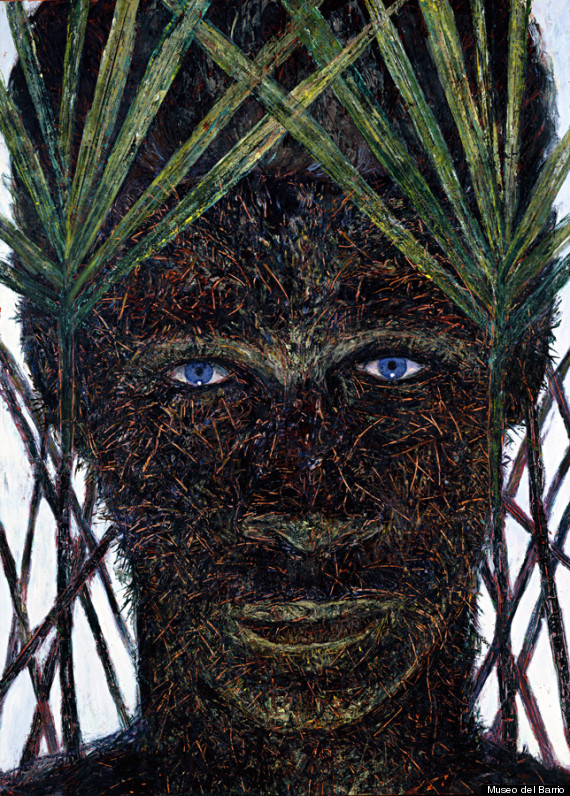 Some works are Eurocentric representations of encountering difference, such as Augustin Brunias' 18th century painting, titled, "Pacification with the maroon negroes in the island of Jamaica." This work presents British power at its apex, although the inhabitants seem unimpressed by these "properly dressed" white gentlemen before them. In Brunias' eyes, Jamaicans and Europeans are polar opposites, and they stare at each other in disbelief before the lush Caribbean landscape.
In other works, however, difference is not something experienced with another group or person but inside oneself. Albert Chong's 1987 piece "Throne for the Ancestors" presents its subject in a ghostly state of in-between. Although his hand and feet are relatively defined in the silver print, his face and body are deliberately obscured, fading into the drape behind him.
The unprecedented exhibition is as diverse as it sounds, juggling the historical, the mythical, the traditional, the subversive, the critical and the celebratory all at once. We see artists take on Carnival, slavery, pop culture, powerful women, and Castro through multiple lenses. As a result, these pieces present radically different understandings of difference, identity and art throughout time, and it's a great opportunity to compare these views when the opportunity arises.
'Caribbean: Crossroads of the World' will show at El Museo del Barrio: June 12, 2012 to January 6, 2013, Queens Museum of Art: June 17, 2012 to January 6, 2013, and The Studio Museum in Harlem: June 14, 2012 to October 21.
Let us know what you think of the preview of the works below:
PHOTO GALLERY
Caribbean: Crossroads of the World
Correction: A previous edition of this article stated the exhibition featured work from 28 countries, when it in fact features work from 39.
BEFORE YOU GO